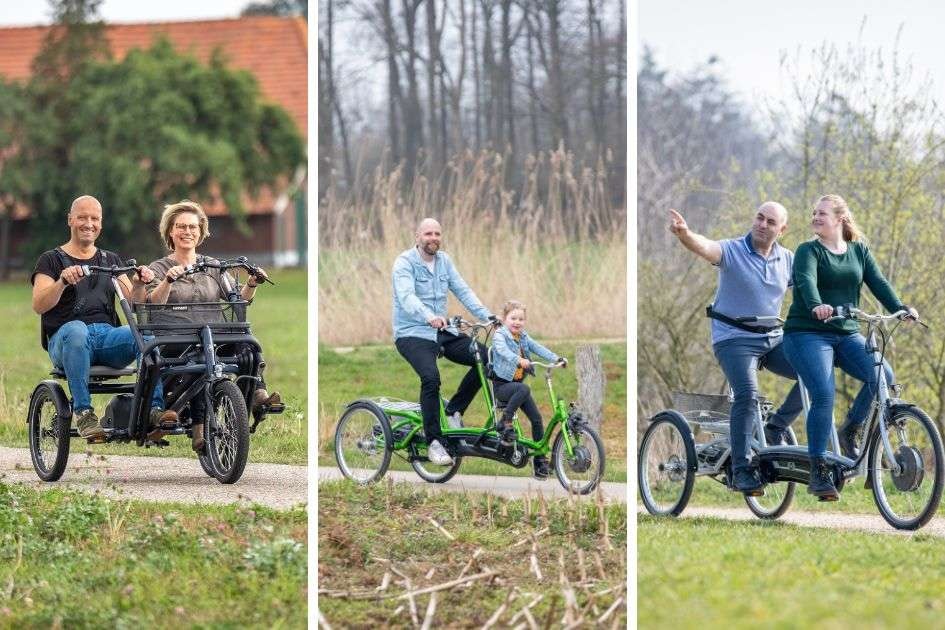 News
A double seat tricycle from Van Raam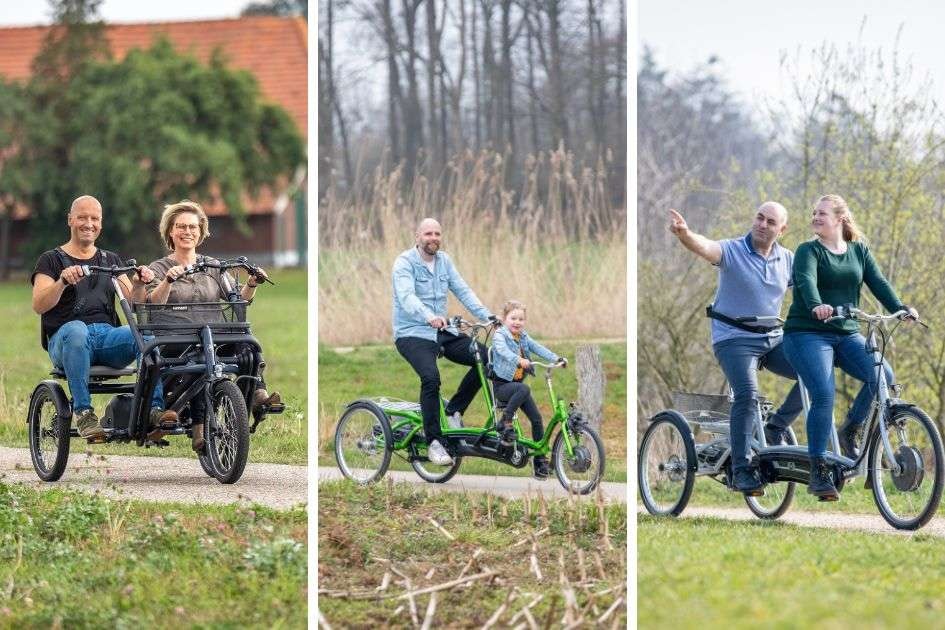 Van Raam has 3 different double seat tricycles in its assortment. Two where the riders sit behind each other and one where they sit side by side. Read more about these double tricycles in this article.
Van Raam double trike bikes
Since 1986 Van Raam has been producing adapted bicycles for people who are unable to cycle independently on a regular two-wheeler. An important part of our assortment is formed by tricycles. We have tricycles for one person, as well as double tricycle bikes.

The best known double tricycle of Van Raam is the Fun2Go side by side tandem. On this tricycle you sit with two people next to each other on the bike. Van Raam also has two tricycle tandems in its assortment. On these tandems you sit behind each other.
Van Raam Fun2Go side by side tandem
The Fun2Go side by side tandem of Van Raam is a double seat tricycle where the riders sit next to each other. This gives them both a good overview of the road and surroundings and they can communicate well with each other. One person steers and both can pedal. With the optional switchabledisengagement hub, you can set the co-driver's cycling mode. Read more about this option in the article 'Combination 8-speed and disengagement hub Fun2Go'.
 
Five benefits of the Fun2Go in a row:
Passenger can come along if they can sit (pedalling along is not necessary)

Easy to operate with small turning radius

No step in - easy to take your seat

Comfortable and adjustable seats with backrest
Van Raam tandem tricycles
Van Raam has two tricycle tandems in its assortment. The Twinny Plus for two adults and the Kivo Plus for a child and its companion. These tandems are equipped with one wheel at the front and two wheels at the back, which gives the tandem extra stability. In addition, you do not have to get off the tandem when the bike is stationary.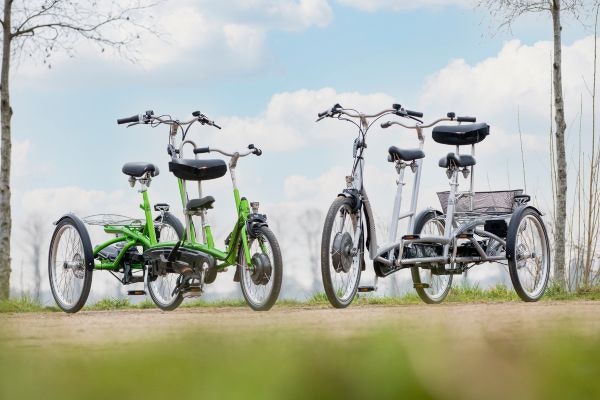 Why choose a double tricycle?
For some people, it is not possible to cycle alone. They need a companion when cycling. A double tricycle offers a solution. This makes it possible for them to keep on cycling, which in turn is good for their health. Read here '10 reasons why cycling is healthy'.
Options for double seat tricycles
Van Raam's double trike bikes can be assembled completely according to your wishes by choosing extra options. In the online configurator you can customize your double seat tricycle. You can choose additional options such as pedal support, pedal adjustments and belts. All chosen options are immediately shown with corresponding costs in the overview on the page.
Customer experiences
Are you curious how others experience the double tricycle bikes? Read below some customer experiences: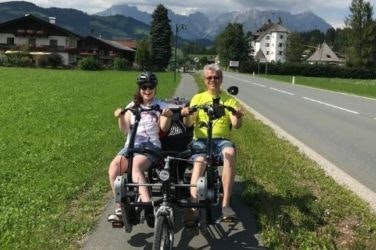 Customer experience Fun2Go duo bike - Andreas Puschmann
Andreas has had his Fun2Go duo bike for nine years. Read more about his experience in the following message he sent to Van Raam.
Read this customer experience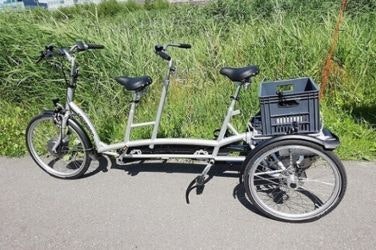 Customer experience Twinny Plus tricycle tandem - Annemarie
Annemarie: "My husband has balance problems (Parkinson's), which makes cycling difficult. Therefore, we purchased a second-hand Twinny Plus tricycle tandem from Van Raam last summer." Read Annemarie's story here.
Read this customer experience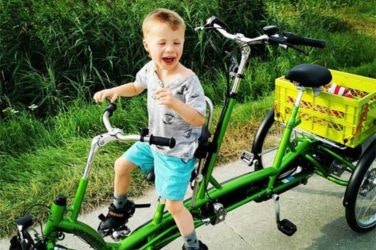 Customer experience tandem tricycle Kivo Plus – Els Ottens Seggers
Els Ottens Seggers and her husband Bas have a Kivo Plus tandem tricycle to cycle with their son Dorian. Dorian is 5 years old and suffers from the rare FOXP1 syndrome. Read here the customer experience about the Kivo Plus from the Ottens Seggers family.
Read this customer experience
;
Which double seat tricycle is right for you?
Are you curious about which double seat tricycle is best for you? Then read the article 'Three Van Raam tricycles in comparison'. Would you rather get personal advice and make a test ride? It is possible to make a test ride at some Van Raam dealers. Please contact your local dealer.
Do you have any questions?
We are happy to assist you! Please check our contact page or contact us directly using the options below.