Customer experiences
Customer experience Easy Rider tricycle – L. R. Verdooren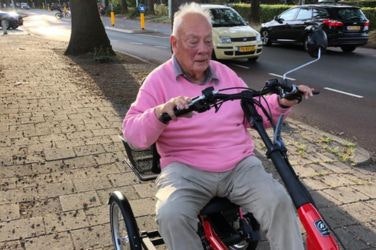 Mister Verdooren has osteoarthritis on his right knee which often caused him to fall over when getting off his previous e-bike. Now he has the Easy Rider electric tricycle and he enjoys it a lot. Read his story here.
Cycling with osteoarthritis
"I am 87 years old and I have had my Easy Rider tricycle since September 2022. I bought this bike because I have osteoarthritis on my right knee. Previously, I had a FLYER e-bike but when getting off, I often had no feeling in my right leg, causing me to fall over. In the town, I cycled with a regular bike and outside the town with the e-bike. I did a test ride and consultation at Van Raam and this pleased me very much."
My Easy Rider tricycle
"In terms of special options on my Easy Rider tricycle, I have a stick holder, mirror, basket, a RAL colour of my choice (I chose red) and electric pedal support!
With nice weather, I cycle an average of 10-15 kilometres a week. I find the bike to have a stable and comfortable seat and good support from the motor. I only have to get used to cycling over road bumps and through corners. I give the Easy Rider tricycle a 9! My children also really like the bike."

In the article 'Cycling with osteoarthritis' you can read more about cycling with osteoarthritis and the use of adapted Van Raam bicycles for osteoarthritis.

L. R. Verdooren – Bennekom, the Netherlands
Bike: Easy Rider tricycle