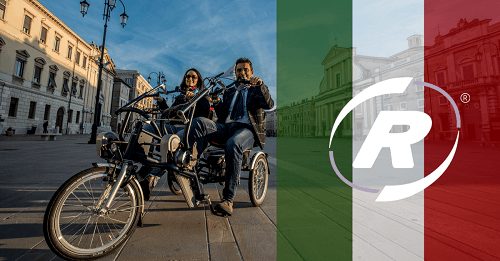 News
Van Raam custom bikes in Italy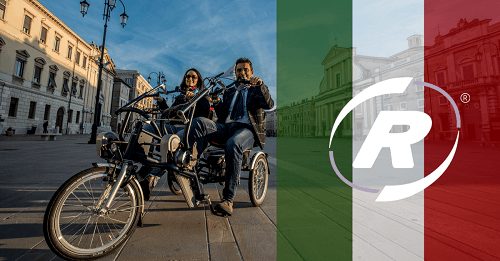 Imagine walking in a strange city in a foreign country and encountering a bike you've never seen before in your life. A bike that makes you think that one of your friends and his son in a wheelchair can be very happy. You will find out that this bike cannot be delivered to your home country, in this case Italy, without an Italian dealer. What are you doing? Then you become a Van Raam dealer in Italy! Read here the special story of the birth of our Italian dealer and the Van Raam custom bikes in Italy.
International Van Raam dealers
In the meantime, Van Raam has dealers in 20 different countries who sell Van Raam's customized bikes. You can find our custom bikes next to other places also in America, Australia, Israel, Iceland, Spain and Italy. The reason why people started selling custom bikes in these countries differs per country. As you could have read in the introduction of this article, the reason why a dealer came to Italy is a special one.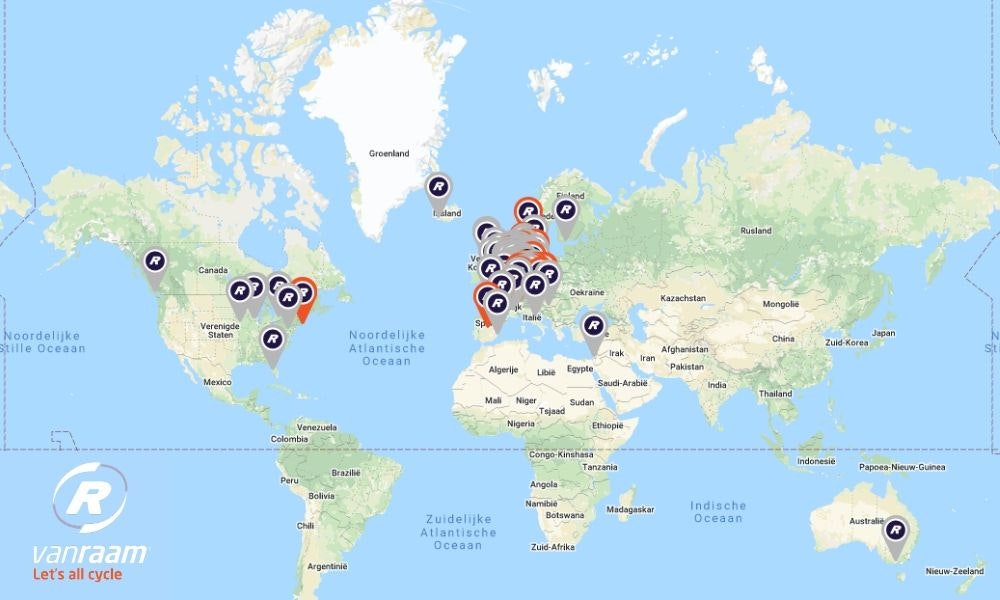 Italian Van Raam dealer
The bicycle described in the introduction concerns the VeloPlus wheelchair transport bike. This handy wheelchair bike ensures that a wheelchair-bound person can still enjoy a bike ride. The person in the wheelchair can be transported on his or her own wheelchair and can therefore still feel the wind in his or her hair.

The person who saw a VeloPlus riding through The Hague at the time was called Luca. After Luca had seen the VeloPlus for the first time, he quickly went on the internet and ended up at Van Raam. Luca then told his friend in Italy what he had seen and how useful this wheelchair bike could be for the son of their common friend. Luca's friend Alberto Franceschini became enthusiastic about Luca's story and decided to explore the possibilities of getting Van Raam bicycles to Italy and so it happened...

Since 29 October 2015, Aspasso Bike Srls is our Italian Van Raam dealer. Aspasso Bike Srls is the company of Alberto Franceschini and is a Dealer of our custom bikes in italy. You can find Aspasso Bike Srls in Senigallia, region Ancona. Besides the fact that the son of the friend of the owner of Aspasso Bike Srls already had a lot of fun with the wheelchair bike, Aspasso Bike Srls soon found out that a wider audience is very interested in Van Raam's custom bikes in italy.
 
For example, Aspasso Bike Srls's well-attended exhibition stand can be found regularly at bicycle and health fairs such as Cosmobike in Verona and Exposanità in Bologna. ProTec Ambiante is also active online and they have an Instagram page on which they regularly show nice pictures of end users.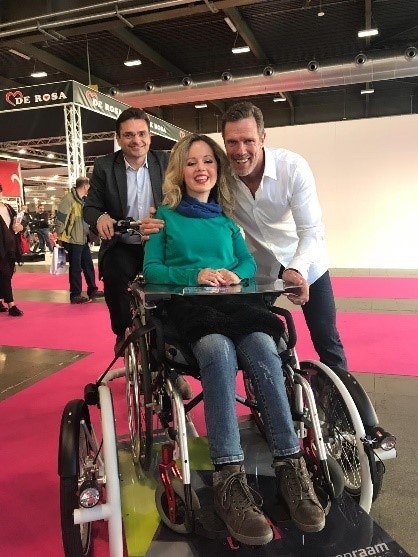 Pictures from Italian Van Raam dealer
See below the pictures of Alberto Franceschini. These include the first VeloPlus in Italy on which the son of his friend sits. In addition, you can see the rickshaw bike Chat filling the Italian streets and enjoy, among other things, a ride on the Fun2Go duo bike.
Popular custom bikes in Italy
Aspasso Bike Srls currently sells many of Van Raam's multi-person bicycles. Think of the wheelchair transport bike VeloPlus, duo bike Fun2Go, wheelchair bike OPair and our newest transport bike rickshaw Chat. These adapted bicycles are mainly used by care institutions and ensure that the residents and patients of these institutions can still enjoy a bike ride in the beautiful Italian landscape.

In addition to the fact that multi-person adapted bikes are becoming increasingly popular in Italy, there is also an increasing demand for single-person adapted bikes. Although Italy may not be ready for bikes like the Easy Rider tricycle with low entry level and the Maxi Comfort tricycle, it's only a matter of time before you'll also see tricycles on San Marco Square or around the Tower of Pisa.
Read more about Van Raam's popular multi-passenger bikes
Ordering a Van Raam bike in Italy
Do you live in Italy or do you know someone in Italy, just like Luca, who gets a bit of mobility back with the arrival of an adapted bike? Check out our Italian dealer Aspasso Bike Srls or visit his shop.
Van Raam bikes in other countries
Curious about Van Raam bicycles in other countries? You can read the following articles:
Do you have any questions?
We are happy to assist you! Please check our contact page or contact us directly using the options below.