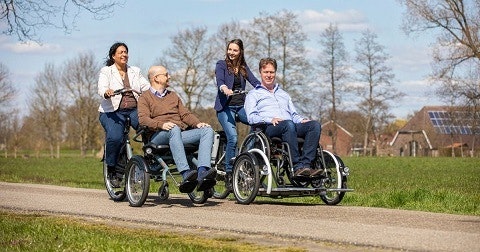 News
Tips for buying a wheelchair bike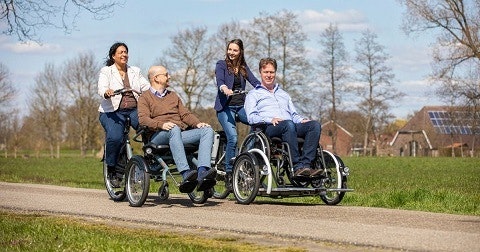 Van Raam has two (electric) wheelchair bikes in its assortment: the OPair and the VeloPlus. Read this article for tips on buying a wheelchair bike.
10 tips for buying a wheelchair bike
1. Determine your cycling goal when buying a wheelchair bike
Decide in advance what you want to use the bike for and with whom. Do you want to use the wheelchair bike for long bike rides or short trips? Is a transfer from wheelchair to bicycle possible, or would the passenger prefer to remain in his/her own wheelchair?
 
Do you want the wheelchair to be used on location? In the case of the VeloPlus, this is possible; in the case of the OPair, it is advisable to choose the divisible version.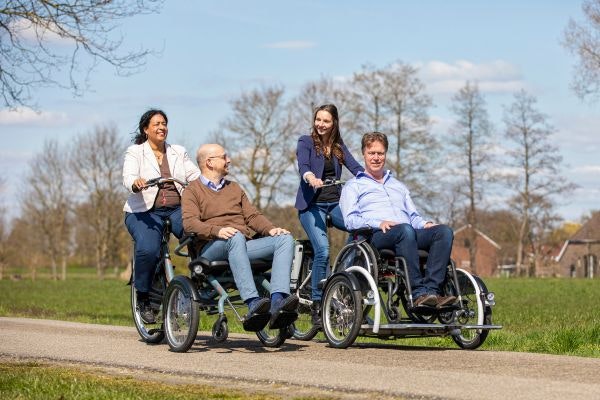 2. Read up on the Van Raam wheelchair bikes
Van Raam has 2 wheelchair bikes; the OPair wheelchair bike and the VeloPlus wheelchair transport bike.
 
On the OPair, the passenger takes place in the seat at the front of the bike and the passenger must be able to make a transfer between the wheelchair and bicycle.

The VeloPlus is a wheelchair transport bike on which the passenger can remain seated in his or her own wheelchair. The wheelchair and passenger can be easily pushed onto the tiltable platform without any lifting aid or great effort.

Read more about both bikes in the article 'Which type of wheelchair bike is most suitable for you?', and find out which type of wheelchair bike suits you.
3. Try out the wheelchair bike on a test ride
Taking a test drive is very important, because a wheelchair bike rides differently than a regular bicycle. During a test drive you can thoroughly try out both wheelchair bikes. You will also receive free expert advice from a technical advisor. You can easily plan a test drive at van Raam via the online planner. It is also possible to take a test drive at some Van Raam dealers. Please contact your local dealer and ask about the possibilities.
4. View the different options
Van Raam offers various options to adjust the bike to your personal needs. If your cycling goal is to cycle long distances, you can choose to equip your wheelchair bike with pedal support. All options can be seen on the options page.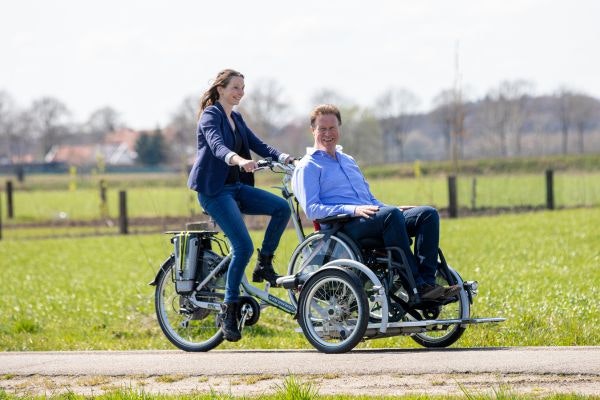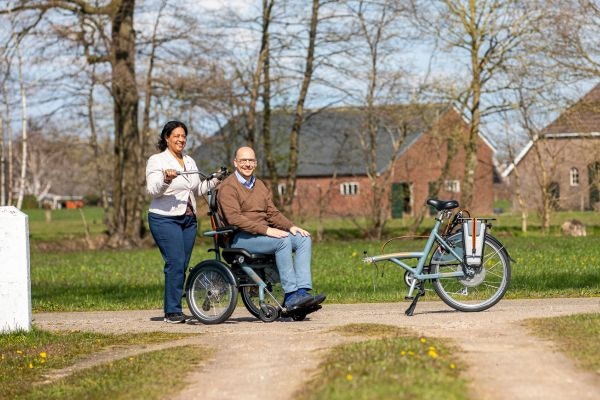 6. Decide how you are going to finance the wheelchair bike
There are several ways to finance a wheelchair bike;
Reimbursement

Private

Fundraiser
You may be eligible for a government reimbursement. If you are not entitled to a reimbursement for your wheelchair bike, you can also purchase the bike privately. You can choose to use your own bank account to pay for the bike, but you may also be able to raise the right amount of money with a fundraiser. Read more about this in the article 'Tips for raising money for a special needs bike'.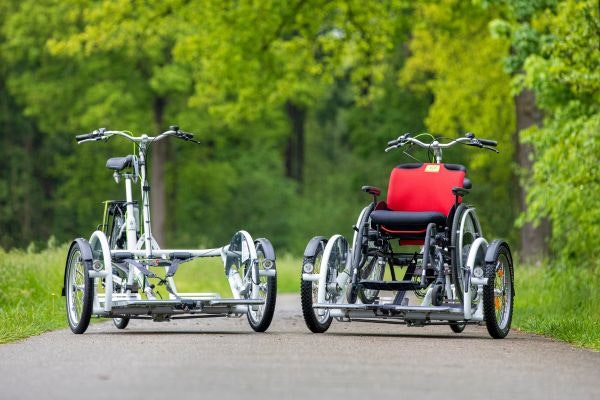 7. Find a Van Raam dealer to order the wheelchair bike from
You can order a wheelchair bike from a Van Raam dealer. Van Raam has several types of dealers (including Premium Dealers) with whom we cooperate, such as bicycle stores, rehabilitation specialists and suppliers of assistive devices.For more information about our dealers, please read the following article: 'Find a Van Raam Dealer near you'.
8. Decide if you want to insure the wheelchair bike
An adapted bicycle is often more expensive than a regular two-wheeler. Therefore it may be interesting to insure your wheelchair bike.
9. Contact Van Raam if you have any questions
Would you like more information about the wheelchair bikes, or would you like to ask something else? Let us know. We are happy to help! You can contact us in various ways.
10. Enjoy cycling on the wheelchair bike
Have you bought a wheelchair bike? Then enjoy cycling!
Customer reviews of Van Raam wheelchair bikes
Are you curious how users experience the Van Raam wheelchair bikes? Read some stories below. For more, you can check out the following customer experience pages: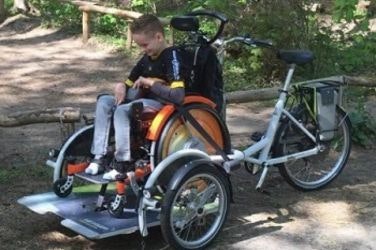 User experience VeloPlus wheelchair bike - Kevin van der Plas
I'm Kevin, 14 years old and I live at home with my parents. I can't talk and I'm wheelchair dependent. I like to watch videos on YouTube on my iPad, but what I like even more is being outside and cycle around on my VeloPlus wheelchair transport bike, together with my mom and dad.
Read this customer experience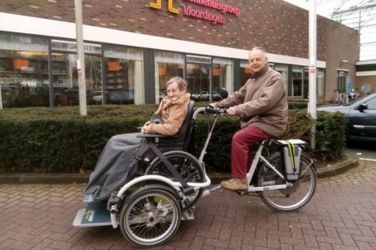 User experience wheelchair transport bike VeloPlus - Ton van Baaren
I am a volunteer at Zonnehuisgroep Vlaardingen (a care institution). As a volunteer, I regularly cycle with the patients, these are mainly patients of the psychogeriatric department. I was already familiar with a duo bike and a rickshaw, but since a year we also have a VeloPlus wheelchair bike. This bicycle has been donated to the care institution. There are several volunteers who cycle on the wheelchair bike. It is a pleasure to ride the bicycle. It is a pleasant way to take the residents outside and to bring them back safely.
Read this customer experience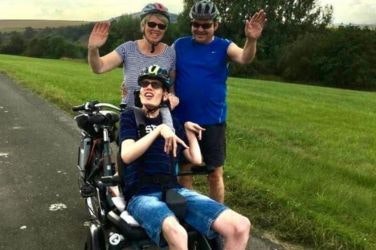 Customer experience OPair wheelchair bicycle - Family Brandt
Unfortunately Niklas cannot ride a bike on his own, but with the OPair wheelchair bike he can once again go on bike tours with the whole family. Read more about this experience and watch the pictures around videos of the family.
Read this customer experience
;
Do you have any questions?
We are happy to assist you! Please check our contact page or contact us directly using the options below.