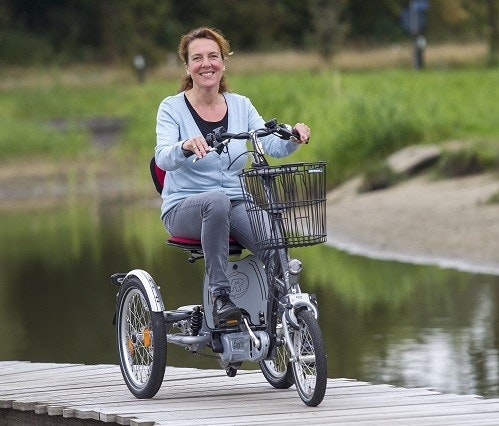 News
Image tricycle should not stop people from moving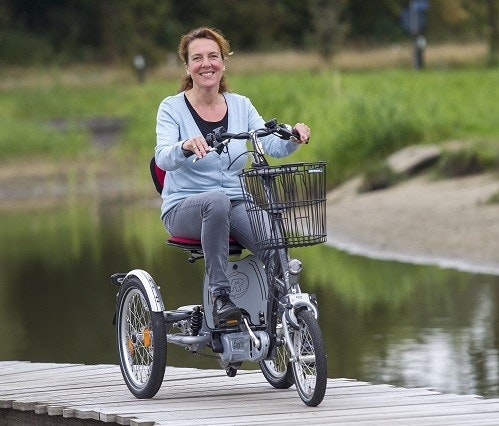 A tricycle is a very suitable alternative if you can't or don't dare to ride a two-wheeler (anymore), for example if you suffer from a balance disorder, if you have difficulty walking or because you regularly fell off your bike. However, the image of a tricycle still sometimes prevents people from buying one. Blogger Astrid van der Plank (46) does not understand this image and sees her tricycle as an ideal solution to keep moving. In this article you can learn more about the story of Astrid, the image of a tricycle, the many advantages of a tricycle, various tricycles, tricycles with pedal assistance and read experiences of others on a tricycle.
Astrid's story
Astrid van der Plank has a rare disorder, ADCA: a hereditary neurological disorder that slowly affects the small brain. Astrid: "I am tired quickly and have to use my energy sparingly. I also have problems with my balance and with my eyes. At a certain point I couldn't cycle a two-wheeler anymore because I was falling of the bike all the time, so I started looking for alternatives, including tricycles. I don't understand that some people let the image of a tricycle stop them, I'm just happy that I still have the possibility to keep moving. I wasn't immediately satisfied with my first tricycle either, I've studied what's on the market and tried out different bikes".

Sometimes Astrid hears stories of elderly people who refuse to use a walker and therefore sit inside all day. The mom of a friend of Astrid's wanted to use a walker on holiday, in an environment where nobody knows her, but at home she refuses. Astrid: "I have the feeling that being ashamed of an aid, such as a tricycle, is only something for the elderly. People my age and younger are mostly happy with it".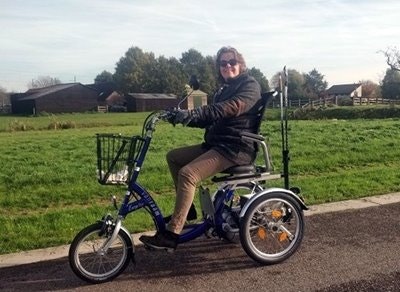 Tricycle benefits
A bike with three wheels has many advantages:
It can be a good alternative if you have trouble getting on and off your current two-wheeler.

With a tricycle it is notnecessary to get off when you are (almost) standing still; you can safely cross over while sitting on the saddle.

Do you come to a standstill? A tricycle doesn't topple over like a two-wheeler does.

Perhaps even the biggest advantage: you have the possibility to keep moving which makes you mobile and independently for a longer period of time.
Curious about all the benefits? We wrote an article about the benefits of tricycles. Click on the button below to read the article.
Various tricycles Van Raam
Van Raam has different types of tricycles. It is importantto try out several tricycles in advance, so you can determine which bike is the best option for you, just like Astrid did. Astrid: "After trying different options I came into contact with the Easy Go scooter bike of Van Raam. With this scooter bike you can cycle, but you can also use it as a mobility scooter. When I run out of energy I use it as a mobility scooter, but I have to say that I still cycle 75% of the time". See all unique riding characteristics of the Easy Go in the article 'Unique riding characteristics of the Easy Go scooter bike'. 

Besides the Easy Go, Van Raam has many other types of tricycles, both tricycles for adults and tricycles for children. Take a look at the assortment below:
Tricycle with pedal assistance
When it is more difficult to give enough power with pedalling, you can choose to buy a tricycle with electric pedal assistance. Van Raam has developed its own pedal support system: the Silent system. This system is characterized by it's simpliticy, 3 support modes+ starting aid/launch control and very powerful electric motors. Read more about the pedal support system on the page 'Pedal support Van Raam electric bikes (e-bikes)'.
Image does not have to be an obstacle
Nowadays a bikewith pedal assistance is quite normal, but if you look back a few years ago, an electric bike was mainly seen as a bike for older people. Nowadays an electric bike is indispensable among young people who have to cycle to school or adults who prefer to take the bike to get to work in order to get some daily exercise. So an e-bike is now seen as a 'normal bike' and with tricycles we also see a shift in this more and more. With today's triycles you can definitely be seen: they look good, they are solid bikes and above all they are safe. So the image of a tricycle does not have to be an obstacle at all.
Especially elderly people are ashamed of tricycles
Recently, an articleappeared on the website of the Fietsersbond where Astrid talks about her condition, the Easy Go mobility scooter and her ongoing search for aids. She also tells more about the image of a tricycle and that especially elderly people seem to be ashamed of a tricycle. Curious about the article? Read more: 'Elderly especially embarrassed by tricycles'.
Experiences of Van Raam cyclists
Van Raam regularly receives messages from people with aVan Raam special needs bike. Are you curious about the experiences of customers who have purchased a tricycle? Read below the experiences of Astrid van der Plank, Marjo Lange, Henk Beunk, Ashnadebie Kalidien, Mr de Bruin and Willy Wienholts, or look for all customer experiences on the page Customer experiences Van Raam cyclists.
;
Make a test ride
Have you become curious about one or more of our tricycles? Plan a test ride at our showroom in Varsseveld or at one of our Van Raam dealers. We are happy to help you!
Do you have any questions?
We are happy to assist you! Please check our contact page or contact us directly using the options below.