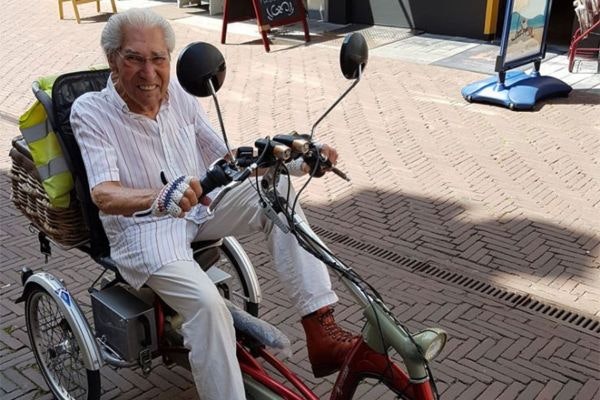 News
Hundred-year-old man cycles on Van Raam Easy Rider tricycle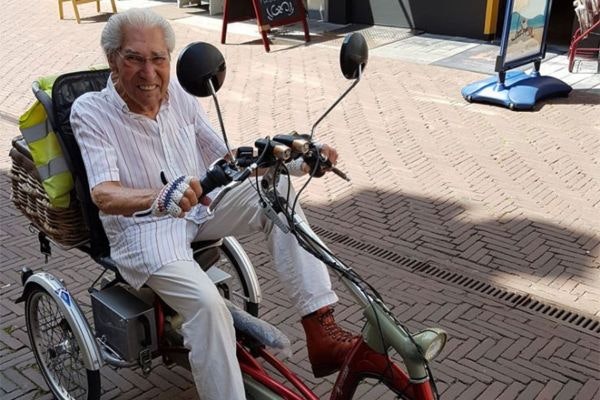 The hundred-year-old Herman de Grijff regularly cycles on his Easy Rider tricycle through Zutphen, a city in the Netherlands. He still does everything on his bike and if the weather permits he likes to get on his tricycle for an hour. At the beginning of April Herman turned 100 years old, making him probably one of the few hundred year olds who still cycle so much with his Easy Rider. Read more about Herman and the Easy Rider tricycle here.
100 years old and still doing everything on a bike
Herman de Grijff turned a hundred-years-old on Wednesday, April 8. He had wanted to have a big party, but because of the coronavirus this was unfortunately not possible. His son Martin came with the idea to create a Facebook page, on this page people could and can congratulate Herman with this special birthday. His son prints all these congratulations and Herman can read them with his magnifying glass. On his birthday the mayor did go on a window visit, it was also decorated outside and people could leave a letter.

Herman still feels good and lives on his own. He has been using a walker since the end of 2019, but he doesn't have a problem with cycling. Herman told the AD: "I fell on the square at the end of October last year and broke the head of my right hip. Since then I have to use a walker. While cycling it doesn't bother me, then I go like a rocket. Herman cycles daily and still does everything on his bike.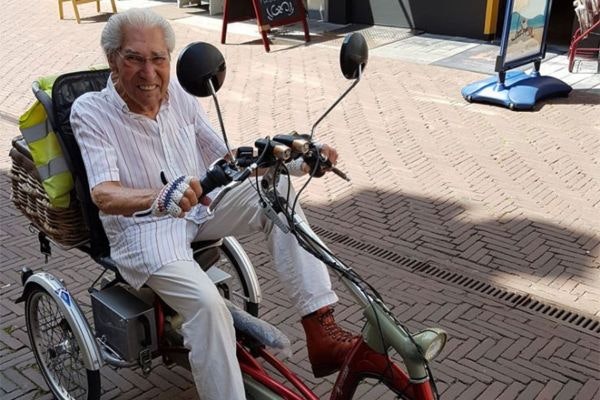 Cycling to keep your mobility and stay in shape
10 years ago, when Herman turned 90, he got the Van Raam Easy Rider tricycle for his birthday. He makes bike rides with his tricycle regularly. Son Martin told Contact Bronckhorst Zutphen-Warnsveld: "The bike helps him to keep his mobility and stayin shape. Up the dike, along the floodplains, up the Voorsterklei. His life motto is: "It's nice to be out and about."

Read also about Herman in the 'User experience Easy Rider tricycle - Herman de Grijff'.
The bike helps him to keep his mobility and stay in shape.
Video: Herman tells about his hundredth birthday
The AD filmed at home with Herman. In this video you see Herman and his son Martin tell about his birthday (in Dutch). You can also see a picture of Herman and his Easy Rider tricycle in this video.
The Easy Rider tricycle
The Easy Rider is a tricycle for adults. This tricycle with unique riding characteristics is a trike with a seat, a semi-recumbent trike. The Easy Rider has a comfortable seat and a low entry. The low centre of gravity, the seat and the handlebars provide a safe feeling.

With this comfortable tricycle you make a forward pedal movement, this special cycling position puts less strain on the back, neck, shoulders and wrists.
Videos Easy Rider tricycle
Tricycle for seniors
More and more elderly people who no longer dare to cycle on a regular two-wheel bike are discovering the advantages of a tricycle and can therefore continue to cycle. Especially seniors who still can and want to move choose more and more for the tricycle instead of a mobility scooter. Read more about Van Raam tricycles for seniors in the article: 'Tricycle for seniors'.
Experiences of the elderly with the Easy Rider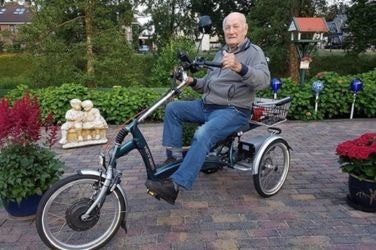 User experience tricycle Easy Rider - Rob Berendsen
My father is 88 years old. His knees are not so good anymore so we searched the internet to see if a tricycle was something for him. On the website of Van Raam we were immediately charmed by the Easy Rider tricycle model and the sporty and tough look of this bike.
Read this customer experience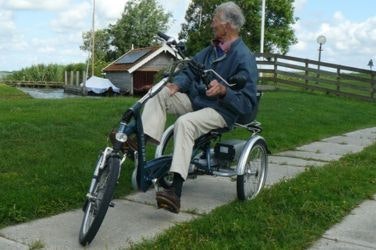 User experience tricycle Easy Rider - Mr. Heineman
As a 91-year-old, mr. Heineman really enjoys the bike, both at home at the Veluwe and further away, he has cycled hundreds of kilometers.
Read this customer experience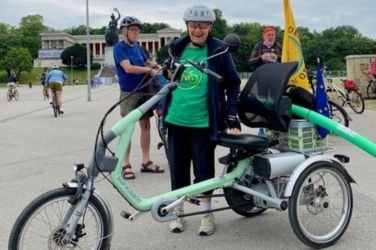 Customer experience Easy Rider tricycle - Gunda Krauss
At the beginning of the year, Gunda Krauss was able to try out the new Easy Rider tricycle and give us feedback, which we took into account for the renewed Easy Rider. She herself owns an earlier Easy Rider model. In total, she cycled about 600 kilometers within 4 months with the new Easy Rider. Read more about her experience with the Easy Rider during the test period
Read this customer experience
;
Testing your own Easy Rider tricycle
At Van Raam it is possible to test your Van Raam bike of choice in the showroom in Varsseveld. You can make an appointment for this on the test ride page. During an appointment with a technical advisor you will get advice and it is possible to make a ride on the test track.

After this, the technical advisor will make you an offer with which you can go to your Van Raam dealer. The dealer can order the bike from Van Raam and takes care of the service and warranty. Sometimes it's possible to make a test ride at a dealer.
Do you have any questions?
We are happy to assist you! Please check our contact page or contact us directly using the options below.