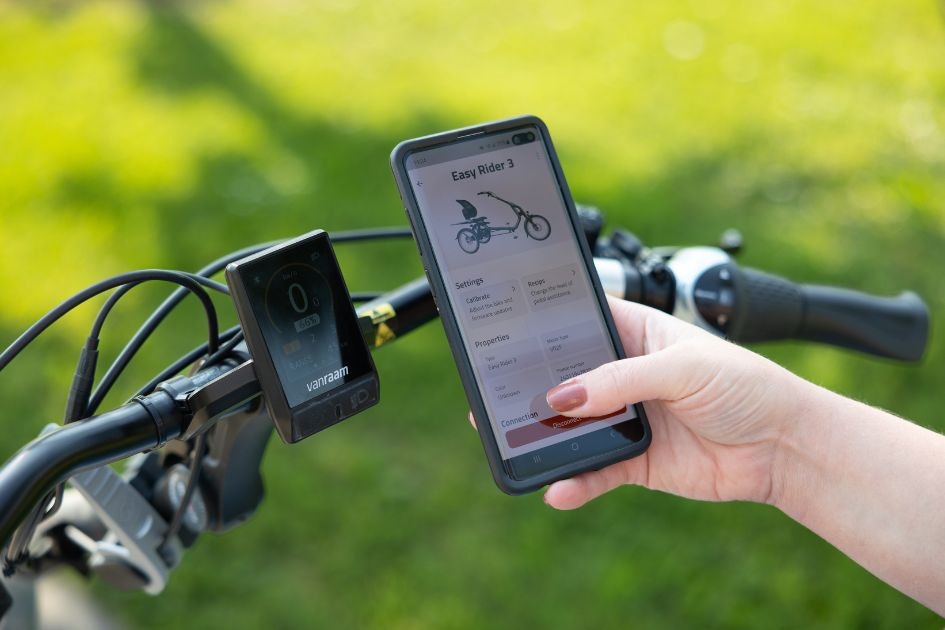 News
Connect your adapted bike to the Van Raam e-bike app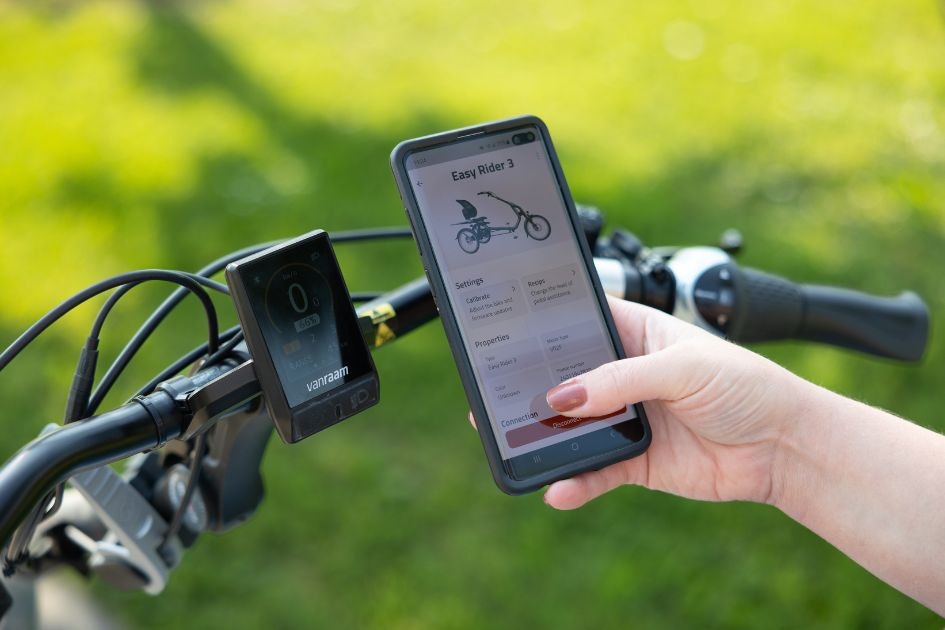 The Van Raam bike/e-bike app is a free app for the smartphone. Learn in this article and video how you can connect an electric Van Raam bicycle to the e-bike app, as a Van Raam bicycle owner and also as a dealer, this can be relevant for service related support tasks.
Video: How to connect to the Van Raam e-bike app
Watch the video below to see how you, as a Van Raam biker and Van Raam dealer, can connect your smartphone to the Van Raam e-bike app.
What can you do to the Van Raam e-bike app?
App can be used as a luxury bicycle computer

Change bike settings

Send SOS messages with GPS location to a number of your choice

View cycled routes

View information about the bike
Video connecting Van Raam bike to app
Read here step by step how you can connect a van Raam bicycle to the Van Raam e-bike app.
Step 1:
Download the app from the Apple or Google Play Store.
Step 2:
To connect the bike to the app you have to register first. Open the Van Raam app on your smartphone and you can register with the frame number of the Van Raam bicycle, a password of your choice and your e-mail address. Read more about the frame number and where you can find it in the article: "The frame number on the special needs bikes from Van Raam"
Step 3:
Now you can login with your e-mail address and a password of your choice.

Please note that a temporary addition is only possible for dealers.
Step 4:
Before you connect to the app, you must first switch on the pedal support. Wait until the on/off button lights up blue. Bluetooth is then switched on.
Step 5:
When you are logged in and the pedal support is switched on, you can connect a bike with the menu button of the app (three horizontal lines). By entering the correct frame number, you can see the corresponding bike and select it.

Please note that the bike must be close by (max. 20 metres) and the electric motor must be switched on.  
You are than connected to the bike and can start cycling.

See also the video with adult tricycle Easy Rider and e-bike app to see how to ride a bicycle with the app. 
Which Van Raam bike can I connect to the app?
All Van Raam bikes with pedal support (e-bikes) delivered as of May 2016 (with smart display) can be used with the app. Older bikes can be upgraded at Van Raam so that the app can also be used. Please contact Van Raam for this.
More about Van Raam Service topics
As a dealer, it is important to provide good service and to be able to adjust the bike to the customer's individual needs in the best possible way. See below for more service topics for Van Raam dealers.

Also, take a look at the video of "Attaching and adjusting the Van Raam foot fixation". 
Change recipes in the dealer tool
From time to time it happens that customers need different pedal support settings, depending on their disability and needs. Do you want to customize recipes in the dealer tool? To change and duplicate recipes, your bike must be connected to the Van Raam software. Learn how to duplicate and customize bicycle recipes, programs, in the article and video: "As a Van Raam Merchant Customize and Duplicate Recipes"
Adjust recipes
Connect and read out the dealer tool in 7 steps
As a Van Raam dealer it is important to be able to read and connect a bicycle well. This is important to know in order to provide customers with a good service. As a customer it is interesting to know that this is possible. Would you like to know how a Van Raam dealer can connect and read out a Van Raam bike to the Van Raam dealer tool? Find out in the article and in the accompanying video: "Connecting and reading out the Van Raam Dealer Tool in 7 steps"
Connect and read out
Van Raam bicycle instal and test new components
When a new motor or controller is added to a Van Raam bicycle it must first be installed and tested. As the service of a dealer is very important to ensure the mobility of the customer, Van Raam gives in this video and article a detailed instruction how to do this exactly and thus provide the best performance of the system for the customer. So in this article and accompanying video you will learn how you, as a dealer, can read and test new components.
Install and test new components
Do you have any questions?
We are happy to assist you! Please check our contact page or contact us directly using the options below.