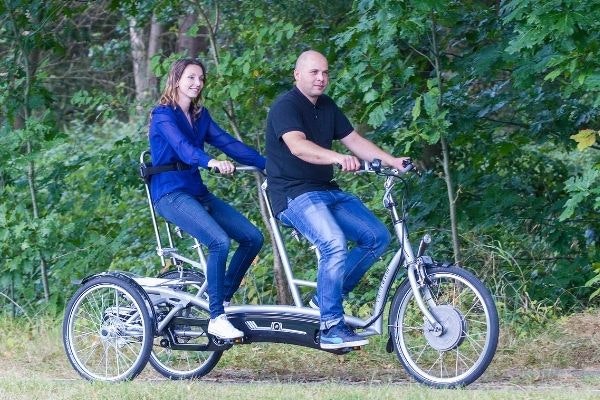 News
Top 10 tandem bike accesories for your adapted Van Raam bike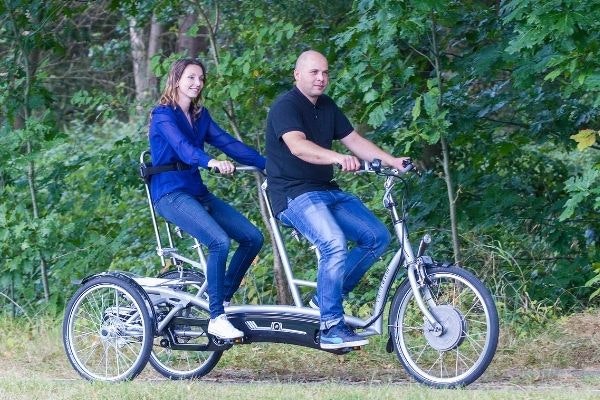 There are numerous tandem bike accessories to set up the tandem bike for just about any use. We produce each tandem individually, For example, we can make the tandems with the handlebars in the front or rear, depending on what you prefer.
​10 Tandem bike accessories for your Van Raam Tandem
Check out 10 tandem bike accessories and options for Van Raam tandems, tricycle tandems and parallel tandem below.
1. Electric pedal assistance
All Van Raam tandems are also available as electric tandems with an electric pedal support. If you choose electric pedal assist, this will be delivered as a smart e-bike. You then have the possibility to view a lot of information about your battery and bike remotely. For example, with the app, you can view bike routes, see where your bike is located and much more. Read more on our Van Raam App page about the Van Raam Smart E-Bike.
2. Special seats with backrests
To make a bike ride more comfortable and safer Van Raam offers different saddles or seats as tandem bike accessories. On the tandems you can choose a Platter Puch saddle or a suspendable seat post. Furthermore, there is the possibility to mount a back support. This can be advantageous if your passenger needs more support.
3. Belt for backrest
You want a backrest and a little more support on your tandem bicycle? To support the backrest even more, and if a slight fixation is necessary a backrest can be provided with a belt, this must be ordered separately.
4. Footrests for tandems
It is possible on all Van Raam tandem bicycles to mount one or more footrests on the pedals. This gives you more stability and safety while cycling. The footrests as tandem accessories are adjustable in length and width. Van Raam has 2 versions Fix 20 and Fix 25. Fix 20 is suitable for shoe size 22 -36 and Fix 25 is suitable for shoe size 37-48. Read also more in our article "Footrests for adapted bikes from Van Raam".
5. Double transfer kickstand
In the standard version, the two-wheel tandems of Van Raam have a normal bike stand. Optionally, however, a double transfer kickstand can be attached. This gives you more stability on the Kivo and Twinny when the passenger gets on the bike. So the passenger can sit on his seat in peace without you have to support the bike yet extra. If necessary, you can also help the adukt or child to fasten possible belts.
6. Frame height
If the standard frame height of 52 cm does not suit you, you can adjust it optoional.
For the Twinny and Twinny Plus:
deepen by 9 cm to 43 cm

increase by 9 cm to 61 cm.
So you can raise or lower the Twinny range as a whole. However, you can also raise or lower the front or rear individually. This frame adjustment can also be done at the rearside of the Kivo tandems.

At the front of the Kivo tandem series you can increase or decrease the frame height:
by 4 cm (to 26 cm)

or increase it by 4 cm (to 39 cm).
7. Shortened pedal crank
In case of leg difference or knee restriction, this can be compensated with a pedal crank shortener, so that you can ride your tandem bike without restriction or pain.
8. Choose who steers
On the Twinny series, that is the two-wheel tandem Twinny and three-wheel tandem Twinny Plus, you can optionally choose that the person sitting in the back is steering. By default the steering sits with the person in the front. So choose if you want the front or rear steering.
On the Kivo Tandem series the steering is always with the person that sits in the back.
9. Mirrors
For a greater sense of security while cycling can be placed on the tandem one or two mirrors on the handlebars. With this tandem accessories they no longer need to turn around while cycling to be able to see behind.
10. SmartGuard Tyre
Van Raam's tandems can all be equipped with SmartGuard tires. With these tires it is (when used correctly) almost impossible to get a flat tire, i.e. to have a flat or punctured tire.
Van Raam tandem bicycle accessories
See an overview of all options on our options page!
Top 10 options for a side by side tandem
Also for our side by side tandem bike, where you sit next to each other, there are different options and accessories to customize your bike. Take a look at the top 10 best selling options for the Fun2Go and find out which options are best for you.
Customer experiences about tandems and tandem bike accessories
See below customer experiences from people who have a Van Raam tandem and have also chosen Van Raam tandem bike accessories. If you want to see our tandems in detail, go to our tandem page.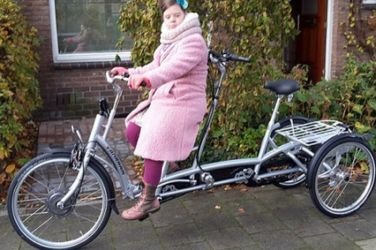 User experience tricycle tandem Twinny Plus - Tessel and Mieke Klinkenberg
Hi, my name is Mieke Klinkenberg and I am the mother of Tessel Klinkenberg (22), she is my youngest daughter. Because of her downsyndrome Tessel can't cycle independently. She has never learned this and never really wanted to learn. Since childhood we have been cycling on a tandem and Tessel loves that very much!
Read this customer experience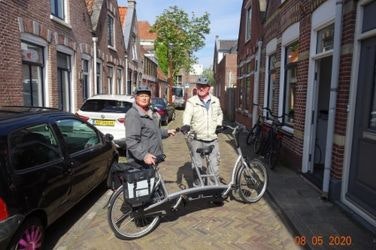 Customer experience tandem Twinny - Gerda en Chris Kost
Gerda and Chris Kost have a Twinny tandem since May 2020. Read their experience with this tandem for adults here.
Read this customer experience
User experience child parent three-wheel tandem Kivo Plus - Antoinette Krol
The Kivo Plus is a three-wheel tandem for a parent and a child. In the review below, Antoinette Krol talks about her experience with the Kivo Plus.
Read this customer experience
;
Configure your own bike
With the online configurator of Van Raam you can easily assemble your tandem with tandem bike accessories. In simple steps you choose your tandem and the desired options and accessories. After the last step, enter your email address and you can view the complete configuration. You will also receive it in full by email. You can take the configuration for a test ride or to a Van Raam dealer. Read more about the configuration in the article: 'Build your own Van Raam bike with the bike configurator'.
Do you have any questions?
We are happy to assist you! Please check our contact page or contact us directly using the options below.