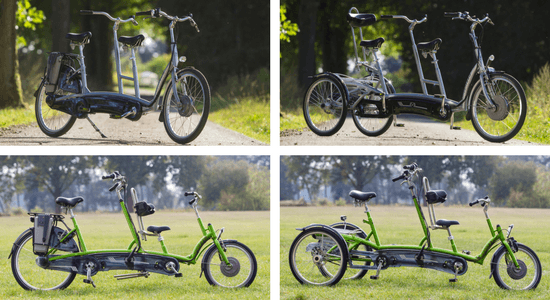 News
Video tandems for children and adults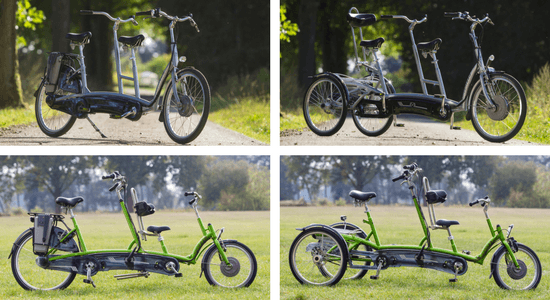 A tandem or a twin is a form of bicycle/tricycle designed to be ridden by more than one person. The term tandem refers to the seating arrangement (fore to aft, not side by side). A tandem is a suitable alternative for people who cannot cycle or participate in traffic alone. In this article we will introduce you to an instructional video with various Van Raam tandems.
Tandems for adults and parent-child tandems
The Van Raam tandems are used to enjoy cycling together. Van Raam has various types of tandems where driver and passenger sitting behind one another.
Twinny: Two-wheel tandem suitable for adults.

Twinny Plus: three-wheel tandem suitable for adults.

Kivo: Two-wheel tandem with a child in front and an adult behind. (the adult/supervisor sit's in the back instead of in front, enabling to keep an eye on the child/passenger).

Kivo Plus: Three-wheel tandem with a child in front of an adult and an adult. the adult/supervisor sit's in the back instead of in front, enabling to keep an eye on the child/passenger).

All Van Raam tandems are available with pedal support / electric motor so that cycling is even easier.

In addition to the above-mentioned tandems, sitting behind together, we also produce a bike with two riders side by side, also called a sociable. Watch the instructionalvideo of the Fun2Go side-by-side tandem here. Do You want to know more about tandems? Read "​What is a tandem bicycle?".
Video electric Van Raam tandem bikes
In the video below, you will find the various two-wheel tandems and tricycle-tandems for children and adults with, for example:
Kivo child-parent two-wheel-tandem and Kivo Plus child-parent tricycle-tandem.

Various options, like foot-fixation, backrest, Silent electric engine and divisble frame. 

Solid bicycle kickstand.

Powerful pedal support with three support levels and starting aid/launch control.

Enough space between two passengers.

Switch hub with 3 positions:
Switchable freewheel position 1: child's pedals move freely

Switchable freewheel position 2: child can pedal at will

Switchable freewheel position 3: child is forced to pedal
Reverse cycling possible with tricycle-tandems (Kivo Plus and Twinny Plus).

Electric Twinny two-wheel tandem for adults (also available as a tricycle-tandem).
Learn more about Van Raam's (electric) tandems? View all information about the Twinny two-wheel-tandem, Twinny Plus three-wheel tandem, Kivo two-wheelan tandem, Kivo Plus tricycle-tandem .  
 
Divisible/dividable frame
The Twinny bicycle tandem and Twinny Plus tricycle tandem can be divided into two parts.

To divide the frame: 
Put the bicycle on the standard and remove the grip from the handlebars.

Push the pellets of the small spring [A] so that the grip can be removed from the handlebars.

Loosen the knob.

Remove the front part out of the coupling.
To assemble the bicycle again, follow these steps in reverse order.

In the video below you can see how to divide the frame of an electric Twinny tandem.
Van Raam tandems custom made
Like all other Van Raam bikes you can assemble the tandem as desired. For example, you choose whether the Twinny tandem will get front or rear steering, you can choose your own color (of the availabe colors) and equip the bike with many options and accessories so that the tandem is produced as desired. All possibilities are listed on the price list of the relevant bicycle. You can also create your own tandem online using the configuration module.
 
Test drive a two-wheel or tricycle-tandem
Are you interested in Van Raam tandem (with electric pedal support) and want to make a test drive? Then call (0031 -315-257 370) to make an appointment in our showroom in Varsseveld and one of our advisers will be happy to assist you. You can also contact one of our Van Raam dealers in Europe or the USA.
Do you have any questions?
We are happy to assist you! Please check our contact page or contact us directly using the options below.