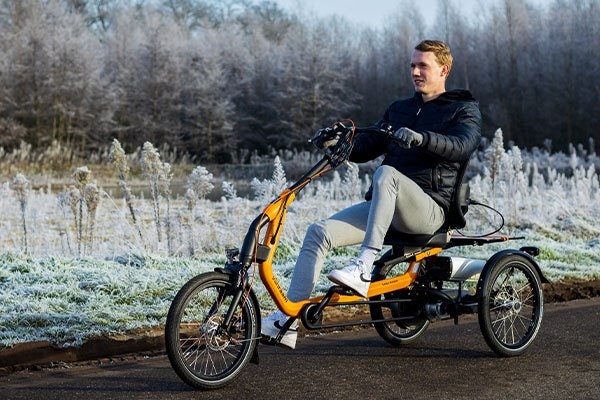 News
7 tips for cycling in winter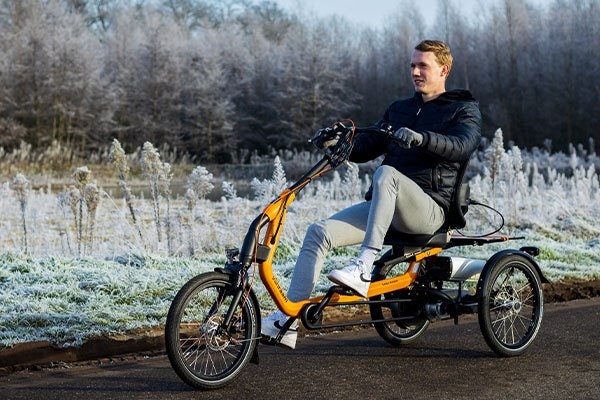 Cycling in winter is often dark, cold and slippery. Because of this, it can also be dangerous. Therefore it is important to be prepared. In this article we give you 7 winter cycling tips for cycling with your Van Raam bicycle.
Tip 1: Dress warmly
Cycling in cold weather is not always pleasant. That's why it's important to dress warmly, preferably with several layers of clothing. A good winter jacket, gloves, scarf, hat and socks over the ankles. This ensures that your body not only stays warm, but also dry. With the gloves, make sure you can still brake and shift properly. And if you are in motion for a moment, you will cycle yourself warm again!
Tip 2: Be visible
Bike lights are important for your safety and the safety of others. In the winter months it's often dark. It's then pleasant for yourself if you can see your surroundings well. Especially if you cycle at high speeds, for example if you have an e-bike. It's even more important that other road users can see you well, so that you don't endanger others. So make sure your bike lights are working properly.
Did you know?
On a Van Raam bicycle with pedal assistance, the lights go on automatically when you turn on the electrical system.
Tip 4: Studded tires
Many people use winter tires for their cars. But what about wintertires for a bicycle? At Van Raam we don't have special bicycle winter tires, but we do have a tire with extra profile and therefore more grip: the studded tire. This tire is very suitable for cycling in different weather conditions such as rain and snow. The studded tire is currently only available for the Easy Rider tricycle.
The studded tread is made so that you can cycle on different terrains and in different weather conditions in a pleasant and safe way.
Tip 5: Moderate your speed
Wetness, leaves, frost and snow guarantee slippery roads. It is therefore important to watch your speed while cycling. Especially with an e-bike. Pay extra attention while cornering, where you have less grip.
Tip 6: Maintain your bicycle
Besides taking good care of yourself, you should also take good care of your bike. Clean your bicycle, clean and lubricate your bicycle chain and have your Van Raam bicycle checked regularly by the dealer. Cycling on dusty roads means a lot of salt and dirty water on the parts of your bike. This accelerates rusting and can cause damage to your bicycle. So make sure you clean your bike after bike riding in cold weather.
Tip 7: Think of the benefits
When winter comes, many people take the car or the train. Understandable, because cycling in coldweather is not always fun. Yet cycling in winter also has many advantages. If you take the bike, you don't have to scrape your car, wait for the train and you're not stuck in traffic all the time. As a cyclist it is quiet on the road and you can enjoy the beautiful nature in the winter days. Cycling is healthy! When you go cycling in the cold, you get more fresh air (good for the airways, brain, blood pressure and heart rate) and your body has to work harder so you warm up faster and burn more calories.
Van Raam cyclists in the winter
You are not the only one who braves the cold with a Van Raam bicycle. Read here how customers experience cycling in cold weather.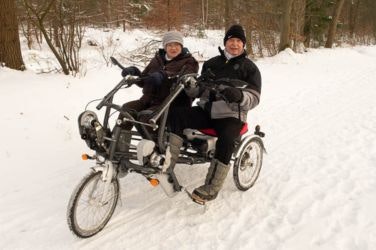 Customer experience Fun2Go duo bike - Rob en Marian Richmond
My name is Rob Richmond. I am 80 years old and I live with my wife Marian in Soest (the Netherlands). I like to do technical chores in and around the house, I am very interested in the developments in the field of energy transition, I accompany 3 choirs on the accordion, I love gardening, reading, watching a movie on Netflix and cycling. Since the end of 2020, I have been cycling together with my wife on the Fun2Go duo bike. Read more about our experiences here.
Read this customer experience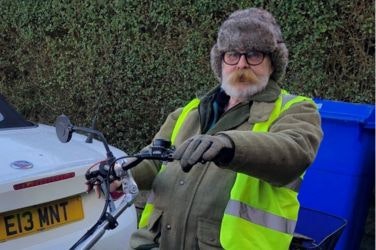 Customer experience Easy Rider electric tricycle – Jim McVittie
Jim McVittie is 63 years old and has walking and balance problems. He also has two replacement knees. Jim has an electric tricycle on loan. Read Jim's experience here.
Read this customer experience
;
Do you have any questions?
We are happy to assist you! Please check our contact page or contact us directly using the options below.