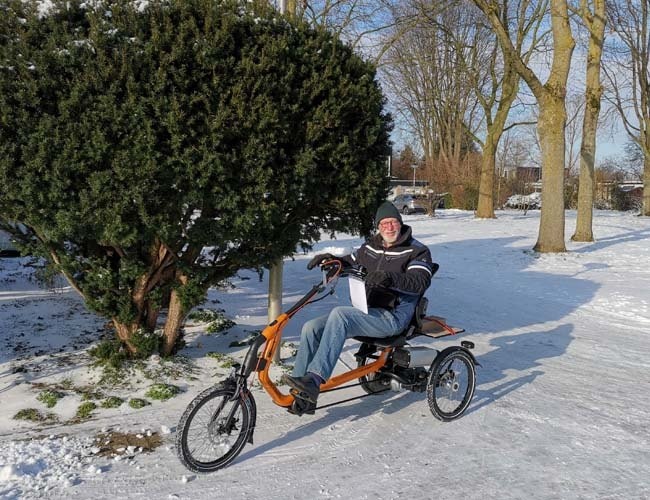 News
Cycling in the snow with a special needs bike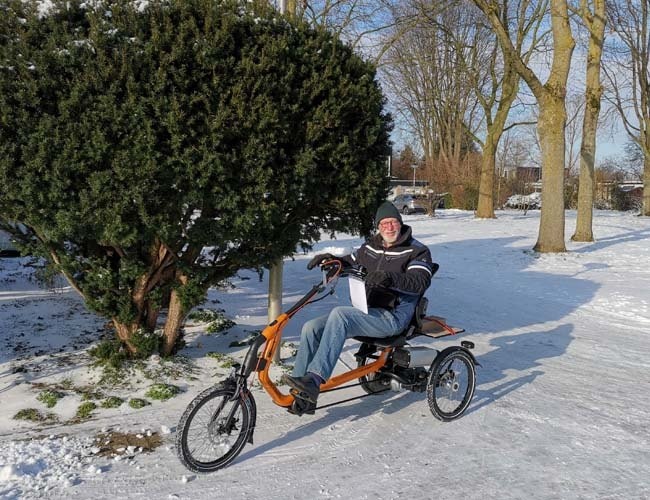 In some countries, the inhabitants are used to it snowing all winter and they adapt to this. In other countries the people are not used to snow, they are not prepared for it and the whole traffic can be disrupted. In the winter it is also possible to cycle. What is it like to cycle through the snow? You'll find some images of Van Raam bikes in the snow in this article. We also give you several tips on how you can best face the snow and the cold with your Van Raam bike.
Van Raam bicycles in the snow
It is a fact that it is possible to cycle in the snow with a Van Raam bicycle. The pictures below show that you don't only have to sit inside during the cold winter months, but that you can also enjoy going out.

Most Van Raam bikes have the advantage that they have more than two wheels. This gives you more stability and much less chance of slipping, compared to a regular two-wheel bike.

Cycling in the snow? Be careful.

Keep in mind that cycling in the snow can be difficult if there is a lot of snow or if the snow is frozen. Be careful and stop or turn around if it doesn't feel right to continue cycling.
Cycling in the snow with a tricycle
Van Raam's Easy Rider is a tricycle for adults. Because of the unique frame there is a low entry and a stable lower seating position. Because your centre of gravity is low, you sit on a seat with a backrest and you have a handlebar in front of you, you feel safe and secure, even with snow.

Together with two electric mountain bikers, a Swiss rider has made a bike ride on the Easy Rider through the snow. Watch the video below to get an impression of this ride.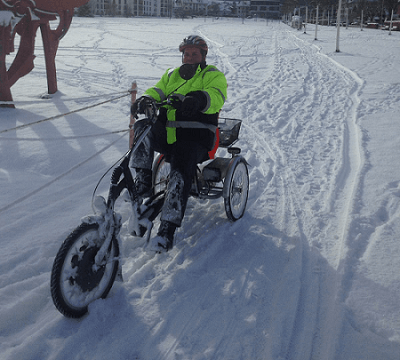 Tricycle in the snow in Switzerland
A Swiss citizen has made a bike ride on the Easy Rider through the snow. He was accompanied by two mountain bikers. This video shows that the motor of the Easy Rider tricycle is also powerful enough in the snow.
Tricycle in the snow: Diederik Wierenga
Diederik Wierenga tells about his experience with his Easy Rider tricycle in the snow:

"It was nice to cycle in the snow with the Easy Rider, nobody had cycled on the bike path yet. The Easy Rider is a stable bike which gives a safe feeling to ride in the snow.

The best part is that I can continue to cycle on my Easy Rider while others have to walk next to their bike. Sometimes it is very nice to have a tricycle."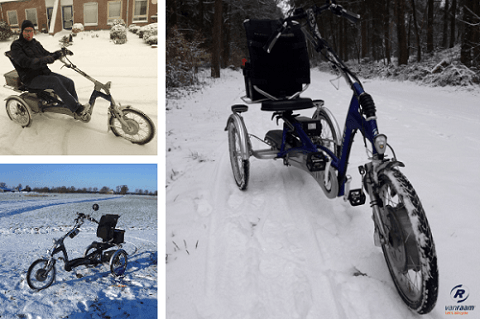 Tips for cycling in cold weather and snow
Are you planning a bike ride on your Van Raam bike soon? We will give you some tips that can help you during a bike ride in the cold and/or snow.
Get dressed well and warmly
Make sure you're wearing enough layers of clothing. A basic layer of clothing should be able to absorb your sweat. Choose comfortable but warm (sports) clothing.

Make sure your bike is well maintained
Before you set off, think about the condition of your bike. We'll give you '10 tips for the maintenance of a (special needs) bike' so you can make sure your bike is in top condition and you can significantly reduce the risk of accidents.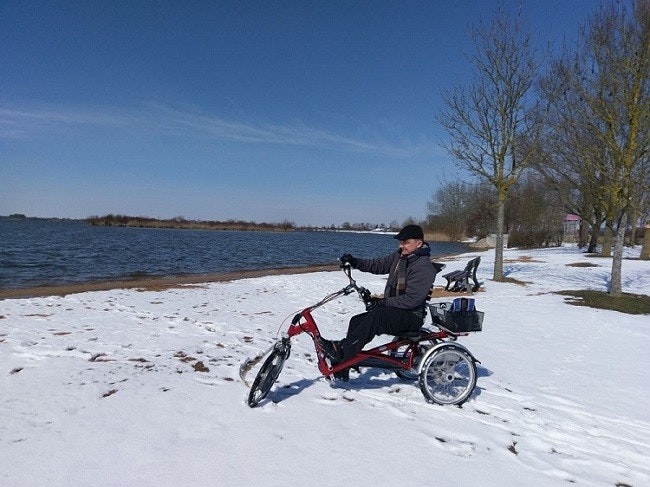 Make sure you are clearly visible
It gets dark faster in the winter, it can also be foggy or snowy. It is important to be clearly visible. Provide good lighting and distinctive clothing. Read our tips in the article '10 tips for cycling in the dark'.
 
Always be careful when you go on the road with your (special needs) bike. It is sometimes difficult to assess whether it is slippery or not, try not to panic. Don't take unnecessary risks and take other road users into account.
 
Plan your ride in advance
It is very important to plan your cycling trip in advance. What is the weather forecast? Be prepared for longer travel times and a changed route.
 
Make sure your battery is properly charged
When it gets colder in the autumn and winter months, the batteries of e-bikes need more attention. We'll give you tips on how to get the most out of your Van Raam electric bike in the colder months of the year.​
Share your experience with your Van Raam bike in the snow
Do you have a nice picture or a nice cycling moment of your Van Raam bike in the snow? We would love it if you would share it with us.

Fill in the contact form and share your story and photos with us! Who knows, you might see yourself on the Van Raam website soon.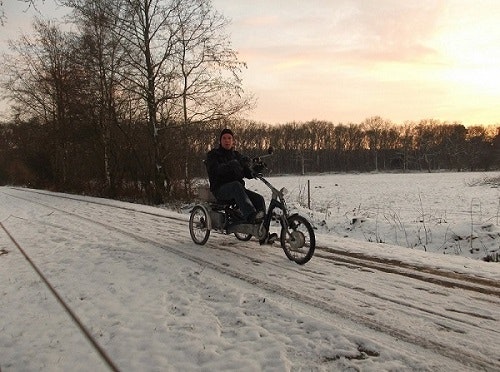 Do you have any questions?
We are happy to assist you! Please check our contact page or contact us directly using the options below.