Customer experiences
Customer experience Easy Rider electric tricycle – Jim McVittie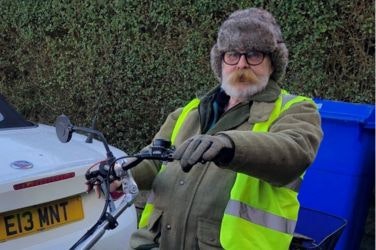 Jim McVittie is 63 years old and has walking and balance problems. He also has two replacement knees. Jim has an electric tricycle on loan. Read Jim's experience here.
Getting out on a tricycle
"My name is Jim McVittie, and I am a 63-year-old man from Sheffield, United Kingdom. I am a chauffeur by profession and my hobbies are model making and bookbinding.
I have walking and balance problems and two replacement knees. As a result, I have not cycled for 45 years. I wanted to get out again and get some fresh air and exercise. So, I came to the Van Raam Easy Rider electric tricycle."
Although it is only on loan, it has inspired me to buy my own electric tricycle.
Jim McVittie
Van Raam Easy Rider electric tricycle on loan
"I have had the Easy Rider tricycle on loan from Sheffield Cycling 4 All for three months. The electric tricycle has, among other things, pedal assistance and a mirror.
I use the bike for fun. In the beginningI used to cycle 24 km a week. Now I cycle more than 100 km per week!

The most positive aspects of the tricycle are the ease of use and the low sitting position. I often cycle the same route of 27 kilometres, and I have done this in snow, ice, hail, rain, and wind! But when the sun shines and there is little wind, it is a pleasure to cycle. Sometimes I get admiring looks from passers-by.
I love the Easy Rider! Although I have it on loan, it has inspired me to buy my own electric tricycle."


Jim McVittie – Sheffield
Bike: Easy Rider electric tricycle