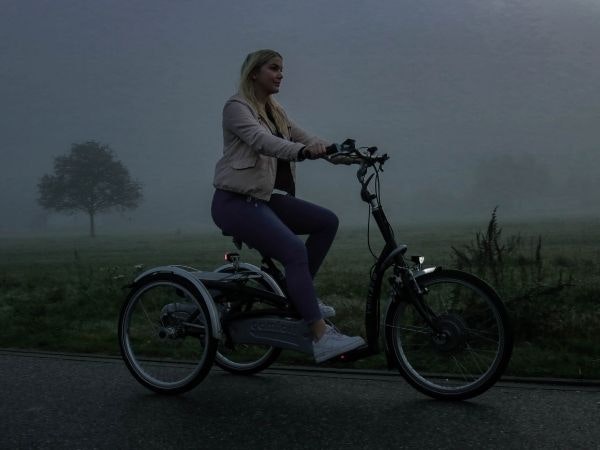 News
10 tips for cycling in the dark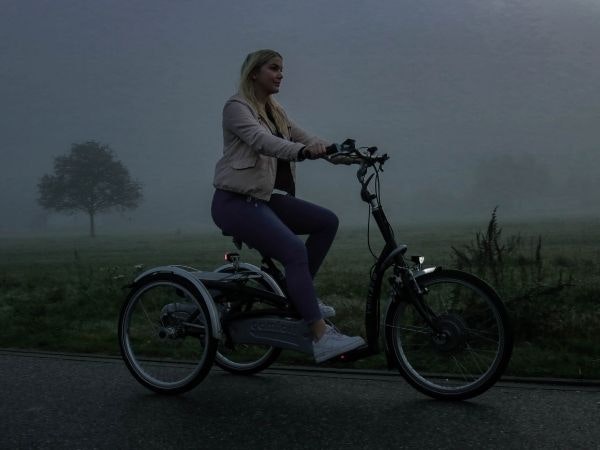 Cycling in the dark can be a challenge for some, but even if you have less of a problem with it, it's good to think about what to look for. To help you stay mobile and safe in the dark, we have put together 10 tips for cycling in the dark.
Video: 10 Tips for cycling in the dark
Tip: turn on the subtitels
Here are the 10 tips for cycling in the dark
1. Light on
Not only will you see better, but you will also be seen better yourself. In addition, in the Netherlands and also in Germany you are obliged to install lighting on your bicycle. These rules have been established by the government.
Extra tip - automatic lighting via the electrical system
The Van Raam electric system "Silent system" for Van Raam bicycles is equipped with a centrally controlled lighting. The lighting can be switched on and off by means of the on/off button. Read more about how the lighting works with the Van Raam electric system in our article 'Lighting with the Van Raam electric system'.
2. Make sure that you are visible
As mentioned above, light is a form to be recognized. It is very important that you are seen by others and that you can see the road well.

An optional blinker on your bike can be a way to be better recognized and to indicate where you want to cycle to. 

A reflective vest with reflectors like the ones we know from cars is another good way to attract attention. Avoid dark clothing in any case. Do you want to wear darker clothes? Then add extra reflector stripes on here clothes. This tip also applies to extra reflectors on your bike, which will also help you increase your bike safety in the dark.
3. Have you fully charged your battery
If you have pedal support on your bike, it is helpful to have your battery fully charged before you set off, so that you do not have to pedal on your own while riding in the dark. Would you like more information on how your battery works and how to charge it? Read our article "How does a Van Raam battery work and how to charge it".
Did you know: Reflecting bicycle tires
The reflective stripes on the tire light up extremely brightly under the influence of a light sources. The material reflects the light exactly in the direction where the light source comes from. Because of the two light circles of the size of a tire, you are very well perceived as a cyclist. In the Netherlands the reflective tires are even required by law. Therefore, reflective tires are standard on our special bikes.
4. Maintenance - keeping your bike in good condition
Every (electric) bicycle needs maintenance from time to time. Whether two-wheeled, three-wheeled, wheelchair, tandem, side-by-side or scooter bicycles. The dealer where you bought your Van Raam bicycle can do the maintenance for you, but there are also a number of things you can check for yourself. We would like to give you some tips on how to keep your Van Raam bicycle in top condition.
5. Have your eyes and ears open
Keep an eye on your surroundings and make sure you can react immediately. Having full attention in traffic is very important, not only when cycling in the dark.
To be able to give your full attention to the road, keep your ears open to hear incoming traffic, so do not listen to loud music on your bike.

Also keep your eyes open and ride with foresight, don't be distracted and don't look at your cell phone. Not only is it dangerous to look at your cell phone, it can even get you fined in countries like Germany and the Netherlands.
6. Choose well lit paths
As soon as it gets dark, you should prefer the well lit road instead of the forest and fields.
Think about your route and choose safe routes where you can ride on bike paths as much as possible. This may not be the most idyllic and adventurous route, but this environment will give you more peace and quiet and a better view of the passing cars.

7. Do not cycle alone
Do not drive alone in the dark. Find someone or ask a friend to join you and ride your bike together in the dark. We know that this is not always possible, so let someone of your choice know where you want to cycle and where you want to go. Are you interested in learning more about cycling together? Read our article "Cycling together with an adapted bicycle".
8. Take your cell phone with you
Take your phone with you, should something happen while riding your bike in the dark you can ask someone for help! With the Van Raam Smart E-Bike App you can send an SOS report to a person of your choice.
9. Adjust your speed where necessary
In busy, cluttered places, it is recommended to adjust the tempo. This way you give yourself more time to look around and others have more time to adjust to you. 

10. And of course have fun
If you have little experience with cycling in the dark, it may take some getting used to at first, so don't forget to enjoy the fact that you are sitting outside on your bike.
What else might interest you
Please have a look at other articles and pages you might be interested in.
How many kilometers does a Van Raam E bike battery last?
Most of Van Raam's adapted bikes can be equipped with a pedal support. Here you can find the most important information about pedal support and what the range of a Van Raam battery can be, i.e. how many kilometers a Van Raam e-bike battery lasts.
Van Raam Bicycle Tips
Take a look at our tips page and learn more about Van Raam special bikes. Here we show you useful tips and tricks for your Van Raam bike. From learning how to ride a bike to installing a Fun2Go intermediate partition and many other tips on maintenance, transport, storage and wintering of your bike. Read it here.   
Do you have any questions?
We are happy to assist you! Please check our contact page or contact us directly using the options below.