Customer experiences
Customer experience Fun2Go duo bike - Rob en Marian Richmond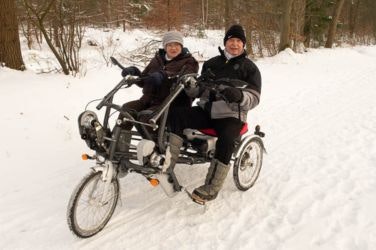 My name is Rob Richmond. I am 80 years old and I live with my wife Marian in Soest (the Netherlands). I like to do technical chores in and around the house, I am very interested in the developments in the field of energy transition, I accompany 3 choirs on the accordion, I love gardening, reading, watching a movie on Netflix and cycling. Since the end of 2020, I have been cycling together with my wife on the Fun2Go duo bike. Read more about our experiences here.
Specifications
Pedal assist, Extra battery pack Cube, Double battery switch, Baskets, Direction indicator, Mirror, SmartGuard Tyre
Configure your bike
Being able to go out and enjoy some good exercise
We both used to cycle on a different bike. When this became more difficult, we were looking for an alternative. Through the internet and a tip from our daughter, we came across the Van Raam website and the Fun2Go side-by-side tandem.

After careful consideration, we bought it and now we can go out together again and enjoy some good exercise. We like the bike very much! We have cycled over 950 kilometres in three months. That is an average of 15 to over 20 kilometres per trip, minus the rainy days.
Now we can go out together again and enjoy some good exercise. We have cycled over 950 kilometres in three months.
Rob and Marian Richmond
Duo bike purchased via local dealer
The service was fully provided by our local supplier. This is Profile Smeeing, the cycling specialist of Soest, or to quote George Clooney: "Who else?". We waited about 6 weeks for the duo bike, the delivery via the dealer went, as expected, very smoothly.

The contact with the dealer is excellent and the service is super. The explanation and guidance is more than sufficient. It is a very solid business with extremely professional and pleasant staff. Even after the purchase of the duo bike, we still drop by now and then for a check-up or extra instructions; this is no problem at all.
Cycling 'side by side' together and meeting new people
We love the fact that we can cycle together "side by side" through our beautiful region. During our bike rides, we can discuss anything we come across on the way. We discover more and more interesting and fun places in our beautiful Soesterregion, including the extensive forests with deciduous and coniferous trees, countless hills and picturesque valleys, the Eempolder in all its spaciousness and the Military Museum with its three kilometres long runway, where everyone enjoys walking, cycling, roller-skating and flying and where we are ready for Take Off. Cycling through this beautiful region is a daily pleasure.

Last winter, we also cycled through the snow and over ice. It is great to plough through the snow together. The bike is a tricycle, so it is super stable in almost all weather conditions. During our cycling trips, we meet new people and often get reactions like: "Oh, that looks fun".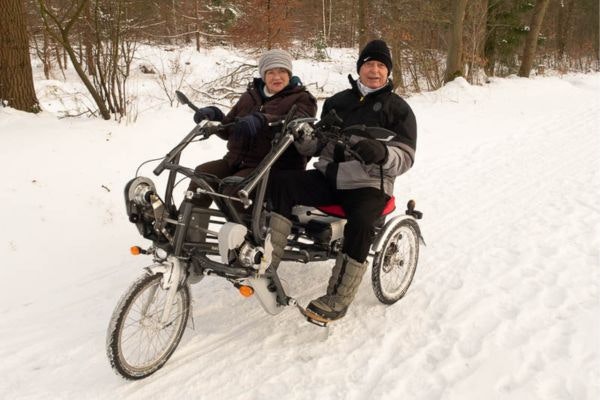 Options on the Fun2Go duo bike
Our side-by-side tandem has extra options like electric pedal support with a larger battery and an extra switchable battery pack, a luggage basket (for the bag with sandwiches and coffee), direction indicators, two mirrors, two rear lights, SmartGuard tyres, a self-chosen RAL colour and extra thick cushions.

We also use the Van Raam E-Bike App. We like this app and we like the fact that we can see the battery charge, the speed and the pedal support. We still need to experience it a bit more and I think the time display figures could be a bit larger.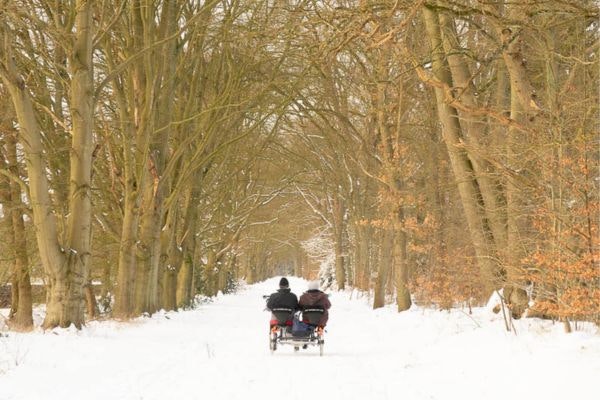 The two photos above were taken by Holland-Cycling.com.
Summary
We give the Fun2Go an 8,5 out of 10. We do have some focus points, like for example the suspension which we clearly miss when riding over bumpy paths in the woods. In summary, it is the best purchase we have made in years. It is a fantastic duo bike which could be improved on a few points.

Rob en Marian Richmond - Soest
Model: Fun2Go duo bike