Customer experiences
Customer experience 3 wheel tandem bike Twinny Plus - Family Groot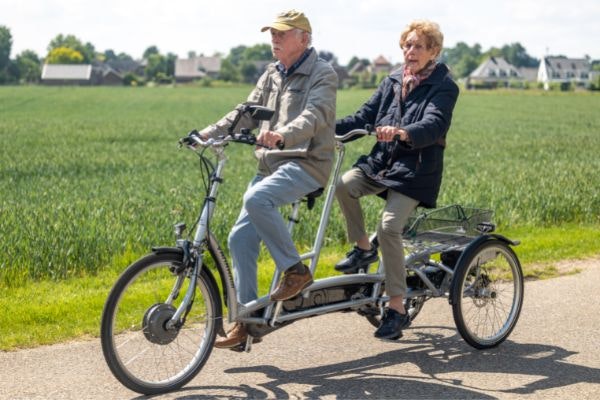 Mrs. Groot is 83 years old, her hobbies are reading, walking and cycling. Since a few years she has become visually impaired, together with her husband she now cycles on the 3 wheel tandem bike Twinny Plus from Van Raam. Read their experience with the Twinny Plus here.
Cycling was no longer possible
"I have been visually impaired for a number of years and cycling on my e-bike was no longer possible. We ended up at Van Raam via a GP nurse.

We consulted Van Raam's website, also together with our children. We have also been to Van Raam several times for a test ride. The customer service from Van Raam was great. Very good service, lots of patience and we were allowed to try every bike. Also very professional advice.

We ordered the 3 wheel tandem bike from Alexander Tweewielers in Didam. The service and delivery were good, the bike was brought to our home. We have had sufficient explanation, but this was not necessary because we had already had it at Van Raam."
Video: family Groot shared there experiences
Watch in the video below what the Twinny Plus has brought to Mr. and Mrs. Groot.
Tip: Turn on the subtitles for accompanying text.
Make cycling trips again thanks to the 3 wheel tandem bike
"The 3 wheel tandem bike Twinny Plus is a very nice bike. I am very enthusiastic, when the wheather is okay I make a lot of cycling trips with my husband in our spare time. What I like about the bike is the pedal assist and the stability.

People we meet on the road are very enthusiastic and ask questions about the bike. When I told my GP that I was going out on the 3 wheel tandem bike again, she immediately stepped outside as she wanted to see the tandem. She's a big supporter of physical activity for the elderly​."

Family Groot - Didam
Bike: Twinny Plus