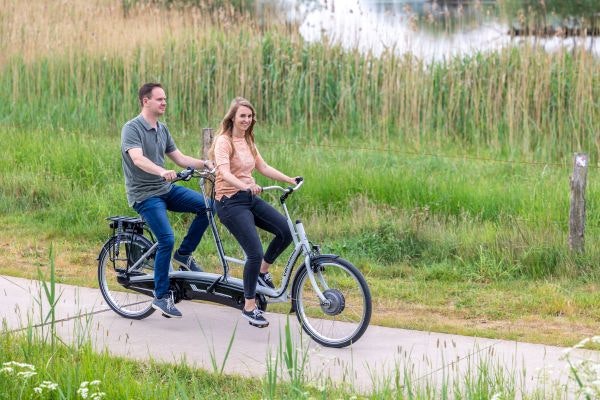 News
10 tips for cycling on a tandem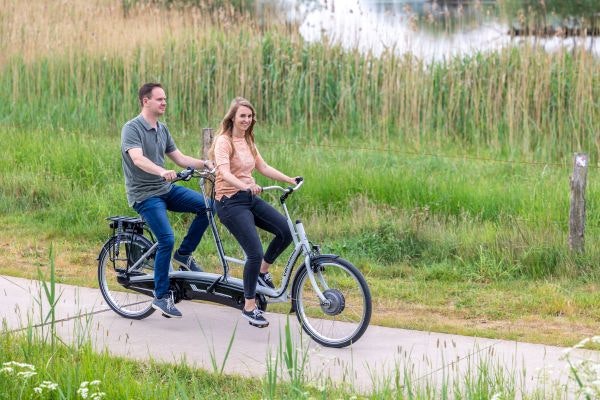 Van Raam has both two-wheeled tandems and three-wheeled tandems where you can ride together or side by side. But what should you always pay attention to when riding a tandem? In this article, you can read 10 tips for cycling on a tandem.
Riding on a Van Raam tandem bike
Below you will find important tips that you should keep in mind when you cycle with one of the Van Raam tandems. Keep the following points in mind when riding a tandem:
Tip 1: Preparation is the key
Before you start riding, adjust your saddle to the desired height and check that the tires are well inflated and that the brakes and, also lights are working. You should also avoid wearing baggy pants and skirts that could get caught in the chain of your bike. This can lead to dangerous situations.
Tip 2: Practice makes perfect
Before you go on a bike tour, practice getting on and off the tandem and riding the tandem. You should also test the handling of the tandem at an appropriate speed on an even surface. In this way, you will learn to react better to unexpected movements of the tandem. Furthermore, you should try to practice riding, shifting gears, and cornering in a quiet environment.
Tip 3: Safety first
Do not get on or off the tandem while the Tandem is moving. Always keep sufficient distance from other cyclists, motorists, or other traffic participants and constantly follow the rider's instructions. With extra options such as belts and back supports the safety of the cyclist can increase even more.
Tip 4: Pay attention to your surroundings
Look for a route with a flat surface. Please note that the way you aim into a curve can vary from tandem to tandem. With a tandem, you are slower than with a traditional two-wheeler. Therefore, you need more time to cross the road. You should pay attention and cycle with foresight.
Tip 5: Use parking brake
You should lock the parking brake on your tandem when you get on and off the bike so that the bike cannot roll away.
Tip 6: Appropriate speed
Especially when riding downhill, make sure that no dangerous speed is reached. Use the breaks on time and drive at moderate speed.
Tip 7: Know your electrical system
If your tandem is equipped with the unique, specially developed electric pedal support system: Get used to the functions it.Always be careful when switching on the electric system and do not be surprised by the sudden activity of the electric motor. Switch between the three support modes Eco, Comfort, and Sport in order to get a good feeling of how the support modes work on your tandem. The Twinny Plus, Kivo Plus, and Fun2Go are equipped with a reverse function. Practice the reverse and start-up functions of the electric motor.
Tip 8: Communicate with each other
Good communication between driver and co-driver is extremely important when riding on a tandem. As the driver, you should indicate when you are riding into a corner or when braking and shifting gears on time.

Tip 9: Maintain regularly by yourself
Check your tandem regularly to ensure that the wheels, handlebars, and saddle are properly secured and that all connections are tightened properly. Every (electric) tandem requires maintenance. The dealer where you bought your Van Raam bicycle can do the maintenance for you, but there are also a number of things you can do yourself. We would like to give you a few tips for this.
Tip 10: Have fun
With all these tips, don't forget to enjoy your bike tour on a tandem! Would you like to share your experience in the form of a customer experience on our website? Please see the share the customer experience page.
The perfect tandem
Choose the right tandem for you, which is best suited to your situation.During a test ride at Van Raam it is possible to test all tandems. As mentioned before, Van Raam has various tandems in its assortment. These are the following:
At Van Raam's showroom in Varsseveld, you can make an appointment to receive help from a technical advisor in choosing a tandem. It is also possible to try out a tandem outdoors on the test track. You will then receive a free offer to order the adapted bike from a Van Raam dealer. Not able to visit Van Raam? At some dealer locations, it is also possible to take a test ride. Contact a dealer near you.
Do you have any questions?
We are happy to assist you! Please check our contact page or contact us directly using the options below.