Options
Walker holder preparation
When you use a walker, the walker holder preparation is an option. You can take your rollator with you on your bike. This option is a bracket on which the rollator holder can be mounted. Because there are many different types of walkers it is impossible to have a rollator holder for every type in stock. A dealer or bicycle shop can help you further to order the correct walker holder for you.
The walker holder bracket via a Van Raam dealer
The walker holder preparation can be ordered at Van Raam dealers. It is also possible to have this option mounted on your bike afterward by your dealer. Find your nearest dealer on the dealer page.
Read walker holder preparation customer experiences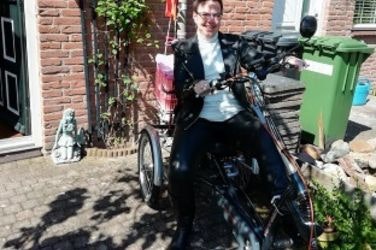 User experience tricycle Easy Rider - Sandra Kranenburg
My name is Sandra, I am 47 years old and since January 2019 cycling has become a hobby for me again. I also like to do various mind sports like puzzles, games on my tablet and I like to watch horror movies. From January 2019 I own an oceangreen Easy Rider tricycle. On my bike are a walker holder preparation and rearview mirror (on the left).
Read this customer experience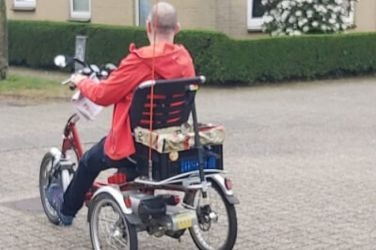 Customer experience Easy Rider tricycle – Patrick van der Schrier
Patrick van der Schrier has ataxia, which is mostly in his legs. He cycles on an Easy Rider tricycle.
Read this customer experience
;
Specifications
| | |
| --- | --- |
| Price | € 217 (excl. VAT and shipping) |