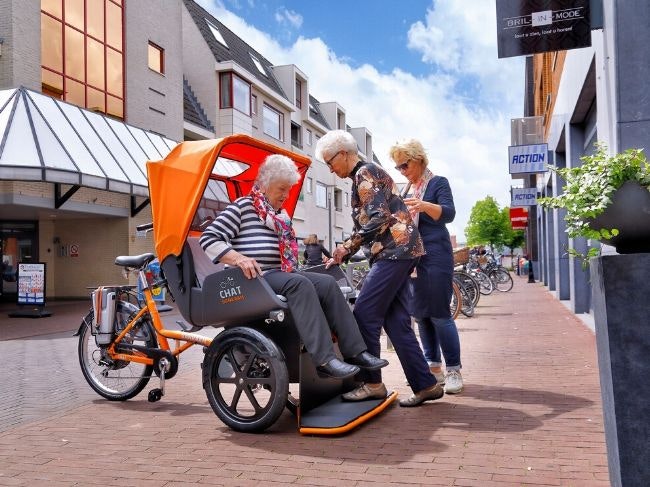 News
Van Raam rickshaw bicycle Chat against loneliness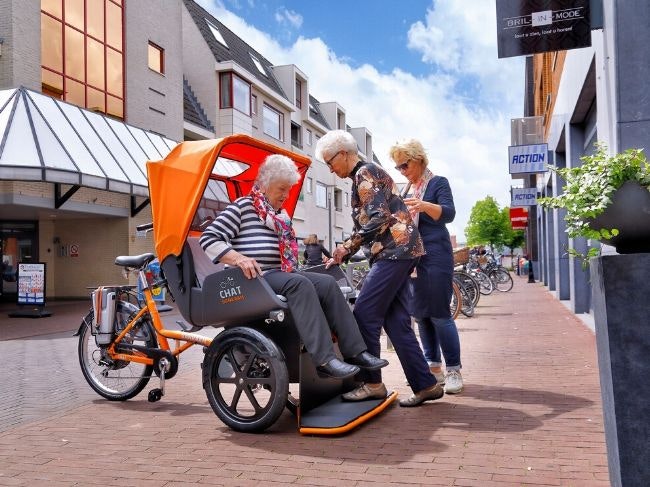 Many people suffer from age depression and the feeling of loneliness and isolation. The way out of loneliness in old age can be tackled with the help of Van Raam's rickshaw bike Chat. In this article you will learn how to get out of isolation with the help of the Chat and how to recognize signs. Read also the experiences of current users of the Chat in this article.
The way out of loneliness in old age with rickshaw bike Chat
The loneliness (at an old age) often has consequences for those affected. These can include depression, listlessness and increased lack of contact. As a result, many people lose all their courage to face life in the long run.

However, there are many ways to prevent or counteract this. For example, by doing voluntary work, visiting associations or cultural sites, literature circles and travelling.
 
But also going out is especially important. Riding a bike together to overcome loneliness is also a popular activity. But what if you can no longer cycle independently? This is where our rickshaw bike Chat comes in!
Rickshaws have long been known to be a form of transport in major Asian cities. These bikes are also becoming more and more popular in Germany for the transportation of passengers. In 2018, Van Raam and Cycling Without Age (CWA) determined that the current rickshaw bikes need to be modernized. So, Van Raam decided to think about a new contemporary version of the rickshaw bicycle. And that is how the rickshaw bicycle Chat was born, the cure for loneliness.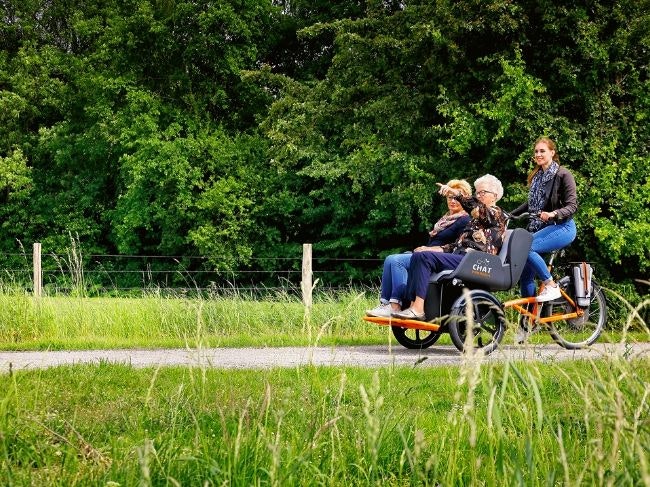 Good to know
Here is a brief explanation in advance to help you realize if someone is suffering from age depression. Often in this situation, depression is accompanied by physical complaints. For example, the feeling of tightness in the chest or memory problems. Approximately every tenth elderly person is affected by depression. In nursing homes even every third person is affected. This is how it can be recognized:
Interest has been lost in things that were once popular.

Depressive moods are on the increase.

Existing problems are perceived more strongly and more threateningly. Particularly when it comes to health.
(Source: Malteser)
Van Raam rickshaw bicycle Chat
The Van Raam rickshaw bicycle called Chat can be used in many ways. For example, in institutions, where it can be used to give seniors the opportunity to be mobile again and get out of isolation. On the other hand, families and amusement parks can also benefit enormously from this bicycle. This rickshaw bicycle is a real cosy bicycle, where you can chat with each other while enjoying a comfortable tour.

Remember past times as you ride through your city. Or make completely new experiences with each other. The special cockpit with seat cushions and ergonomic design gives a lot of comfort, as they are completely adjusted to each other. Learn more on the rickshaw bike Chat product page.
Experiences with the Van Raam rickshaw bike Chat
Read below some experiences about and from users of the Van Raam rickshaw bike Chat.
Experience from Siegen, Germany - Association ALTERAktiv
The association ALTERAktiv Siegen-Wittgenstein e.V. in Germany takes up the idea of Cycling Without Age (CWA) to counteract the social isolation of older people. Residents of senior citizen facilities, private persons with accompanying persons can participate in rickshaw rides. This is intended to make participation in public life possible. In addition, this is also a free project for all those involved.Read more about this in the news article on the Siegen Website. (In German) Or read the artikel on our website "Van Raam rickshaw bike Chat at ALTERAktiv in Siegen".
User experience rickshaw bike Chat - Debbeshoek Azora
"We would like to thank Van Raam for using the Chat. The residents really enjoyed the bike! Everyone was having a nice chat and felt like the queen!"
More Van Raam bikes of this type
Did you know that Van Raam also offers other bikes for several people besides the Chat? With the side by side tandem Fun2Go you can enjoy a nice bike ride for two next to each other. Or take someone who is confined to a wheelchair with you on a bicycle tour with the wheelchair transport bicycle VeloPlus.
Try the Van Raam Rickshaw Chat yourself
Are you curious and would like to feel the wind in your hair yourself while riding the rickshaw bike Chat of Van Raam? Make an appointment for a free test ride at our showroom in Varsseveld, or at the Van Raam Advice Centre Germany South. That's not around the corner? Then you will find a dealer near you.
Do you have any questions?
We are happy to assist you! Please check our contact page or contact us directly using the options below.