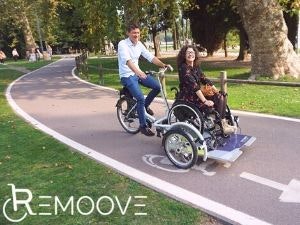 News
New Van Raam premium dealer for bicycles in Italy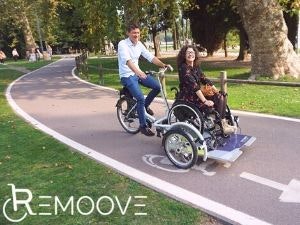 There is now another premium dealer in Italy, Remoove in the north of the country. Get to know the Van Raam dealer Remoove better in this article, find out what bikes are available and what they stand for.
Remoove as Van Raam Premium Dealer
Remoove is based in Arco, Northern Italy and is an organization founded three partners: Andrea Tomasoni, Matteo Taddei and MattiaBonanome. They want to ensure that barriers and obstacles in everyday life are removed. Furthermore, the "talents and energies" of all people with reduced mobility should be revived (thats my the name is Re-move). It all starts with the passion for the bicycle, as they explained in an interview at prodigio,:"We believe that it is a symbol of freedom and perhaps the ideal means of transport. We wish everybody could take a ride."

That is why Remoove is active in the service sector, among other things, in the area of communication and barrier-free events, where you design, implement and promote integration events and make them accessible to everyone. You are also largely represented in the mobility sector. They have set themselves the goal of making new forms of mobility accessible to all. That is why it has chosen the quality of the Van Raam brand. 
We believe that it is a symbol of freedom and perhaps the ideal means of transport. We wish everybody could take a ride.
Remoove on social media
Remoove can also be found on various social networks such as on their YouTube channel, Facebook page und Instagram account. Here you will regularly share experiences, impressions and information. Also have a look at the following impressions from Northern Italy and the adapted bikes from Van Raam. 
The special wheels at Remoove
The following Van Raam bicycles are available at Remoove. You can also find more information about the bicycles available in northern Italy. Besides the one person bicycles there are also bicycles where besides the main rider one or more additional people can ride along. At Remoove it is also possible to rent Van Raam bicycles. In the rental the bikes are VeloPlus, Fun2Go, Easy Rider and Chat. Below more about all bicycles at Remoove:
International Van Raam dealers
In Italy there are currently two dealers and worldwide there are now Van Raam dealers in 20 different countries that sell Van Raam customized bikes. You can find our special bikes in America, Australia, Israel, Iceland, Spain and many more. If you have further questions or would like to know which dealer is in your area - go to the dealer overview.
Do you have any questions?
We are happy to assist you! Please check our contact page or contact us directly using the options below.