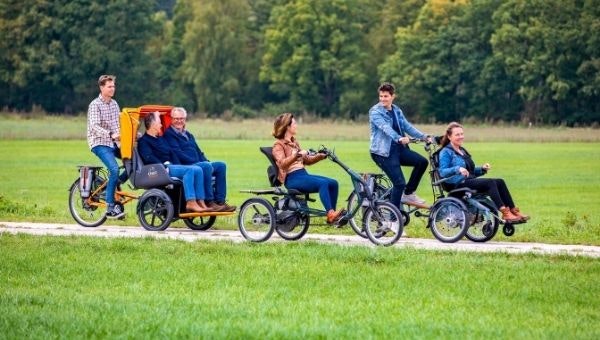 News
8 tips for cycling economically with your Van Raam e-bike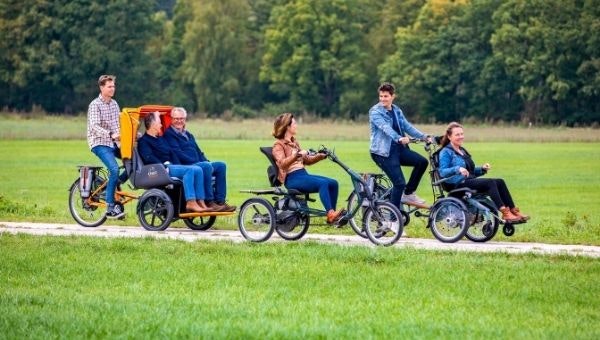 An electric bicycle is much cheaper to purchase and use than a car. With the high fuel prices, it is therefore certainly worth it to use your (electric) bike. We give you 8 tips for cycling as economically as possible with your Van Raam e-bike.
Economical cycling with an electric Van Raam bicycle
The range of your Van Raam battery, meaning how many kilometres the battery of your Van Raam e-bike will last, depends on several factors. View our tips for economic cycling and increasing the range below.
Tip 1: Pay attention to your pedal support settings
The more support you get while cycling, the faster your battery will die. Van Raam's pedal support has 3 support levels:

1. Low support, maximum range
2. Average support, average range
3. Maximum support, low operating radius

You can switch settings while cycling. Always switch off the electrical system before getting on and off the bicycle and when walking with the bicycle.
Did you know?
Did you know that a Van Raam bicycle with pedal support also has a starting aid? This allows you to accelerate up to a speed of approximately 6 km/h for a maximum of six seconds, without pedalling. 
Tip 2: Use the Van Raam E-Bike App
The Van Raam E-Bike App is a free smartphone app that can be used in combination with your Van Raam e-bike. This E-Bike App can be used as a luxury bicycle computer and contains many other functionalities as well. The app also displays the capacity of your battery.

A Van Raam bicycle is always delivered with a certain basic setting that fits the bike. For example, the Easy Rider comes inan Eco-setting. With the Van Raam E-Bike App you can cycle in different recipes (Comfortable, Eco, Extra Power, Power). The Eco-recipe is the most economical to cycle in (the Easy Rider even has an Eco+ -recipe, this is even more economical than the Eco-recipe).
Tip 3: Make sure your bike is well maintained
With a well-maintained bike you can cycle much longer than with a bike that has all kinds of problems. Major maintenance can be carried out by a Van Raam dealer. In the article '10 tips for the maintenance of a (special needs) bike', you can read more about the maintenance and adjustments you can do yourself, such as checking the tyre pressure and lubricating the bicycle chain.

It is also important to check your bike before every bike ride. Read and view the article '6 things to check before you go cycling - Video' to learn about the things to check before you hit the road.
Did you know?
Did you know that good tyre pressure is very important? Bicycles with pedal support have a longer range if they are used with the right tyre pressure.
Tip 4: Take the weather into account
The weather has a major influence on your range. Wind force, temperature and rainfall are all factors that should be taken into account. For example, riding into the wind will require more electrical support and will be less economical. Do you have a tailwind? Then reduce the amount of support.

Too cold or too hot weather is not good for the battery, so it is best to store and use your battery between 5 and 20 degrees Celsius. As the autumn and winter months get colder, the batteries of e-bikes need more attention, read more in 'Tips for the optimum battery life of Van Raam's electric bicycles'.
Tip 5: Use the gears
Van Raam bicycles are available with multiple gears. Cycling requires less power and energy with gears. If you constantly cycle in a gear that is not too high, your battery will use less power. It is also useful to shift down to a lower gear when stopping. You can then upshift during the ride. Driving off in a gear that is too high unnecessarily costs a lot of energy. Read more about Van Raam gears in the article 'Gears on adapted Van Raam bicycles'.
Tip 6: Don't bring too much luggage
Your own weight and the weight of your luggage is also a factor in the range of your Van Raam e-bike. This is especially noticeable with Van Raam multi-person bicycles, as the battery of these bicycles will be empty sooner. If you cycle alone, the battery will be less strained and you will be able to cycle longer.

In order to make your cycling more economical, take a closer look at your extra luggage and take a critical look at the total weight of the bike, luggage and yourself. For example, is that heavy bag really necessary?
Tip 7: Make sure your e-bike is charged properly
If you always charge the battery of your Van Raam bicycle correctly, it will last longer. For optimal condition and capacity of your Van Raam battery, we advise to charge it indoors at room temperature with the supplied charger. In addition, It is better for the battery to charge periodically instead of waiting until it is completely empty. Never put the bicycle away with an empty battery! It is also important to slide the battery straight into the carrier, not at an angle. Read more in the article 'How does a Van Raam battery work and how to charge it?'.
Did you know?
Did you know that when not in use, the electrical system automatically shuts off after 10 minutes?
Tip 8: Take an efficient route
Plan your route well in advance. It makes a big difference whether you are cycling on a even road or up and down in the mountains. The most efficient cycling is on a even road without too many bumps. The road surface on which you cycle is also important. On smooth asphalt, you have a higher range than on a road with many holes, a forest track or loose sand.
How many kilometers does a Van Raam e-bike battery last?
Only an estimate of the range/radius of action of your Van Raam e-bike can be given. The average range of a standard battery is between 50 - 70 km. The most important factors that determine the range of a battery are the capacity of the battery and the type of bike. Read more about the range in the article 'How many kilometers does a Van Raam e-bike battery last?'.
About the Van Raam pedal support system
Van Raam has its own electrical pedal support system, the Silent system. This means that the motors, batteries, controller, smart display and software are developed by and for Van Raam. The pedal support system has the following features, among others:
Very easy to use

Extremely high quality and safe batteries

Powerful motors

Practically noiseless motor

3 individually adjustable support modes

Starting aid

Modern and efficient electronics
Trying out a Van Raam e-bike?
Have you become curious how to cycle on a Van Raam e-bike after reading this article? Or do you want to know how to apply these tips yourself? Then try an electric Van Raam bicycle for a free test ride at Van Raam.

During a test ride, you will be assisted by a technical advisor and it is possible to try out a special needs bike of your choice on the bike test track. If it is not possible to come to Varsseveld (the Netherlands) for a test ride? At some Van Raam dealers it is also possible to make a test ride. Please contact your local Van Raam dealer for more information.
Do you have any questions?
We are happy to assist you! Please check our contact page or contact us directly using the options below.