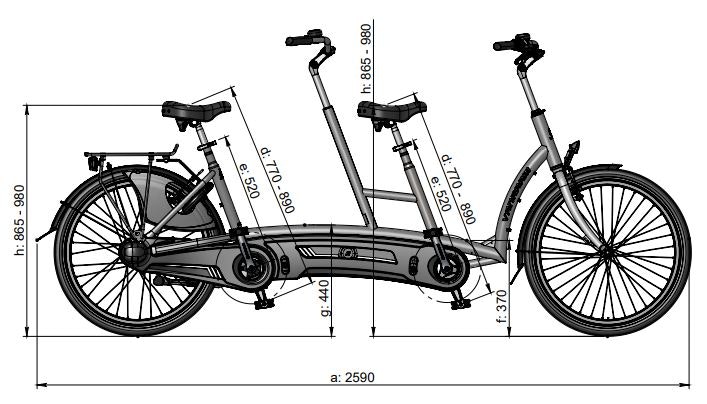 News
How long is a Van Raam tandem bike?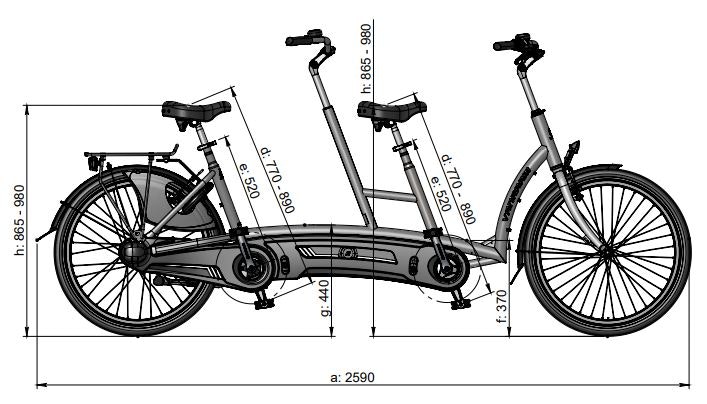 You wonder how long a tandem is? Van Raam produces different types of bicycles and also, among others, different models of tandems. These tandems not only all have different characteristics, but also different dimensions. In this article you can find out what Van Raam's tandem lengths are.
How long is a tandem bike?
The length of a tandem bike can vary from model to model. Van Raam has six different tandem models in its assortment with six different tandem lengths.
The length of tandem bikes by Van Raam
In the following the different tandems and their lengths are presented.
How long is a two-wheel tandem?
Van Raam has two different two-wheel tandems in its assortment. The Twinny which is suitable for two adults and the Kivo which is suitable for one adult and one child.
  
The Twinny tandem has a length of 2.59 meters from the front tire to the rear tire splash guard and the Kivo 2.44 meters.
How long is a three-wheel tandem?
Besides two-wheel tandems, Van Raam also has three-wheel tandems in its assortment. The Twinny Plus which like the Twinny is suitable for two adults, the Kivo Plus which like the Kivo is suitable for one adult person and one child. We also have the Fun2Go, where two people can ride bikes side by side.
 
The Twinny Plus has a length of 2.61 meters and the Kivo Plus 2.46 meters. The Fun2Go parallel tandem has a length of 2 meters. The length is also measured from the front tire to the rear tire splash guard.
 
With the Fun2Go there is another special feature that can still influence the length of this bike.
Optionally, a FunTrain, duo bike trailer can be coupled to the Fun2Go to ride with 2 more people at the same time.

The FunTrain parallel tandem trailer itself is 1.97 meters long. Together with the Fun2Go the tandem is 3.97 meters long. 

Have a look at all Van Raam tandems.
Tandem options
Optionally some Van Raam tandems are detachable. Some also call this folding. Van Raam tandems are not literally foldable, but can be split, which makes transport and storage easier. This of course changes the length of the bicycle tandem. Read more about this in the article "Van Raam tandem folding bike" and see how you can easily divide a tandem with this option. Tandems are also available with various other options such as a special backrest. Do you want to know exactly what options and accessories are available for your tandem? Then take a look at our online configurator!
Get an idea of the tandem length
Would you like to take a picture of the bicycle length of one of our tandems? This is possible with a free test ride at Van Raam. During the appointment (which can be arranged in advance) at Van Raam in the showroom in Varsseveld, you will be assisted by a technical advisor. It is also possible to try out the tandem outside on the bicycle test track in Varsseveld. Afterwards you will receive a free offer, with which you can order the tandem from a Van Raam dealer. At some dealers it is also possible to take a test ride. Please contact a dealer near you.
Do you have any questions?
We are happy to assist you! Please check our contact page or contact us directly using the options below.