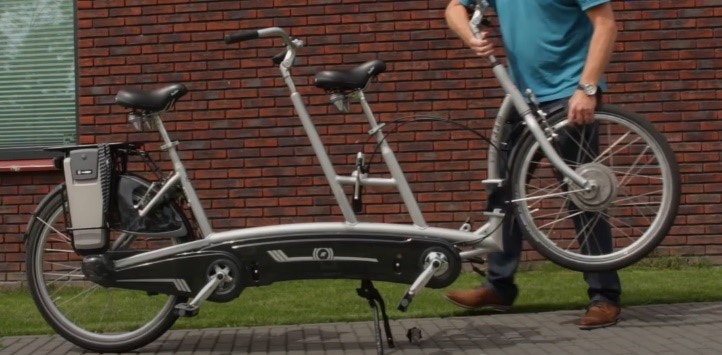 News
Folding tandem bike by Van Raam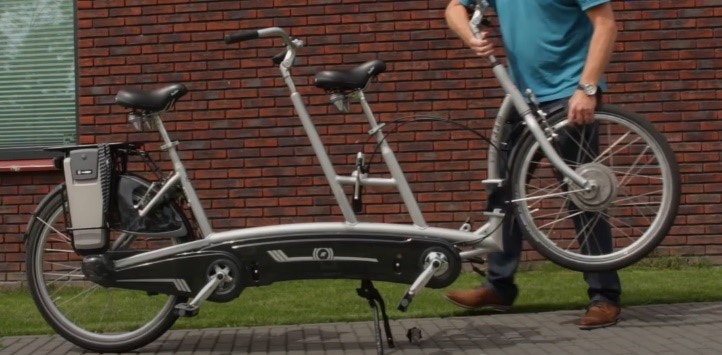 Van Raam tandems are not literally foldable but can be divided and this makes transport and storage easier. Watch our video and read in this article how to divide a folding tandem bike and which Van Raam tandems are detachable.
Video: How do I detach a Van Raam tandem
Watch our video of the tandem folding bike and see how you can divide the bike into two. Then you can read a step by step guide to the Tandem folding bike.
Step by step Van Raam foldable tandem bike
Folding tandems from Van Raam can be easily divided, read below how you can easily, safely and quickly share a Van Raam tandem.
Loosen the velcro straps that hold the cables together

Remove the handle on the right side by pressing in the two little beads and pulling off the handpiece. You can place the handpiece between the driver and passenger.    

Loosen the three connectors of the cables.

Unscrew the front part of the frame and remove the fixing.

Now you can easily remove the front part of the bike.
Folding tandem by Van Raam
A couple of the Van Raam tandems are available as detachable tandems. At Van Raam we make various tandems where you can sit behind each other on your bicycle and can also divide the bicycle. 
Twinny: tandem with two wheels, suitable for adults.

Twinny Plus: Tandem with three wheels, suitable for adults.

The Twinny shortens from 2.59 m to 1.90 m (rear part) and 79.0 cm (front part) after splitting.
The Twinny Plus shortens from 2.61 m to 1.89 m (rear section) and 84.0 cm in the front section after splitting.

Other advantages besides the shortened length are that the tandem is easier to transport and can be set up in a more space-saving way. Have a look at all tandems by clicking on the following button. 
Folding electric tandem bike
All Van Raam tandems and folding tandem bikes are optionally available with the unique pedal support system Silent System. The motors, batteries, controller, smart display and software have been developed by and for Van Raam, especially for the rehabilitation market. A folding electric tandem bike has many advantages for you, such as easy handling, 3 electric pedal support stands, a starting aid, the possibility to ride backwards and much more.

Van Raam has a Smart E-Bike. Every bike that has been equipped with the Van Raam pedal support has a smart battery. This battery is connected to the Internet and communicates with the bicycle. This has the advantage that you can see a lot of information about your bike and its battery(s) on your cell phone with the app from the distance.
Van Raam hat ein Smart E-Bike, also ein intelligentes Fahrrad. Jedes Fahrrad, welches seit dem mit der Van Raam Tretunterstützung ausgestattet ist, hat einen Smart Akku. Dieser ist mit dem Internet verbunden und kommuniziert mit dem Fahrrad. Dies hat den Vorteil, dass Sie viele Informationen über Ihr Fahrrad und dessen Akku(s) auf Ihrem Mobiltelefon mit der App aus der Ferne einsehen können.

Would you like to learn more about the Electric Folding Bike Tandem E-Bike? Click on the buttons below to get to the pedal support page.
Create your own folding tandem bike
In the configurator you can see which options are available for each bike, including which bike is available in a detachable version. Here you can thenconfigure your own individual bike. Do you want to know what is available for your Van Raam bicycle? Click on the buttons below to go to the configurator.
Try detaching a Van Raam tandem yourself
Would you like to try riding a tandem yourself and see for yourself how easy it is? This is possible with a free test ride at Van Raam. During the appointment (which you can make in advance) at Van Raam in the showroom in Varsseveld, you will be assisted by a technical advisor. It is also possible to try out the folding tandem bike outside on the bike test track. You will then receive a free offer to order the tandem folding bike from a Van Raam dealer. At some dealers it is also possible to take a test ride. Please contact a dealer near you.
Do you have any questions?
We are happy to assist you! Please check our contact page or contact us directly using the options below.