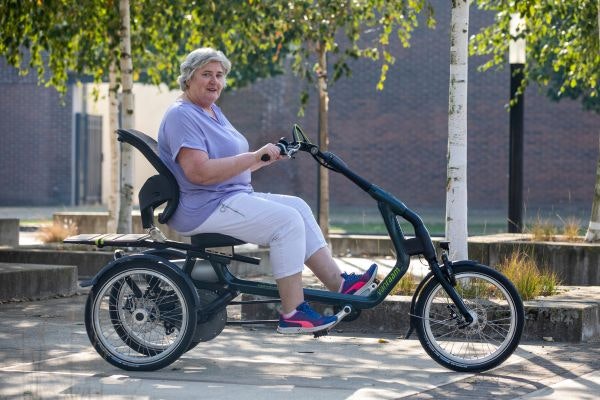 News
Electric sitting bike from Van Raam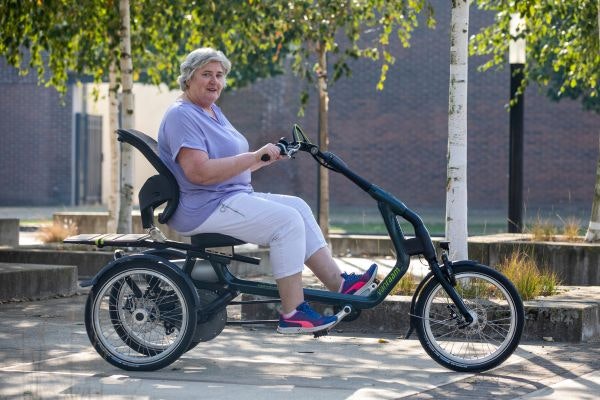 Electric sitting bikes are bicycles with a seat instead of a saddle. Van Raam has several electric sitting bikes in its assortment. Read more about these bikes in this article.
Easy Rider sitting bike for adults
The Easy Rider is a sitting tricycle for adults with a comfortable and easily adjustable seat. The Easy Rider has a unique frame so the bike has a low entry and the center of gravity is lower. The modern aerodynamic design with hydroformed tubes gives the Easy Rider a sporty look. With the optional pedal assistance of Van Raam, cycling becomes even easier on the electric sitting bike.
Benefits
Suspended frame for optimal comfort

Very easily manoeuvrable due to its small turning radius

Comfortable seat with tailbone relief and adjustable backrest

Suitable for up to 140 kg (reinforced frame up to 180 kg)

The seat and handlebars are easily adjustable
Easy Sport sitting bike for adults
The Easy Sport is a recumbent tricycle with an ergonomically adjustable seat with backrest. This tricycle is ideal for sporty people who also like comfort. Thanks to the understeer, your back, neck, shoulders and wrists are less stressed. The Easy Sport is adjustable in length, so you get the ideal cycling position adapted to your height. Also the Easy Sport can optionally be extended with pedal assistanceto an electric sit bike.
Benefits
Comfortable seat with backrest

Suspension for added comfort
Easy Rider Small sitting bike for children and smaller adults
The Easy Rider Small sitting tricycle is designed for children from about 4 years and smaller adults. The seat with backrest and the suspension in the frame provide extra comfort during cycling. The Easy Rider Small has a sporty and modern look. The bike offers great stability due to the low center of gravity and has a low entry level.
Benefits
Suspended frame for optimal comfort

Fits through a regular door opening

Low seating position with a low centre of gravity for increased stability
Easy Go scooter bike
The Easy Go is an electric sit bike and mobility scooter in one. During a ride you can easily switch between three modes; you cycle completely independently, you cycle with pedal assistance or you ride in the mobility scooter mode. In the mobility scooter mode you can rest your feet on the foldable footplate. The Easy Go is stable, compact and maneuverable and therefore very suitable for shopping, among other things. You have an upright sitting position because of the comfortable seat.
Benefits
More compact than a mobility scooter

Both forward and reverse cycling and driving

Anti-tilt wheels and parking brake for increased safety

No driving license or certificate needed
Van Raam pedal assistance
The Easy Go is standard equipped with Van Raam's Silent pedal assistance system. The Easy Rider, Easy Sport and Easy Rider Small can also be equipped with optional pedal assistance. The motor housing, batteries, controller, software and Smart display are specially developed by Van Raam for our customized bikes. The system is easy to use and makes cycling easier. All electric bikes from Van Raam are smart e-bikes. This means that they are connected to the internet (IoT connected) and that you can view data about your bike on the Van Raam app on your phone.
Electric sitting bikes for passengers
Van Raam also has some bicycles in its assortment that can be used together with a passenger.
These bikes make it possible to cycle together with people who can no longer do so independently.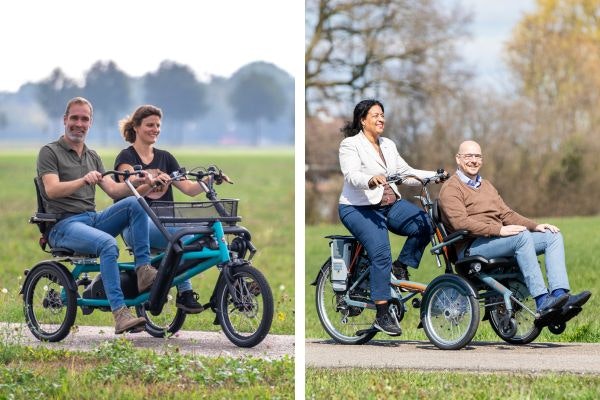 Try out an electric sitting bike
Are you curious whether an electric sitting bike is something for you? Then try out a sitting bike on Van Raam's test track. Our technical advisors will be happy to give you advice on which bike and options would suit you best. Are you unable to come to Varsseveld? It is sometimes also possible to make a test drive at one of our dealers. Find out which Van Raam dealer is closest to you and ask about the possibilities.
Do you have any questions?
We are happy to assist you! Please check our contact page or contact us directly using the options below.