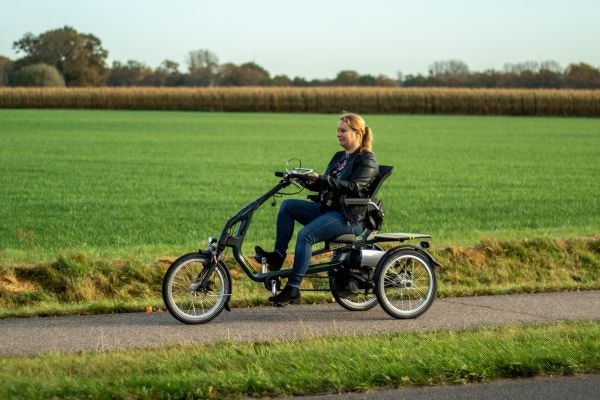 News
Brake systems on adapted Van Raam bicycles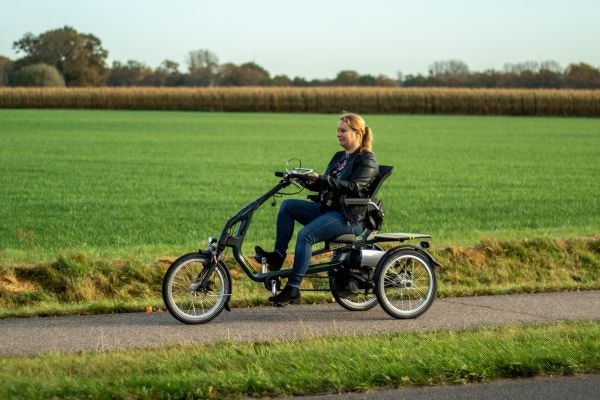 For a bicycle to be allowed on the road, it must have two separate brakes capable of braking two (or three) wheels. This means that bicycles are often equipped with two hand brakes. Read more about our braking systems and the exceptions in this article.
Video: What braking systems can be used on a tricycle for adults?
Two brake systems on a bicycle required by law
Dutch law stipulates that an electric bike may be used on the road if it has two separate brakes for braking two wheels. For bicycles without an electric motor, it is allowed to have one back-pedal brake. Van Raam's bicycles are standard equipped with two hand brakes, at least one of which is hydraulic on tricycles. The two-wheel bikes are standard equipped with two hydraulic brakes.

Optionally, it is possible to choose other brakes on your bike, such as a back-pedal brake or a pressure brake system. Van Raam always carries out bicycles with two brake systems.
Braking systems for deviating handlebars
With some special handlebars (also called deviating handlebars) on adapted bicycles, it is not possible to install two hand brakes. Read below which braking systems are used for each deviating handlebar.
In case of preferred left- or right-handed operation
Preferred operation is often chosen by individuals who have reduced muscle strength or mobility in one of their hands. In preferred mode of operation, the most powerful brake, bell and gear are placed on the side of the "good" hand. The second brake is placed on the other side, it must still be operable by the person.
In case of one-handed operation
When individuals are dependent on one hand when riding a bicycle, one-handed operation is chosen for the steering system. As with the preferred operation, here all controls are placed on 1 side of the handlebars, including the most powerful brake. In addition, the bicycle is equipped with a back-pedal brake, so that in case of an emergency, the brakes can always be applied.
With an uninterrupted steering wheel
An uninterrupted steering wheel can be equipped with either hand brakes or a push/pull brake system. The uninterrupted steering wheel with push/pull system is designed for people who have difficulty holding a standard handlebar and braking with a regular handbrake. Both the front and rear wheel are connected to this system.
Parking brake on Van Raam tricycles
Van Raam installs a parking brake on all its tricycles. A parking brake makes it easier to get on and off a bicycle because it cannot roll away. In addition, you can use the parking brake when standing still for a longer period of time, so you can safely remain on your bicycle without it rolling away.
Want to make a test ride?
Van Raam makes adapted bicycles for each individual. Do you have doubts about which Van Raam bicycle and braking system suits you best? Then take a test ride at Van Raam or one of our dealers. Read more about making and planning a test drive via the button below.
Customer experiences with various brake systems
Van Raam has received many customer experiences. Read below some customer experiences with various braking systems.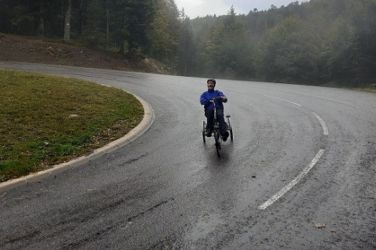 Customer experience Easy Rider tricycle – René Spronck
My name is René (46 years old) and I got cerebral haemorrhage at the age of 4, which resulted in a right-sided paralysis. Probably due to a tick bite during a vacation. Despite my paralysis, I never gave up and so I decided to take on a new challenge together with my good friend and physiotherapist Erwin: climbing Mont Ventoux. But it didn't quite go as planned...
Read this customer experience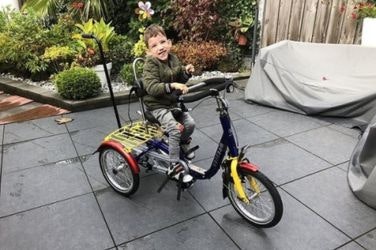 User experience tricyce for children Mini - Mother of Duncan
What do you wish for a cheerful and happy little boy who is in a wheelchair because of his disability? For Van Raam, the answer to this question is clear: a piece of contemporary mobility. At Van Raam, we believe that as long as people can stay mobile, they are happier. We are very happy with all the positive stories we hear from our end users. So it is good to hear that the cheerful and happy boy from the introduction can now enjoy cycling among his peers thanks to the children's tricycle Mini. Read in this article the user experience of the children's tricycle Mini told by the mother of Duncan.
Read this customer experience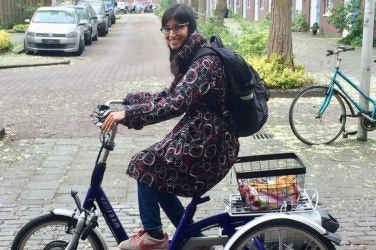 Customer experience tricycle Midi - Rosita Rampertaap
My name is Rosita Rampertaap, I'm 34 years old and I live in Brummen. For years I have a tricycle made by Van Raam. I have the Midi model, since I'm not that big. I have this because of my handicap. As a result of a Hemiplegic Cerebral Palsy, my balance is disturbed, which means that I cannot cycle on a regular bicycle.
Read this customer experience
;
Do you have any questions?
We are happy to assist you! Please check our contact page or contact us directly using the options below.