Customer experiences
Customer experience Easy Rider tricycle – René Spronck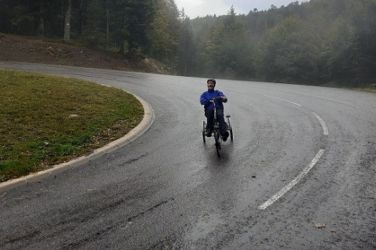 My name is René (46 years old) and I got cerebral haemorrhage at the age of 4, which resulted in a right-sided paralysis. Probably due to a tick bite during a vacation. Despite my paralysis, I never gave up and so I decided to take on a new challenge together with my good friend and physiotherapist Erwin: climbing Mont Ventoux. But it didn't quite go as planned...
A new challenge
"I love swimming, rowing and I climbed the Aple d'Huez 10 years ago with my sports bike. When I think back to that moment I still enjoy it a lot! My parents encouraged me regularly, which gave me an enormous kick. That feeling tasted like more and that's how the idea came 4 years ago to climb the Mont Ventoux in France by bike."
More in hospital than on my bike
"The preparation didn't go quite as planned. I spend a lot of time in hospital with broken bones and bruised ribs. Cycling didn't come off that much. I couldn't even ride my own bike. Still, I didn't want to give up and so I decided to exchange my bike for a tricycle, Van Raam's Easy Rider tricycle. I contacted the municipality of Eijsden-Margraten (where I live) and they were willing to pay for the bike, but only if I was going to use it a lot. And that's what I did: this year I've already cycled about 6,000 kilometers on my Easy Rider!"
As summer approached I was ready again, but unfortunately the coronavirus threw a spanner in the works.
René Spronck
Another destination
"By corona the area around the Mont Ventoux was color coded orange and a different destination had to be found. The choice fell on the Ballon d'Alsace. The ascent is about 9 kilometers long and with an altitude difference of 660 meters and an average gradient of 6.6% it isn't an easy climb."
The tour
"Erwin and I wanted to start climbing the Ballon d'Alsace on Saturday the 26th of September, but the weather forecast was getting less and less. We decided to start our bike tour right away on Friday. The weather wasn't good. It started to rain and even hail, but that didn't stop us.

Almost the whole trip I was able to cycle with pedal support. When the battery was empty I had to do it myself. Without pedal support it is a bit heavier, but fortunately I made it. Way ahead of Erwin! I haven't planned my next trip yet, but I would like to take on a new challenge."

René Spronck – Eijsden-Margraten (the Netherlands)
Model – Easy Rider tricycle