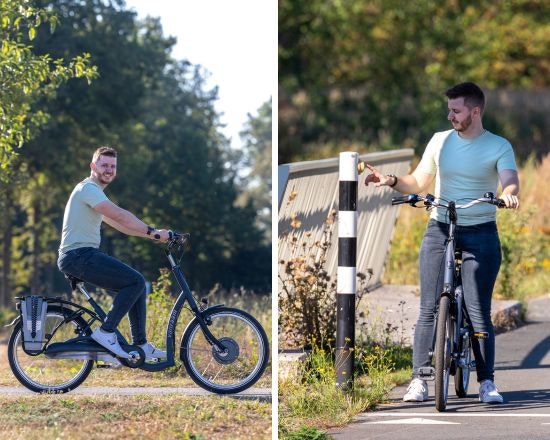 News
Van Raam bike with low entry and back pedalbrake
Bikes

\ Low step through bikes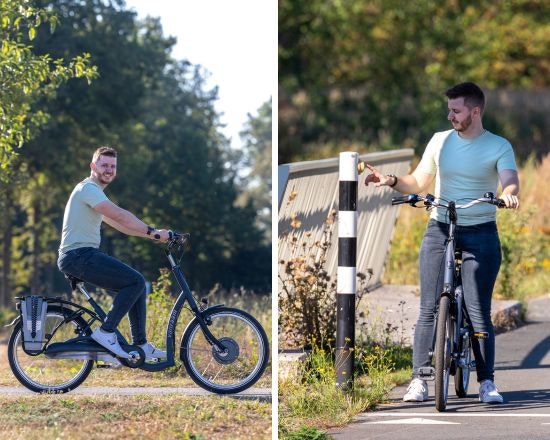 Learn in this article everything about Van Raam bikes that have a low entry and have backpedal brakes. Also, read more about the Van Raam e-bike with low entry and backpedal brake.
Bicycles with low entry and backpedal brake
Van Raam has two low entry bicycles in its range, a two-wheeler, and a three-wheeler. Both bicycles can be equipped with a backpedal brake. A coaster brake is a horizontal brake on the rear wheel of the bicycle. You operate it by pedaling backward with your pedals.
Balance two-wheeled low entry bicycle
The Balance low through bicycle is a bicycle with a low entry, which has a specially designed frame that allows you to ride comfortably and also to reach the ground with both feet without getting off the bike. The Balance is supplied with hydraulic brakes. Througha small surcharge, a backpedal brake can be added here.
Maxi Comfort tricycle with low entry and backpedal brake
The Maxi Comfort is a variant of the traditional tricycle. This has a deep spacious entrance and a different seating position. You do not sit above the bottom bracket, but slightly behind it. This allows you to reach the ground with both feedsat all times and still have optimal knee movement. It is also possible to have a backpedal brake mounted on this low-entry bike.
These bicycles with a low step through already offer some advantages in themselves. But the coaster brake also provides advantages:
Just about anyone can use them

You do not need much strength

Your hands can concentrate on steering
E-bike - low entry and backpedal brake
You can optionally equip your bike next to the backpedal brake also with the Van Raam pedal support system so you get an e-bike with low entry and backpedal brake. This pedal support is designed for and by Van Raam specifically for adapted bikes. The electric system, called Silent System, by Van Raam allows you to ride on a Van Raam tricycle, both forward and backward. On all bikes, the pedal assist has 3 positions and a starting aid.  
 
Furthermore, your e-bike with low entry and backpedal brake is also a smart e-bike. This means that you have a smart bike that is connected to the Internet and communicates via the battery. This has the advantage that you can view a lot of information about your bike and its battery(ies) on your phone with the app remotely. Read more about the Van Raam smart e-bike on the app page.
Configure your bike
Learn more about the prices and options on the product page and the respective price list or in our online configurator. Here you can individually assemble your own bike with low step-in and backpedal brake. In the configurator, you can see exactly which options are available for your bike with low step-in and backpedal. You can also see here directly what price the option has. Want to know what is available for your Van Raam bike? Click on the button below to go to the configurator.
Do you have any questions?
We are happy to assist you! Please check our contact page or contact us directly using the options below.