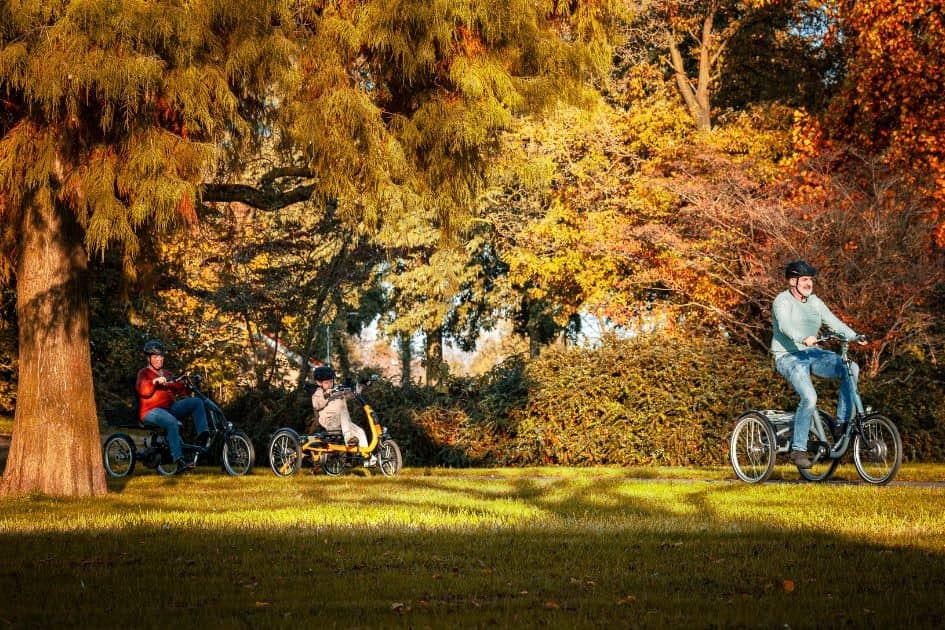 News
Alternatives from Van Raam for a 4 wheel bike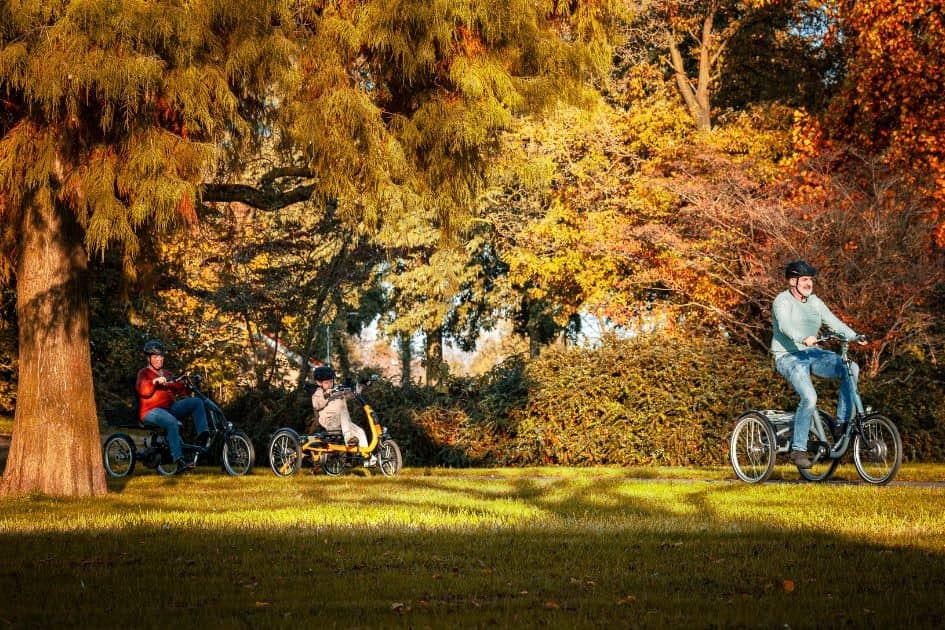 Are you looking for a 4 wheel bike? Then also consider a 3 wheel bicycle from Van Raam. Read in this article more about 3 wheel bikes and why they can be a good alternative for a 4 wheel bike
Adapted bicycles from Van Raam
Van Raam has several types of custom bikes in its range. Bikes for 1 person, but also bikes on which you can cycle together with 2 people or even with 4 people. In this article we discuss the Van Raam 3 wheel bikes.
3 wheel bike as alternative to 4 wheel bike
A 3 wheel bicycle can be a good alternative to a 4 wheel bicycle. A 3 wheel bicycle has several advantages over a 4 wheel bicycle, namely:
Smal turning radius: A 3 wheel bike with one front wheel has a shorter turning radius than a 4 wheel bike with two front wheels. This makes the bike much more maneuverable.

Easy to ride: A 3 wheel bike is easier to ride than a 4 wheel bike. Especially when you are used to a two wheel bike. The transition from a two-wheel bike to a four-wheel bike is larger, because a four-wheel bike has two wheels at the front. The transition to a tricycle with one wheel in front is therefore smaller.

Many options: There are many different types of tricycles on the market. At Van Raam we have eight different types of tricycles for adults. This means there is always a bike that suits you. See our tricycle bikes below.
Multi-person bicycle as an alternative to a 4-wheeled bicycle
Van Raam also has several types of multi-person bicycles in its range that can serve as an alternative to a 4-wheeled bicycle. Van Raam has the following bikes for multiple people in its range:
Van Raam bicycles with pedal support
Almost all Van Raam bicycles can be equipped with pedal support. Therefore we also offer good alternatives to an electric 4-wheel bike. Van Raam's bikes with pedal support are smart E-bikes. This means that the bikes are connected to the internet and you can remotely access a lot of information about your bike and battery on your smartphone with the Van Raam E-bike app.
Options and accessories for your adapted bike
Van Raam has several options and accessories that allow you to customize your bicycle. You can find all possible options on the price list of your preferred bike on the product page of the bike. It is also possible to customize your bike in the online configurator. While putting together your own bike, you can see all the possible options and accessories with the corresponding costs. For more information, read the article 'Put together your Van Raam bike with the bike configurator'.
Try out an alternative to a 4 wheel bike?
Would you like to try one or more bikes to see if they are a good alternative to a 4 wheel bike? That is possible! You can easily plan a test ride via the online planner for a personal appointment at Van Raam. It is also possible to make a test ride at some Van Raam dealers. Please contact your local dealer and ask about the possibilities.
Do you have any questions?
We are happy to assist you! Please check our contact page or contact us directly using the options below.