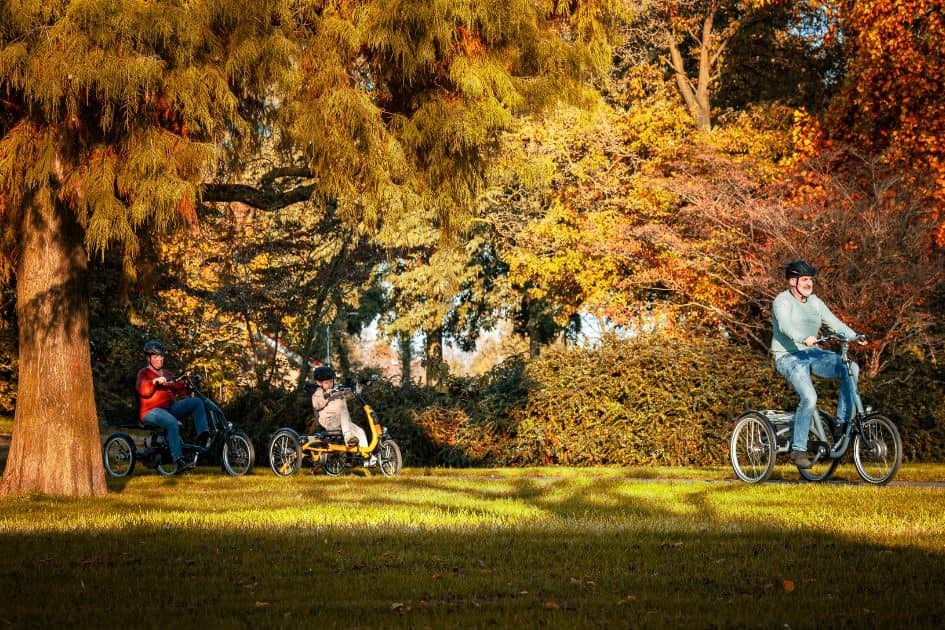 News
3 wheel bike by Van Raam for adults and children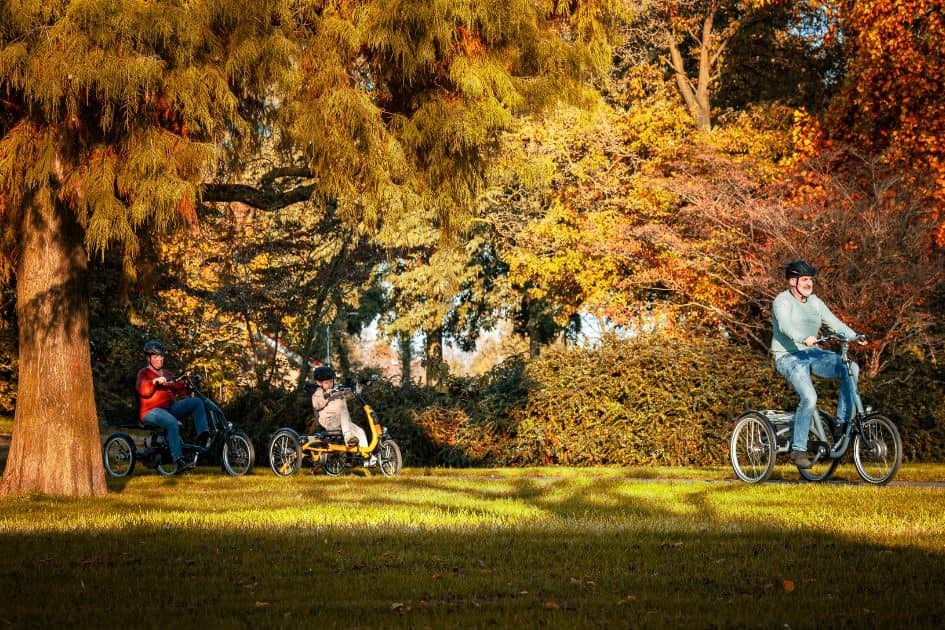 Are you looking for a 3 wheel bike or 3 wheel electric bike and want to find out what the possibilities and options are? Then read on! We give you information about our Van Raam adult 3 wheel bikes and Kids 3 wheel bikes. Find out more about your mobility options with a 3 wheel bike here.
3 wheel bicycle from Van Raam
Van Raam has been a manufacturer of individual adapted bicycles for more than 110 years, including the 3 wheel. A 3 wheel bike from Van Raam is individually adapted to your needs and wishes. Read more about the 3 wheel bicycles for adults and children and the options available to you below. First take a look at the general advantages of a Van Raam tricycle:
Be mobile again and have your freedom back

The best driving characteristics

Many options and adjustments possible

Great attention to comfort / comfortable cycling

Environmentally friendly powder coating

Good independent test results

5 year warranty on frame; front fork and paint

More than 110 years of experience in one of the most sustainable factories in the Netherlands
Adult 3 wheel bike
At Van Raam, we have more than one 3-wheel bicycle for adults. Van Raam has these different types of 3 wheel adult tricycles in its range:
A comfortable tricycle with seat, low step and lower seating position.

Traditional 3 wheel bike

A tricycle with low step

A compact electric tricycle 3 wheel bike

A 3 wheel bicycle with double tyres at the front and one wheel at the rear.
Learn more about these adult 3 wheel bikes below.  
Comfortable tricycle bike

An adult 3-wheel bike with which you can ride comfortably and stably and which also has a low step and a seat with back support? The Easy Rider belongs to this 3 wheel bike type. In addition to the adult version, the bike is also available in a smaller version with the Easy Rider Small and also in a sporty version with lower handlebars in the form of the Easy Sport.

The traditional 3 wheel bike

The adult 3-wheel bike has 2 wheels at the back and one at the front. It also has a high seating position. This category includes the Van Raam 3-wheel bikes: Maxi and Midi, the second being a smaller version of the Maxi. A traditional 3-wheel bike offers you more stability because of the three wheels, and you can stay on your bike when you stop and do not have to get off. 

A tricycle with a low step through

Van Raam has a variation on the traditional tricycle. The Maxi Comfort. It offers you a deep and spacious entrance and a different, special seating position. This allows you to reach the ground with both legs at all times and at the same time perform the optimal knee movement.

Easy Go electric mobility scooter bike

The Easy Go electric bike is an adult tricycle for adults who have a changing energy level. On this tricycle you have three choices:

Cycle entirely under your own power,

​Cycling yourself with electric pedal support

Cycling with 100% electric assistance.

3 wheel with two wheels in front
Become mobile again!
All Van Raam tricycles are available with many options & accessories, so that your 3 wheel bike becomes as unique as you are and you get it exactly the way you need your bike. Configure your bike in our online configurator, here you can also directly see all the options for your chosen bike.
Kids 3 wheel bike
In addition to adult tricycles, we also offer 3 wheel bikes for children who cannot ride a child's two-wheeler. We have the following 4 kids 3 wheel bikes in our range for you:
The Kids 3 wheel children's bikes manufactured by Van Raam are also individually adapted to the needs of the child. Read more about the individual 3 wheels in our article: Tricycles for children with disabilities 
3 wheel electric bike
Almost all Van Raam 3 wheel bikes can be optionally equipped with an electric motor and comfortable pedal assistance. If you choose this option, the 3 wheel e-bike will be delivered as a Smart e-bike with the Van Raam app. This allows you to benefit from many extras, such as information about the battery and the location of your bike in the app. Read more about the Van Raam Smart 3 wheel e-bike on the Van Raam App page.
Customer experience from 3 wheel bike owners
Read the following experiences of 3 wheel bike owners.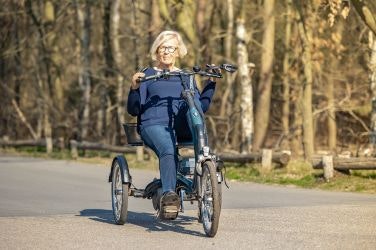 Customer experience Easy Rider tricycle - Suze Korver
February 2014 changed Suze's life forever. A bacterial infection caused sepsis, leaving her in a coma for 3 months and requiring both her lower legs and hands to be amputated. Read Suze Korver's admirable story in this customer experience and watch the video.
Read this customer experience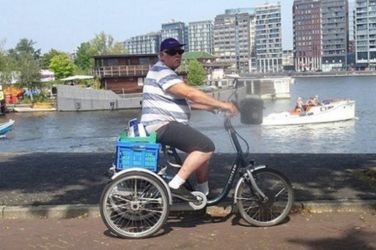 Customer experience Maxi tricycle – Theo Wittebol
Theo likes to go out with his Maxi tricycle and with his girlfriend, who also has a Maxi. They regularly make cycling trips and even go on cycling holidays together. In this customer experience you can read more about their experiences.
Read this customer experience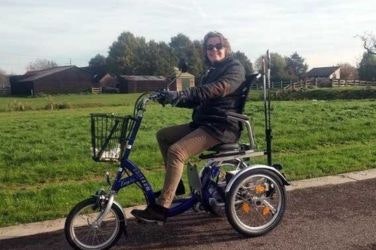 Customer experience scooter bike Easy Go - Astrid van der Plank
I am Astrid van der Plank (44) and I own the Easy Go scooter bike since July 2018. I use a scooter bike because I have Spinocerebellar Ataxia type 28 (SCA28). SCA28 is a rare chronic neurological disease that, among other things, causes balance and coordination problems. When I could no longer cycle on a bike with two wheels, because I fell continuously, I started looking at alternatives. I tried several Van Raam bikes, but nowadays I am happy to use my scooter bike Easy Go.
Read this customer experience
;
Stay up to date about the 3 wheel bike
The Van Raam website offers a wide range of options and information about the 3 wheel. New articles appear weekly and you can read customer experiences so you know what others think of the Van Raam bikes. But we also share a lot about the different options via various social media channels where Van Raam is active.
Do you have any questions?
We are happy to assist you! Please check our contact page or contact us directly using the options below.