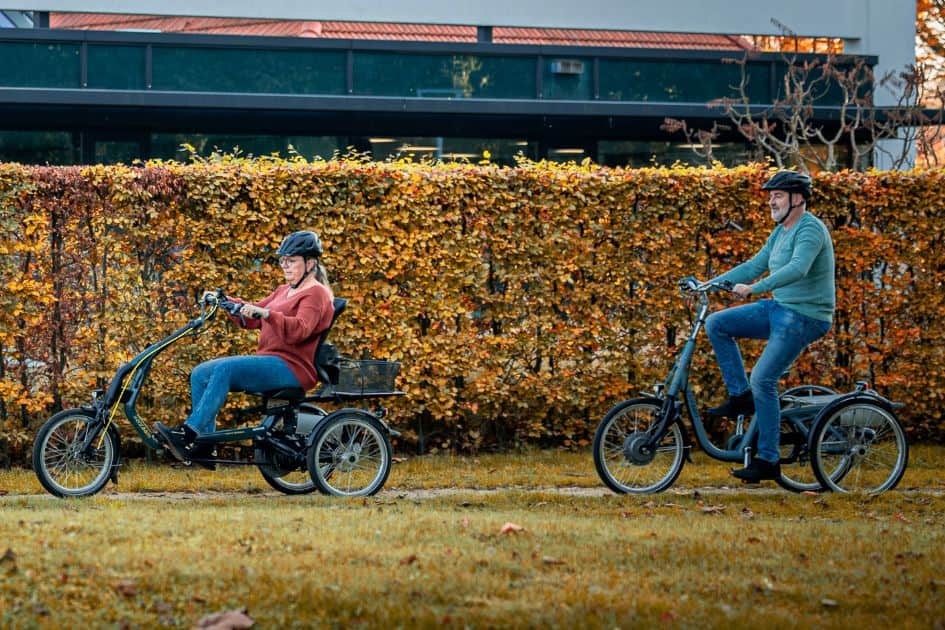 With 22 million bicycles, the Netherlands is the biggest bike-country in the world. 84% of all Dutchmen owns one or even multiple bikes. We bike everywhere for work, school, grocery shopping etc. and to enjoy nature. Some are not able to ride a regular bicycle, perhaps due to balance problems. A tricycle enables you to continue cycling. What is the difference between a tricycle and a bike with two wheels? Who ride these tricycles & what types of tricycles do we have available? You will read it in this article.
The advantages of cycling
There are countless advantages to cycling. It improves your endurance, it is good for your health, it can be intense, but also relaxing, reduces stress, is better for the environment and is a relatively low-cost way to get around. Most people ride a two wheel bicycle, but there is a good alternative for people who are no longer able to ride such a bike: a tricycle.
The tricycle
A tricycle is the logical successor to the familiar two-wheeler. The advantage of three wheels as apposed to two is the increased stability. Three wheels make it almost impossible for the bicycle to topple over and the bicyclist no longer has to keep his or her balance because the tricycle is already in balance. The tricycles are available both with and without engine. It is even possible to build the electric pedal support into Van Raam's bicycles and tricycles afterwards. The tricycle is the perfect solution to stay independent and mobile in case that is no longer possible with a regular bicycle.
Who rides a tricycle?
The tricycle is suitable for people with a (physical) disability, people (young and old) who are unable to keep their balance on a regular bicycle or people who simply want more stability when cycling. The tricycle is the ideal alternative for elderly who don't trust themselves on a two wheel bike after an accident, but would like to get some exercise. It enables them to hit the road safely and contributes to a sense of stability. A tricycle is also often a solution for people with a (physical) disability because riding a two wheel bicycle might be impossible for them.
Types of tricycles
At Van Raam we manufacture each bicycle separately in our own factory in Varsseveld. Every bicycle is manufactured according to your wishes, with the options and accessories you desire and in the color you choose. It is really a custom fit tricycle! First you choose the type of tricycle you would like. It is very important to try out several tricycles to determine which tricycle is the best one for you.
Traditional tricycle: one wheel at the front, two wheels at the back
The traditional tricycle has one wheel at the front, two wheels at the back and its seat is right above the crankshaft and slightly elevated. Because of this, the cyclist pedals downward. Van Raam's traditional tricycles run lightly and are easy to mount and dismount. Cycling on a regular tricycle requires some practice. One needs to use their balance differently on tricycle because a tricycle's frame, as opposed to that of a two wheel bike, does not slant when turning. For experienced cyclists it is something to get used to, because it will feel like you're toppling over – while that is almost impossible on a tricycle. Van Raam's traditional tricycles are very agile due to their single front wheel and because they are all equipped with a differential.
Van Raam manufactures tricycles for young and old, starting with the Husky (children aged 2 and up) and then the Mini (children aged 4 and up), the Midi (for children aged 8 and up or short adults) and the Maxi tricycle specially designed for adults.
Tricycle with los step throught
Van Raam has a variant of the traditional tricycle. The Maxi Comfort tricycle has a low spacious step through and easier sitting position. Instead of above the pedals, you sit a little behind them. This gives you a lower sitting position, so you can always mount with both your legs on the ground and have optimum space for knee movement.
In this variant you do not need to raise the legs high for mounting and can draw the seat underneath yourself and then sit. With a lower centre of gravity this tricycle feels more comfortable than the conventional ones

Tricycle with one rear wheel and two front wheels
Tricycles with two front wheels and one rear wheel, also known as T-bikes or trikes, are specially designed for people who experience difficulty estimating the bikes width and whether or not it can pass by or through. The disadvantage of this tricycle is its large turning circle due to its two front wheels. We see that many people choose a tricycle with one front wheel.
Van Raam has two types of this tricycle: the Viktoria and the Viktor for children and adults.
Tricycle with seat
For people who would like to ride a tricycle comfortably, but experience difficulty riding a traditional tricycle Van Raam designed a special, stable and comfortable tricycle that is equipped with a "chair" instead of a saddle and requires forward pedaling. The cyclist's center of gravity is much lower which results in a totally different seating position. This makes the unsafe and unstable feeling of a tricycle disappear and makes this tricycle feel reliable immediately. Almost everyone can ride this type of tricycle without having to practice. Moreover, the seat supports the back and takes the weight off of the shoulders, wrists and neck.
We have learned from experience that almost 90% of the people who try out all our tricycles choose this one.
This comfortable tricycle is available in variousvariants. For children and shorter adults we manufacture the Easy Rider Compact and Easy Rider Small, for adults the Easy Rider and for the sporty cyclists we have the recumbent tricycle Easy Sport. The Easy Sport is equipped with a sporty, lowered handlebar. There is also a smaller version of this recumbent trike for smaller adults and children called the Easy Sport Small.
Tricycle as mobility scooter bike
People who would like toride around without pedaling next to riding a tricycle can now order the Easy Go miniscooter. This is an electric tricycle that can too be used as a miniscooter and is very suitable for people with changing a energy level or medical condition.
The Easy Go is a tricycle that can be used in three different ways: you can cycle with it, cycle with electric pedal support or use it as a miniscooter. The miniscooter-mode is activated by folding out the footrest and you can ride 5, 10 or 15 kilometers per hour through the use of the thumb throttle.
Try a tricycle
Are you interested in a tricycle and would you like to try out several tricycles in our showroom in Varsseveld? or do you have questions about our special needs bicycles? Contact us and we would love to help you!
Do you have any questions?
We are happy to assist you! Please check our contact page or contact us directly using the options below.