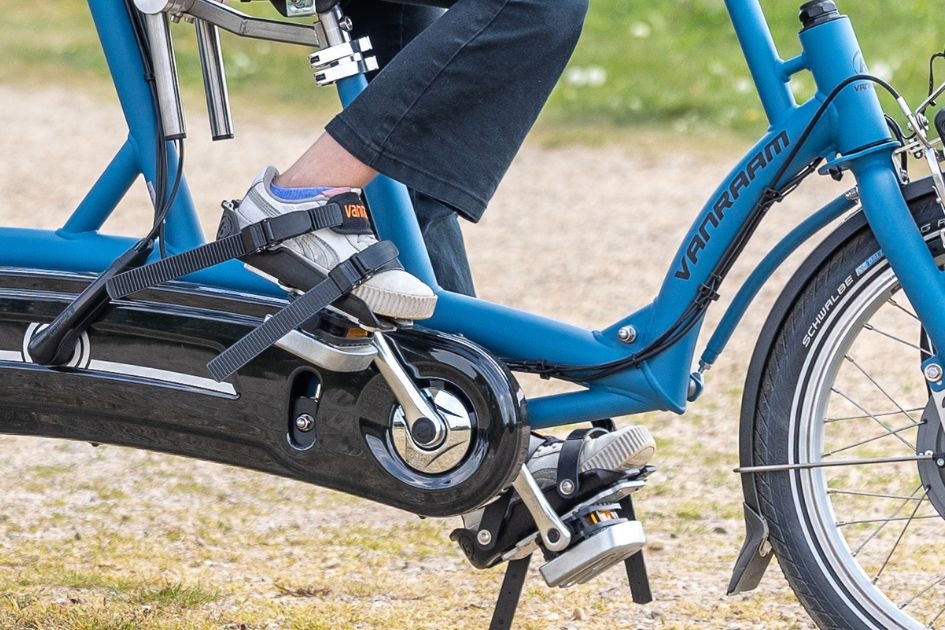 News
Footrests for adapted bikes by Van Raam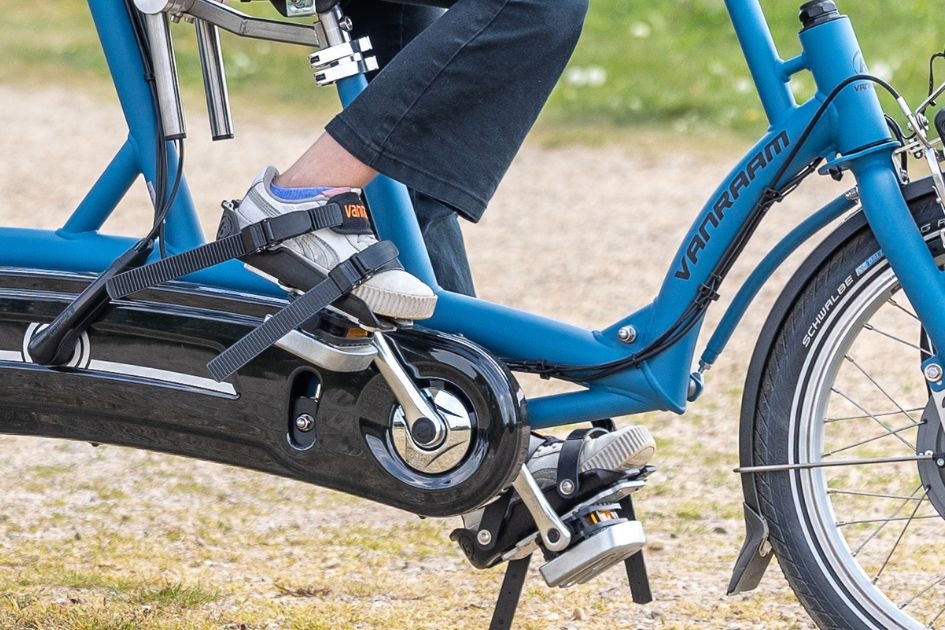 Do you already have a footrest or are you wondering at this point whether you need one? Find out more about Van Raam's footrests for adapted bikes, for example what different sizes of footrests we have, how to put your foot in the footrest and how to ride a bike with it, and watch our video.
Video: Using the Van Raam footrests
Are you wondering how to use the Van Raam footrests? Take a look at the video below and learn not only the different sizes of footrests, but also how to put your foot in the footrest, attach it to your foot and cycle with it. 
Van Raam footrests
On almost all Van Raam bikes you have the possibility to have one or more footrests mounted on the pedals as an option. This gives you more stability and safety while cycling. With a simple ratchet strap you can easily tighten the Van Raam footrest. For people who do not (yet) need this extra fixation, the straps can also be pushed backwards or forwards. If more support is needed, the lower leg fixation is also an option. This is adjustable in height, so that it is adapted to the lower leg of the rider. The lower leg shell is also rounded to avoid pressure points on the leg. Van Raam has 2 sizes in the assortment, Fix 20 and Fix 25.
Fix 20 is suitable for shoe sizes 22 -36 (EU) with a minimum shoe width of 6,5 cm and a maximum shoe width of 9 cm and

Fix 25 is suitable for shoe sizes 37-48 (EU) with a minimum shoe width of 8,5 cm and a maximum shoe width of 13 cm.
Purchase footrests
At Van Raam there are different types of dealers where you can order and buy a Van Raam bicycle. You can take a test ride at some dealers or Van Raam itself. Or you can assemble your bicycle in the bicycle configurator. Here you will find all the other possible options in addition to the footrests and all prices.

You will then receive your configuration by mail. Or you will receive a non-binding offer at Van Raam. With this you can go to a dealer near you and order a bicycle. Would you like to know more about our different types of dealers and Van Raam locations? Then take a look at our article 'Find a Van Raam dealer near you'.
Attachment and adjustment
Experience as a customer and as a dealer in this article how a footrest can be attached and removed from a Van Raam bicycle. This can also be handy to know if you want to transport your bike. If you would like to know more about the footrest settings, see our video and article "Attaching and adjusting the Van Raam foot fixation". Also see how, a dealer, the width can be adjusted to your foot size.
User experience with foot fixations
Van Raam receives positive feedback from customers every day. We would like to share this with you to show you what is possible again when you can ride a bicycle (wieder) safely with the help of a adapted bicycle. Read the following experiences of bicycle users who also have foot rests or lower leg fixations.
;
Do you have any questions?
We are happy to assist you! Please check our contact page or contact us directly using the options below.