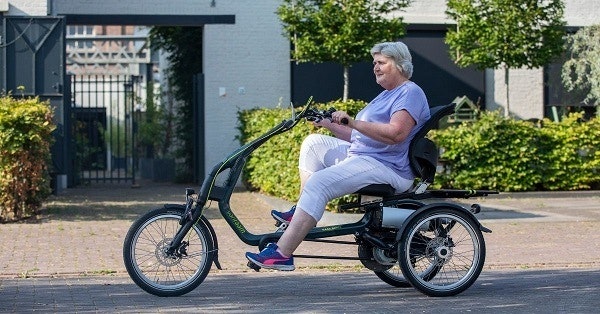 News
Improving mobility in the elderly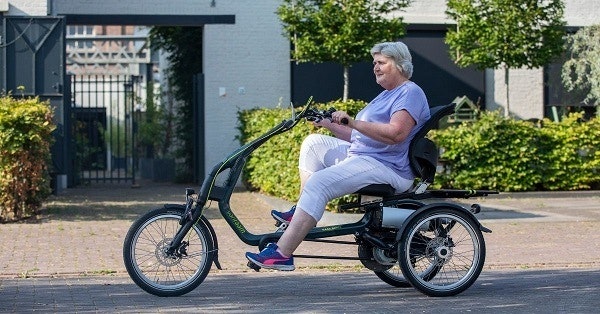 Older people are sometimes faced with reduced mobility. There are various aids that improve the mobility in the elderly. Read more about these aids in this article and what role Van Raam can play in this.
Video: Cycling for people with reduced mobility
Tip: There is speaking in this video. Turn on subtitles for accompanying text and explanations.
Reduced mobility in the elderly
Fortunately, the saying 'old age comes with ailments' does not apply to all elderly people. Nevertheless, as they grow older, people sometimes experience mobility limitations. Most mobility limitations are the result of complaints and illnesses of the locomotor apparatus. In addition, fall accidents also play an important role in reduced mobility.
Aids for mobility problems of the elderly
There are several aids that the elderly can use to increase their mobility and keep themselves moving:
Adapted bicycle

Crutch

Walking stick

Walking aid

Rollator

Wheelchair

Mobility Scooter
Adapted bicycles for poor mobility in the elderly
Van Raam is a manufacturer of adapted bicycles. Several products in our assortment contribute to the mobility in the elderly in a positive way. Our bicycles can be divided into the categories cycling independently and cycling together.
Cycling independently on a Van Raam bicycle
With the adapted bicycles from Van Raam, it remains possible to cycle independently for a longer period of time. We have different types of bicycles, for different needs. Think of tricycles, low step through bikes, walking bikes and scooter bikes. Read more about these bicycles below.
Cycling together on a Van Raam bicycle
If cycling independently is not possible, you can opt for a Van Raam bicycle to cycle together. This keeps you as an elderly person in exercise and mobile for longer. We have several different bikes that can be used for cycling together; tandems, side-by-side tandems, wheelchair bikes and a transport bike.
Trying out a bike
Are you curious whether a Van Raam bicycle can help to improve the reduced mobility in the elderly? Then come to our showroom in Varsseveld and try it out for yourself. Through our website you can easily schedule a free appointment. Would you rather make a test ride at a dealer? See which dealer is near you and ask about the possibilities.
Do you have any questions?
We are happy to assist you! Please check our contact page or contact us directly using the options below.