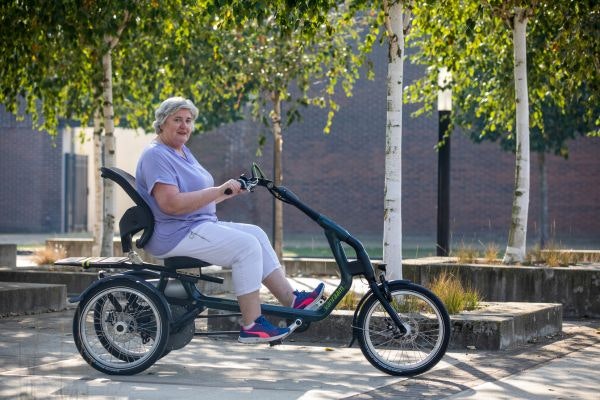 News
Electric tricycle for seniors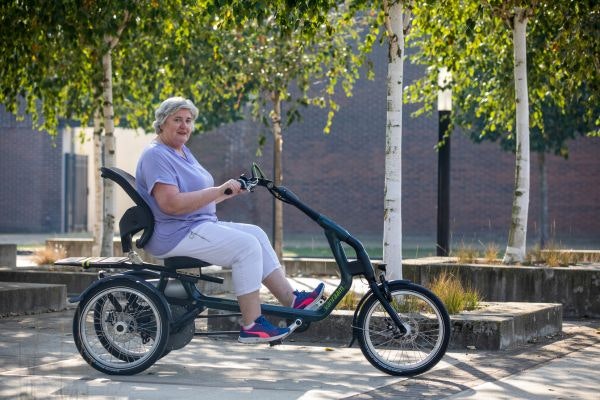 As you get older, your sense of balance may deteriorate, you may have less strength and you may be afraid of falling when cycling on a regular bike with two wheels. Fortunately, more and more seniors are discovering the solution to staying mobile and opting for an electric tricycle for seniors with pedal support. Read more about electric tricycles for seniors here and read the story of Gunda Krauss and her Easy Rider.
Gunda Krauss and her Easy Rider
Chiemgau Tourismus (in Germany) was at Van Raam dealer TOUR-ME in Chieming am Chiemsee for an interview with Reinhard Schuster (Managing Director at TOUR-ME) and Gunda Krauss. Gunda Krauss has been riding an Easy Rider tricycle for a long time. In Chiemgau there are endless possibilities for cycling. For sporty riders, young and old, there is the right tour for everyone. Even seniors and people with a disability who don't feel so confident on bikes with two wheels can cycle on a tricycle.

Gunda Krauss came all the way from Munich to Chieming (in Germany) to pick up her electric tricycle Easy Rider. Gunda got a more powerful Silent HT motor from Van Raam installed in the electric tricycle because she cycles about 6,000 kilometres per year. A few years ago, Gunda Krauss cycled from Munich to Rügen on her Easy Rider electric tricycle. Senior Gunda loves her tricycle. After all, she wouldn't be as mobile without it. Gunda cycles with the Easy Rider 2.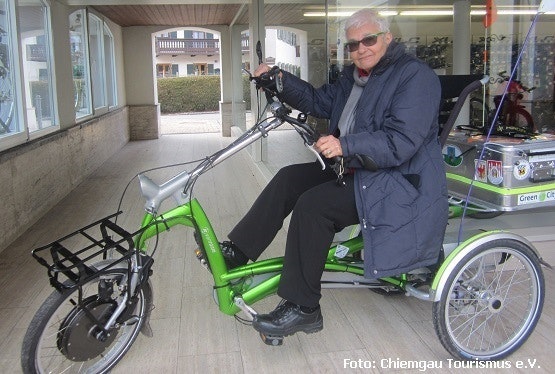 Electric tricycle for seniors Easy Rider
The Easy Rider tricycle is clearly different from other tricycles. The unique frame of this tricycle has a low entry and a stable lower seating position. This gives you a lower centre of gravity which gives you security and stability. This safe and secure feeling is also supported by the fact that you sit on a seat with backrest instead of a saddle and you have the handlebars in front of you. Van Raam has completely renewed the Easy Rider in 2021: the Easy Rider 3.

The forward pedalling movement and frame suspension ensure perfect riding comfort. The Easy Rider has a comfortable seat with adjustable back support, lower back support, and raised edges on the side for better sitting comfort and lateral support. The seat is easily adjustable.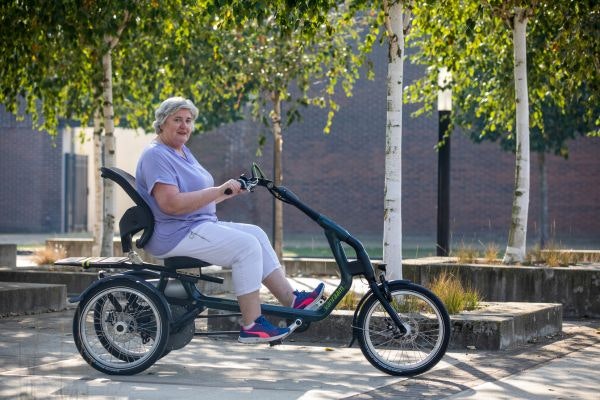 Do you want the Easy Rider to be an electric tricycle? Pedal support can help you if you don't have enough strength yourself or if you want to cover longer distances. Van Raam has developed its own pedal support system. The Silent System is a unique and award-winning system and is characterised by its easy use, the possibility of riding backwards and the possibility of individually programming the support.
 
Read more about the Easy Rider and the pedal support on the Easy Rider product page.
All the Van Raam electric tricycles for elderly
Van Raam has, besides the Easy Rider, several models of (electric) tricycles for elderly in the product range: 
Traditional tricycles with 1 wheel in front and 2 rear wheels;

Low step through tricycle;

Comfortable tricycle with seat;

Recumbent trike;

Tricycle and mobility scooter in one;

Tricycle with two wheels in front and 1 rear wheel. 
Read more about this tricycles for seniors in the articles 'Tricycle for seniors' and 'Seniors tricycle with a low step'. 
Low step through tricycle

Comfortable tricycle with seat

Tricycle and mobility scooter in one

Tricycle with who wheels in front
What is the difference with an electric tricycle for younger people?
The Van Raam bikes are not specifically designed for seniors of younger people. Van Raam looks at the height of the cyclist and listens to the needs and wishes. With various options and accessories, you can customise your own Van Raam electric tricycle for seniors.
Try a Van Raam electric tricycle
At Van Raam it is possible to try out a Van Raam electric tricycle. During the free test ride, a technical advisor will help you and you can test the Van Raam tricycle on the bicycle test track. A test ride is also possible at some Van Raam dealers. Contact a dealer in your area for more information.
Customer experiences about electric tricycles for seniors
Read below some customer experiences of seniors with their electric tricycle.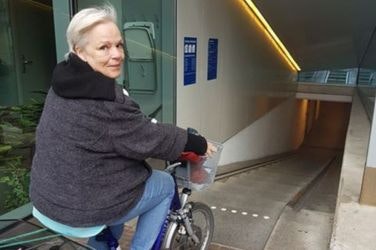 User experience tricycle Midi - Monique van Stuijvenberg
I have been the proud owner of a Midi tricycle from Van Raam for 1,5 years now. One can say that I am in love with this bicycle. This I often say to people when they ask for my bicycle. And no, I am not insane!
Read this customer experience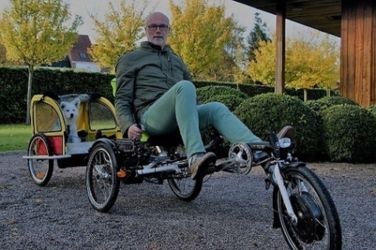 User experience recumbent trike Easy Sport - Bernard van Maele
I have been in possession of an Easy Sport for about a month now and I want to let you know that I am very satisfied. The bike is very well adjustable on my body and I feel absolutely safe with it.
Read this customer experience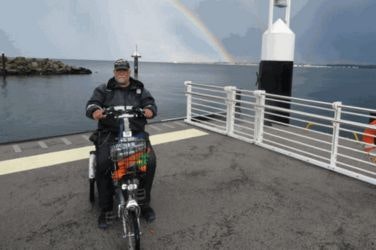 User experience Easy Go scooter bike - Horst Weidemann
After 10,600 km in 25 months (of which 4,000 km have been cycled in 2018) with my Easy Go I can warmly recommend Van Raam bicycles.
Read this customer experience
;
Do you have any questions?
We are happy to assist you! Please check our contact page or contact us directly using the options below.