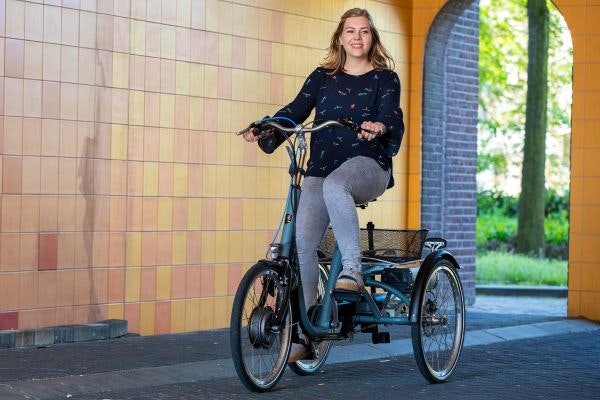 News
Cycling with a balance disorder on an adaptive bike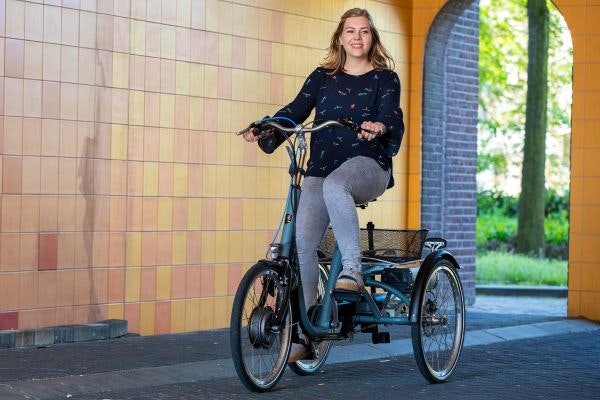 A balance disorder is a condition that impedes the balancing centers in the inner ear in its functioning. Driving and cycling becomes virtually impossible and you lose a large part of your personal freedom. With an adaptive bike from Van Raam it is possible to keep cycling.
What is a balance disorder?
If the balancing centers are obstructed in its functioning, you can speak of a balance disorder. Usually, this disorder is a symptom of an underlying disease. It is important to find the cause of the disorder during the treatment. Treatment consists of different methods, depending on the cause. Sometimes no treatment is possible.

People with a balance disorder are often less stable, they stumble or fall faster and can be anxious. Older people often suffer from instability. At an older age the strength in the muscles decreases, which makes it difficult to deal with balance disorders. This sense of instability can have major consequences. For example, some people develop a fear that will play a big role. Going outside will become almost impossible.
Keep moving
Little physical exercise can be a result of a balance disorder, eventually this will reduce your condition and your balance. This also increases the risk of falling or stumbling. With exercises you can learn to keep your balance and you can train your muscles again.

By moving you will get more oxygen, especially walking and cycling provide a large addition of oxygen. You also feel fit and energetic by moving. With a balance problem you will have to figure out for yourself which movements feels most comfortable.
A balance disorder and cycling
Cycling on a regular bike is very difficult with a balance disorder. You don't feel confident anymore, because you can fall over at any moment. You can never hit the ground with both feet and it is difficult to keep your balance. An adaptive bike can be a solution.

The chance of falling over with a tricycle is little, because you always have three wheels on the ground, this gives a secure feeling.

For people who have slight balance problems or have trouble getting on and off a bike, a comfortable low step through bike is the ideal solution.
Van Raam adaptive bikes
Van Raam has several bikes that are suitable if you have problems with your balance. All bicycles are also available with electric pedal assistance.
Tricycle
With a tricycle you will have extra support and stability while cycling, this will ensure a safe feeling.

Van Raam has different tricycles assorted:
Traditional tricycle

Low step through tricycle

Comfortable tricycle with backrest

Tricycle with two wheels on the front and one wheel on the back
We also have tandems with three wheels.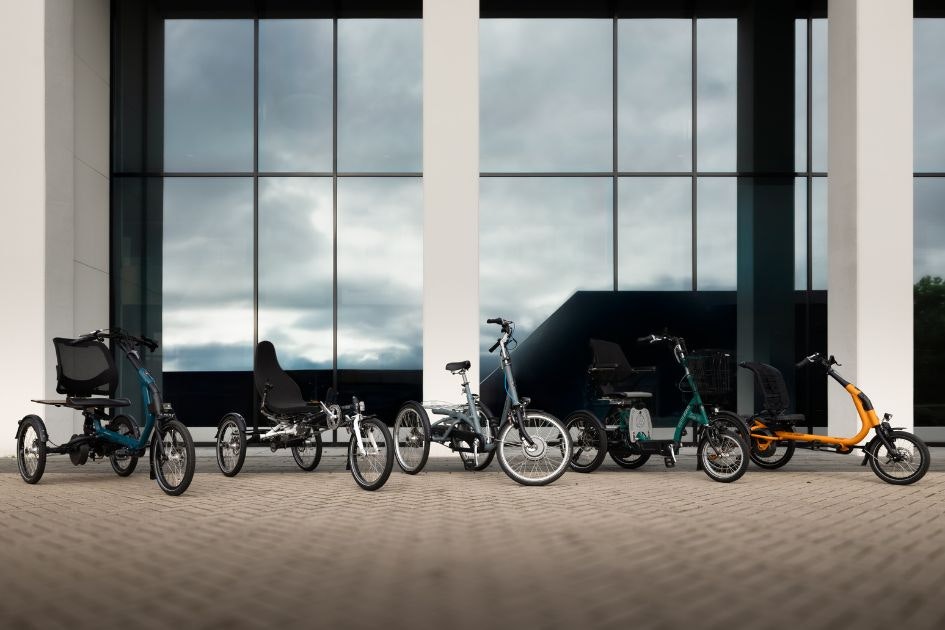 Low step through bike
Getting on and off on the Balance bike is very easy, because this is a low step through bike. The bicycle has a unique frame, which ensures an ergonomic sitting posture. On the Balance, the rider is not above the crank-gear, but behind it. The seat is also a lot lower than on a regular bicycle.

The forward pedaling makes cycling easy and comfortable, because you can use the strength of your leg muscles more efficiently than with a regular bike. You can always reach the ground immediately. This will result in a secure feeling and you donAs a result, you are on the bike with a certain feeling and you do not have to get off at your bicycle at a traffic light or stop sign.

Do you want a tricycle, but also a low step through bike? Check out our tricycle Maxi Comfort.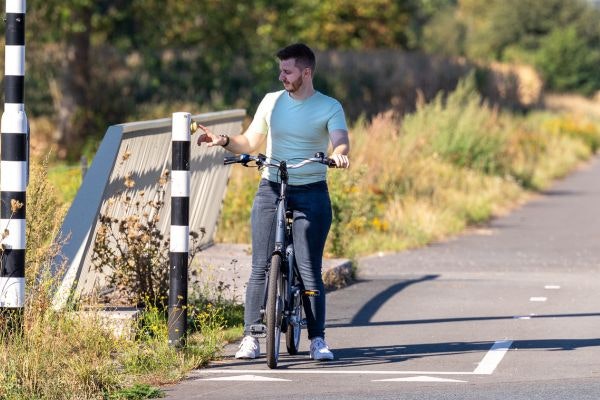 Side-by-side tandem
On the Van Raam side-by-side tandem Fun2Go you sit next to each other. You can communicate well. 1 person steers, both the persons can pedal. The 'driver' can determine of the rider would pedal along. The side-by-sided tandem has three wheels, because of this you cannot fall (with normal use).

The riders can get on without having to step through and the seats can be easily adjusted to the required distance. The comfortable seats have a backrest and are adjustable.

The FunTrain is a double rider cycle trailer. This trailer can be attached behind a Fun2Go and can also accommodate two persons. This way, an attendant can safely ride with three co-drivers.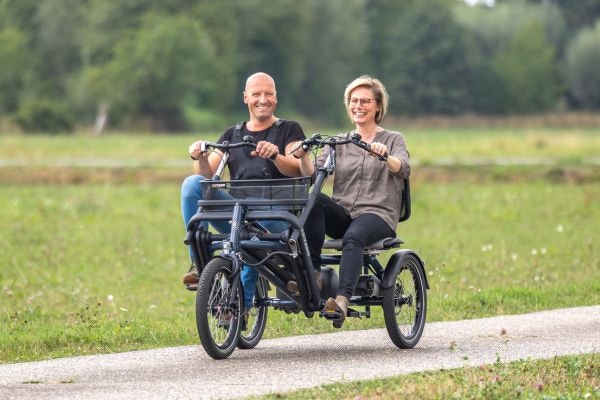 Scooter bike
The Easy Go electric scooter bike is a bike and a mobility scooter and bicycle in one. There are three options available on this tricycle: you can ride the bike by just pedaling, you can ride it by pedaling with electric pedal support, or you can use 100% electric power assist. You can drive in variabel speed levels.

De scooter bike has three wheels. The adjustable double suspension gives you a stable and comfortable driving experience. The anti-tip wheels make it almost impossible to fall over, this will give you an extra feeling of security and stability.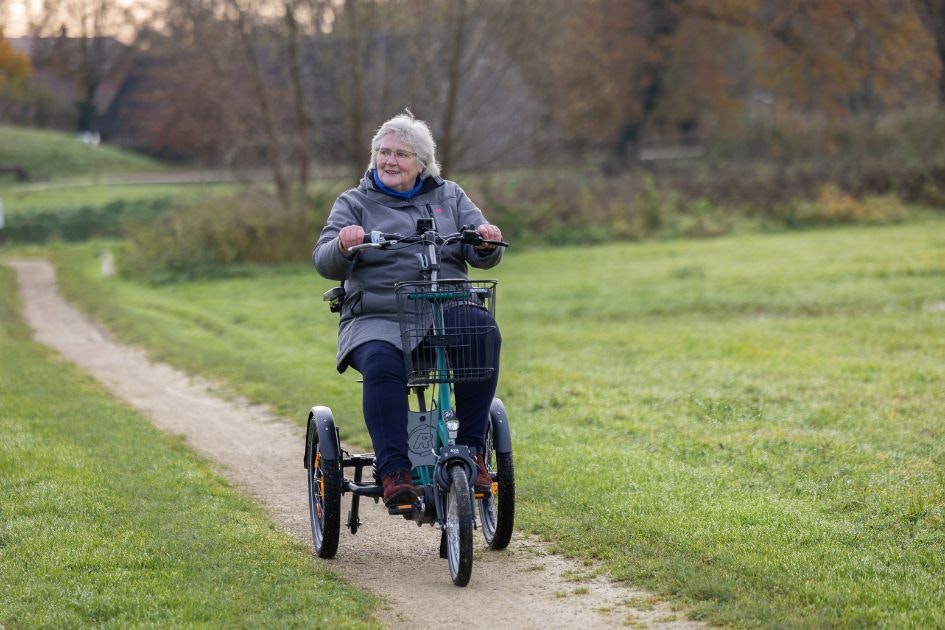 Make a test ride with an adaptive bike
Do you suffer from balance problems and are you looking for a bicycle? At Van Raam it is always possible to take a test ride and get advice from one of our consultants. Make an appointment, then we will have enough time to help you.
Do you have any questions?
We are happy to assist you! Please check our contact page or contact us directly using the options below.