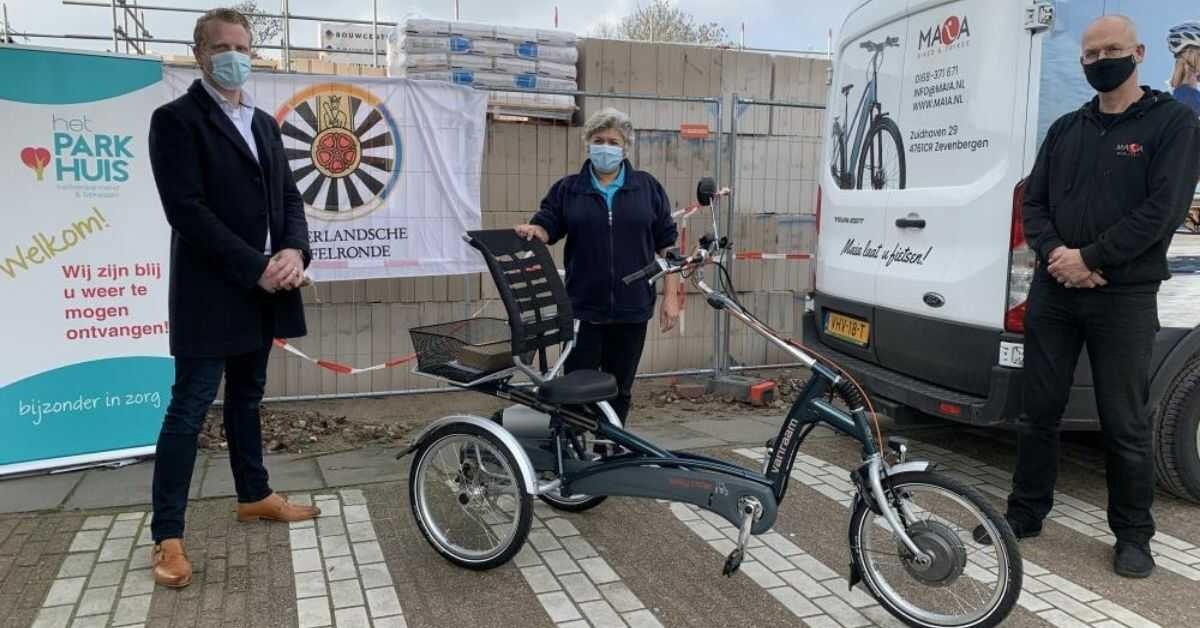 News
Care organisation receives an Easy Rider tricycle as a gift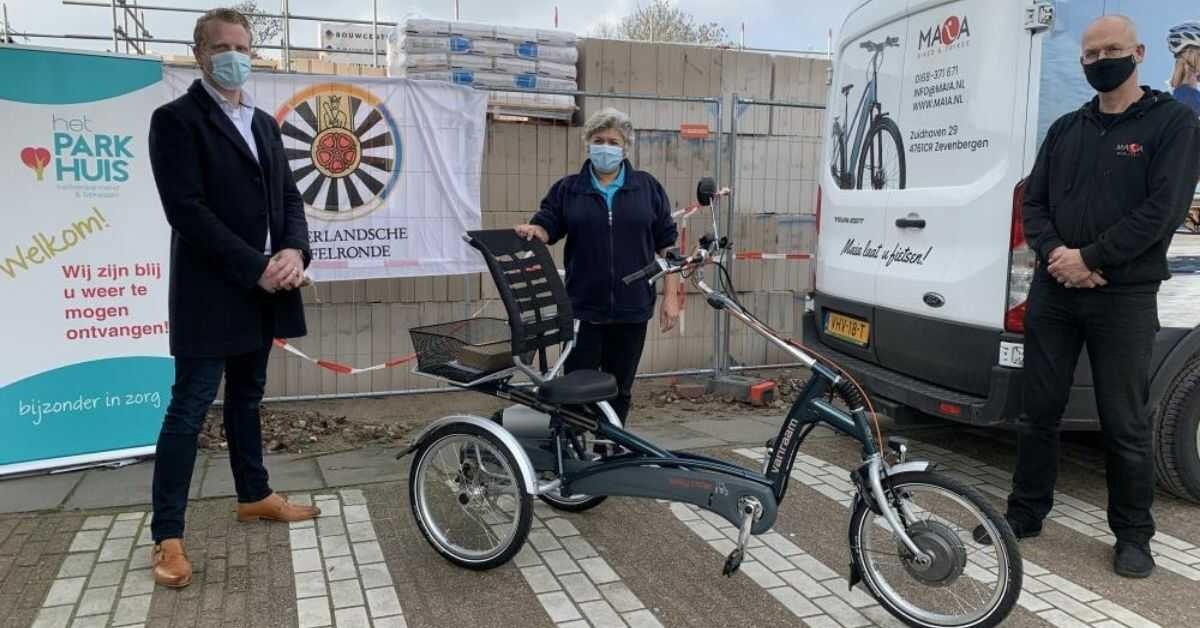 In early 2021, the residents of care organisation Het Parkhuis (in the Netherlands) received a Van Raam Easy Rider tricycle from service club Ronde Tafel Dordrecht. Thanks to this tricycle, the residents can cycle independently on the road. Read more about the Easy Rider for Het Parkhuis here.
Het Parkhuis receives Easy Rider from Ronde Tafel Dordrecht
Service club Ronde Tafel Dordrecht organises various charity events every year. Often, this is a foundation or organisation in Dordrecht (the Netherlands) that is committed to the welfare of others. Het Parkhuis had the great desire for a tricycle on which residents of Het Parkhuis, but also clients of the Day Care for Young People with Dementia, could cycle safely themselves. Het Parkhuis approached Ronde Tafel Dordrecht and, through a champagne campaign, they collected money to buy the tricycle.

In an interview with RTV Dordrecht, Marijn van Twist, from Ronde Tafel Dordrecht, said the following: "Of course, we have all been through a rough time. The residents have experienced a lot of fear and loneliness. It's amazing if you can do something in return for the residents."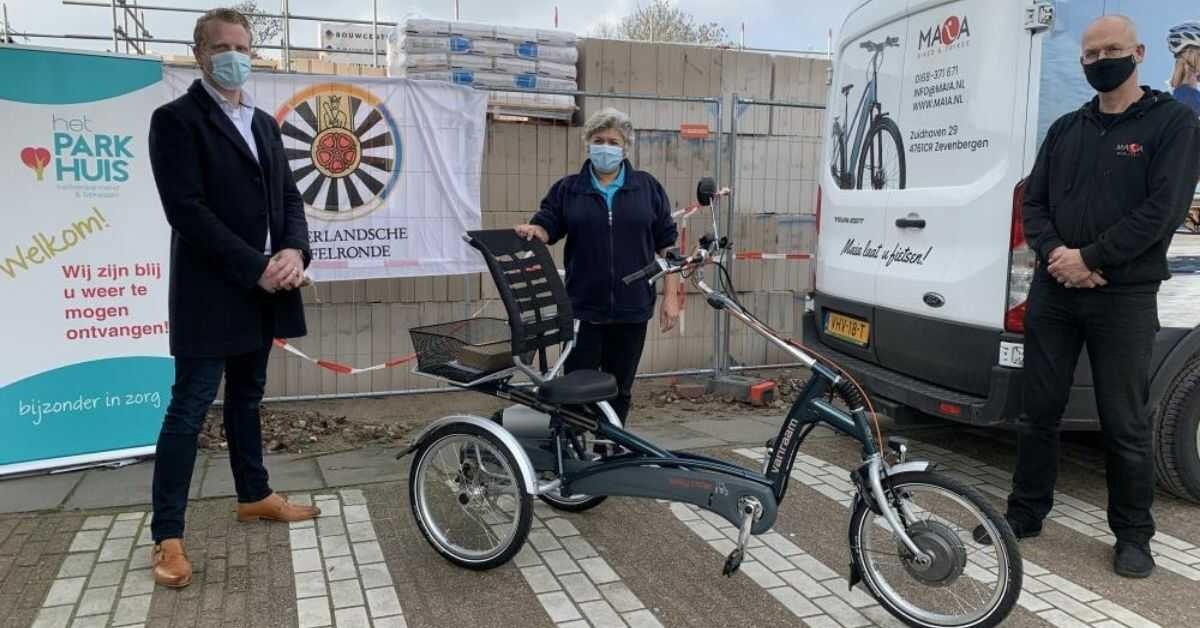 Residents can exercise (again) with tricycle Easy Rider
Het Parkhuis is committed to outdoor exercise activities. Exercise in the open air slows down the dementia process, improves brain function and reduces stress (source: Het Parkhuis). Paulien Busch, exercise coach at Het Parkhuis, tells RTV Dordrecht: "Of course, we've had a serious dark period and now everyone is slowly recovering. Exercise and moving around is an important part of this. We are walking a lot again and we cycle with our side-by-side tandem. And now we can also use the tricycle."

The tricycle Easy Rider was really 'at the top of the list' of Het Parkhuis. Because het Parkhuis has many residents who have difficulty moving. Paulien Busch says: "People can get on this tricycle independently, the bike is super stable and they cannot fall over. That's great."

According to het Parkhuis, the tricycle will be working overtime in the near future. So as many residents as possible can get some exercise.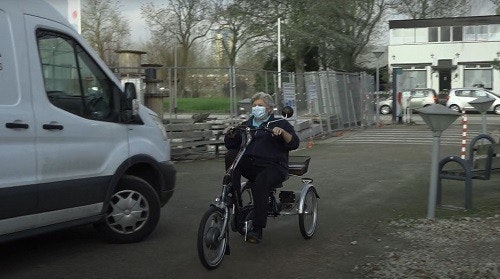 People can get on this tricycle independently, the bike is super stable and they cannot fall over. That's great.
Video: handing over new electric Easy Rider (in Dutch!)
Watch the video below to view the festive handover, in which Het Parkhuis, Ronde Tafel Dordrecht and Van Raam dealer Maia Bikes & Trikes tell (in Dutch) more about the Easy Rider tricycle and the campaign by Ronde Tafel.
About the Easy Rider tricycle
The Easy Rider is a tricycle for adults with a seat and low entry. The Easy Rider is very easy to cycle, even if you've never cycled on a tricycle before. A Van Raam bicycle can be expanded with various options and accessories. The park house has an Easy Rider 2 (the model currently sold is the Easy Rider 3) with, among other things, a mirror and pedal support.

View more information and specifications on the product page of the Easy Rider. Here you can also find more pictures, videos and customer experiences.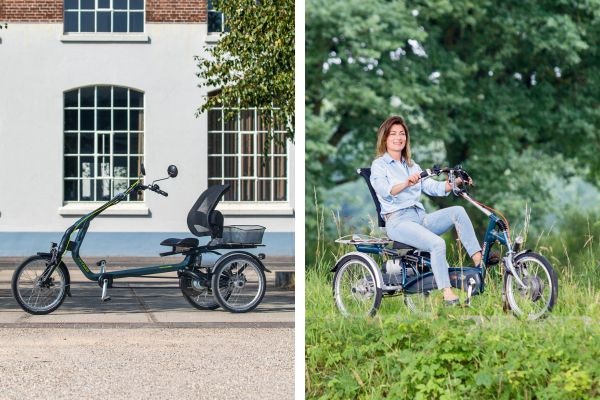 Tips for buying a tricycle
Het Parkhuis got this Easy Rider thanks to an initiative of the service club Ronde Tafel Dordrecht. There are several ways to purchase a special needs bicycles, such as the Easy Rider. Read more about this in the article: 'Tips for raising money for a special needs bike'.
Do you have any questions?
We are happy to assist you! Please check our contact page or contact us directly using the options below.