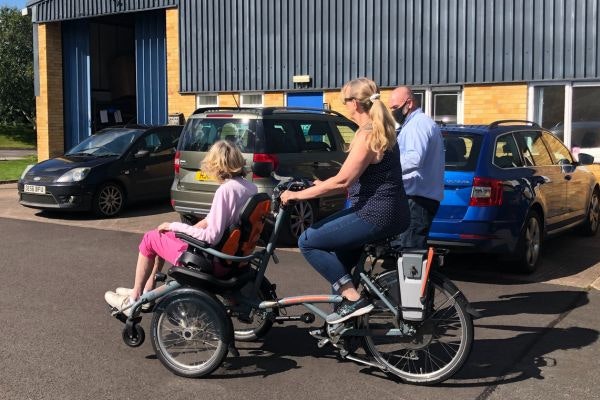 News
5 questions for Van Raam Premium Dealer Tomcat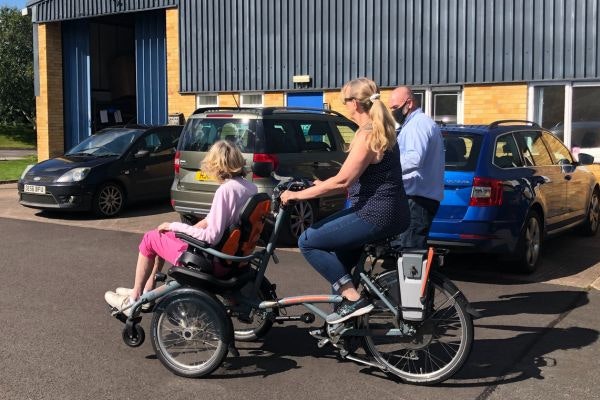 Tomcat SNI Ltd was founded in 1997, in October 2018 they started selling Van Raam bicycles. Nazia White, Head of Marketing at Tomcat is in business since 2017, and is happy to tell you more about the company and the things that make Tomcat unique.
1. Why did Tomcat become a Van Raam Premium Dealer?
Tomcat's 25 years of innovation make it possible for children and adults with learning difficulties, physical disabilities or emerging mobility problems to move more easily. Also our British-made trikes look great, support individual needs and enable long-lasting enjoyment of life. This is all possible thanks to the Tomcat Team of 18 people are passionate about supporting the community we serve.

There is a real synergy between the two businesses and the Van Raam bikes compliment our suite of products. There is a bike/ trike for everyone that knocks on our door.
Support individual needs and enable long-lasting enjoyment of life.
Nazia White
2. How do you help customers who are looking for a Van Raam bicycle?
Test ride
We offer a "by appointment only" visit to our showroom or alternatively we can send a Tomcat Assessor to the customer's home or choice of location. At Tomcat we have free car parking facilities with ample space to accommodate larger vehicles. So you can fill out a "book a demo" form on our website. A Tomcat assessor, local to the customer's area, will get in touch and organise a suitable time and date at the customer's convenience. The assessor will bring along the equipment and carry out a demonstration.

We can probably offer any solution to the customer, as long as we have the parts available during a test ride to adapt the bike to their needs. 
Purchasing
After the demo the assessor will compile a quote and this will then get sent to the office team at Tomcat.
An offer will then be emailed and posted out to the customer. Once the order is placed and the bike built at Van Raam we will arrange delivery and set up with the customer.
 
Some Van Raam bicycles we have in stock, in which case the order step will be skipped. 
3. How does Tomcat help customers who already have a Van Raam bicycle?
We are a fully operational manufacturer and cycling service repair and spares organisation. So we can offer different services such as, maintenance, a three year health check, repairs. We also order parts and spare parts for customers who already have a Van Raam bicycle.
4. What is your best experience of a customer with a Van Raam bicycle?
There are many but you could take a look at some of the case studies we've written on our website. There are also two customer experiences to read further down in this article, by customers who bought their bike at Tomcat.
National coverage to speedily service or repair the bike.
Nazia White
5. What makes Tomcat unique as a Van Raam Premium Dealer?
We offer all our Van Raam customers a three year Health Check. It means that should a problem arise, our customers have all the Tomcat expertise and advice to hand with national coverage to speedily service or repair the bike.
Insurance
If a customer is interested in insurance options, we send the details of an insurer to the customer.
We offer demo's at our showroom as well as take the bikes to events for test rides.
Nazia White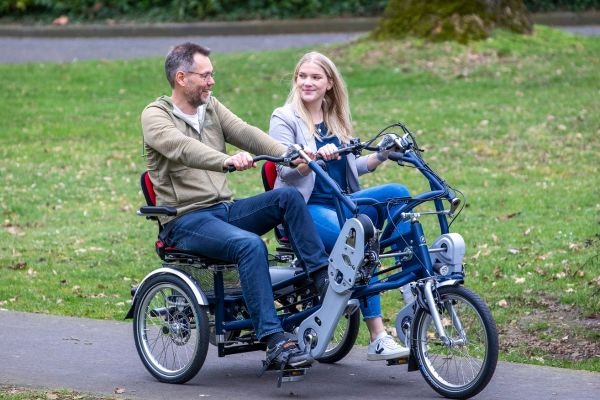 Nazia's favorite Van Raam bicycle: Side-by-side tandem Fun2Go
We love the social cycling element of this bike - no matter what age you will enjoy the pleasure of cycling on this bike!
Customer experiences of bikes sold by Tomcat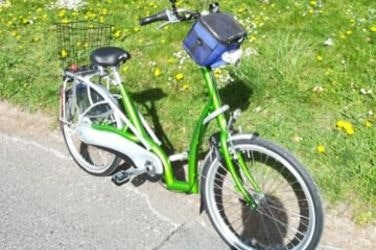 User experience Balance low step through bike - Eva Richards
My name is Eva Richards, I live in South Wales in the United Kingdom and I have a Van Raam Balance bike because of my osteoarthritis.
Read this customer experience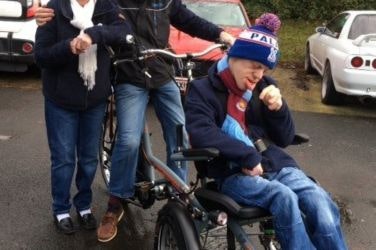 User experience OPair Wheelchair Trike – Adam Pyle
Adam Pyle is 25 years old and has profound Physical and Learning Disabilities. Together with his mum Kate and his dad Graham, he lives in England. In January 2020 they received the OPair Wheelchair Trike. Kate tells us more about Adam and why they bought the OPair Trike.
Read this customer experience
;
View contact details of Tomcat
Our head quarters are accessible by any mode of transport, including walking and cycling.

Tomcats contact information can be found on the dealer page.
More about Van Raam Premium Dealers
It is possible to order a Van Raam bicycle at a Van Raam Premium Dealer. A Premium Dealer has at least the following bicycles in his showroom:
The dealer has product knowledge and a specialist is present. Furthermore, a workplace and skills to perform service are present. Read more about the different types of Van Raam dealers. 
Get to know more Premium Dealers
Van Raam gives Premium Dealers the opportunity to introduce themselves in an interview of 5 questions. In this article you get an overview of all Premium Dealers who have answered these questions.
Do you have any questions?
We are happy to assist you! Please check our contact page or contact us directly using the options below.