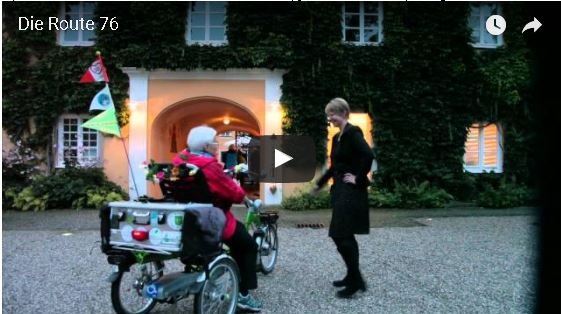 News
Test tricycle by experienced tricycle user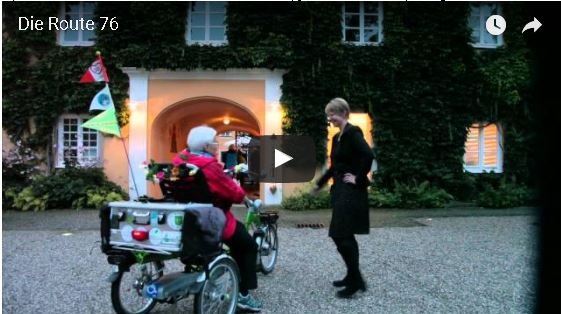 Despite her irreparable hip problems, Gunda Grauss of 72 tested the electric tricycle for adults, the Easy Rider of Van Raam. In the summer of 2009 Mrs. Krauss cycles form Munich to Rügen. In less then 50 days she traveled 1262 kilometers away on this special tricycle from Van Raam. The unique design of this special needs bike made this trip very pleasant.
Test tricycle: 1200 km cycling true Germany
The Easy Rider is called a chair bicycle. Ms. Krauss has had great support from the seating.  The seat height and angle of the seat are adjustable. With the electric pedal support the more than 1200 km in 49 days were no problem.  
The Easy Rider electric tricycle for adults has finished the whole trip without problems. Gunda Krauss showed us that people with disabilities can just as easily finish long cycle distances. On the front and rear side of the tricycle luggage baskets were assembled. During the entire trip her wirehaired dachshund sat in a basket next to her. 

This videoreport shows Gunda Krauss during the 1249 KM test of the Easy Rider electric tricycle for adults.
Route 76: from the Alps to the North Sea on the tricycle
Through the many kilometers Ms. Krauss ride on the tricycle you can call her an experienced three wheel bicycle user. The experience of her tour in 2009 changed her life, she says. 'My tricycle just make me happy.' Gunda Krauss will start in 2015 with a new tour on her Easy Rider. Through various communication platform, such as Facebook and Twitter, you can follow her on her new tour, Route 76.

The Route 76 begins in the spring of 2015 by Germany and goes form the Alps to the North Sea. Everyone is invited to become a partner of Gunda's adventure. Only if there is enough people who support Gunda, the long journey can succeed! Where exactly she will cycle through Germany is determined by her fans on Facebook and Twitter.  

On the video you can see an introduction movie:  Gunda on the way to Route 76 . Gunda's goal is to encourage other people never give up and to make your own way to go .. at any age! 
Gunda Krauss nominated for the 'German elderly price 2014'
The Robert Bosch Foundation has out of 335 entries  seven initiatives nominated for the German elderly price 2014. This prize is awarded for the best idea for the elderly. Gunda Kraus is,  with her Route 76: Germany pass on the tricycle Easy Rider, nominated for the German elderly price in 2014. The winners will be announced during the awards ceremony on November 18, 2014 in Berlin.
Do you have any questions?
We are happy to assist you! Please check our contact page or contact us directly using the options below.