A tricycle with a push bar is ideal for small persons or children who sometimes need some support while cycling. The bike push bar is mounted on the frame of the tricycle and can be taken off later if necessary. With a tricycle push bar, you can correct someone where necessary, steer them in the right direction and give them a little push.
Order a push bar at a Van Raam dealer
You can order this option from your Van Raam dealer. It is also possible to have this option mounted on your bike afterward by your dealer.
View all push bar customer experiences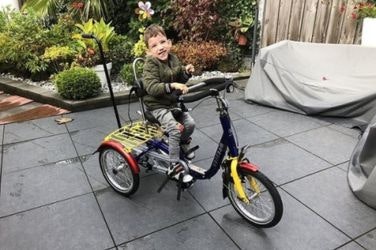 User experience tricyce for children Mini - Mother of Duncan
What do you wish for a cheerful and happy little boy who is in a wheelchair because of his disability? For Van Raam, the answer to this question is clear: a piece of contemporary mobility. At Van Raam, we believe that as long as people can stay mobile, they are happier. We are very happy with all the positive stories we hear from our end users. So it is good to hear that the cheerful and happy boy from the introduction can now enjoy cycling among his peers thanks to the children's tricycle Mini. Read in this article the user experience of the children's tricycle Mini told by the mother of Duncan.
Read this customer experience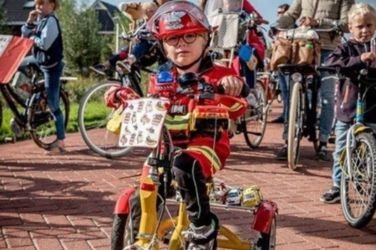 User experience tricycle for children Husky - Paula (mother of David)
Because of your beautiful product, David, our youngest son with light Cerebral Palsy, could participate with the bicycle parade in the district (Wijkfeest Zuidlanden 2018) this weekend. Participating is so important! The festivalparade was this year for the first time and all children had a decorated bicycle. David's Husky tricycle was in the theme that suits him best!
Read this customer experience
;
Specifications
| | |
| --- | --- |
| Price (Husky, Mini) | € 76 (excl. VAT and shipping) |
| Price (Midi, Easy Rider Small) | € 112 (excl. VAT and shipping) |