The banana saddle for your special needs bike is an elongated, narrow saddle. This type of saddle can help you stay on the saddle better.
Order a banana saddle at a Van Raam dealer
You can order this option from your Van Raam dealer. It is also possible to have this option mounted on your bike later by your dealer.
Read all banana saddle customer experiences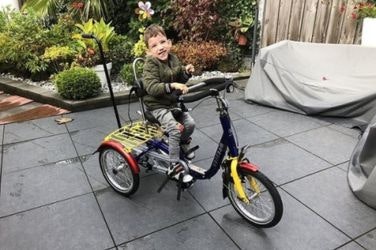 User experience tricyce for children Mini - Mother of Duncan
What do you wish for a cheerful and happy little boy who is in a wheelchair because of his disability? For Van Raam, the answer to this question is clear: a piece of contemporary mobility. At Van Raam, we believe that as long as people can stay mobile, they are happier. We are very happy with all the positive stories we hear from our end users. So it is good to hear that the cheerful and happy boy from the introduction can now enjoy cycling among his peers thanks to the children's tricycle Mini. Read in this article the user experience of the children's tricycle Mini told by the mother of Duncan.
Read this customer experience
;
Specifications
| | |
| --- | --- |
| Article number | 103-1279 |
| Dimensions LxWxH (mm) | 320x160x130 |
| Added weight (g) | 1188 |
| Material | Steel, Cushion |
| Price | € 263 (excl. VAT and shipping) |