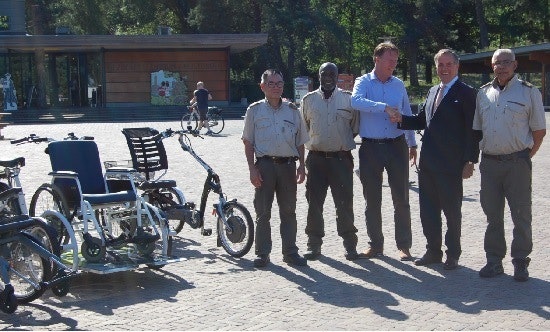 News
Van Raam bikes at the Hoge Veluwe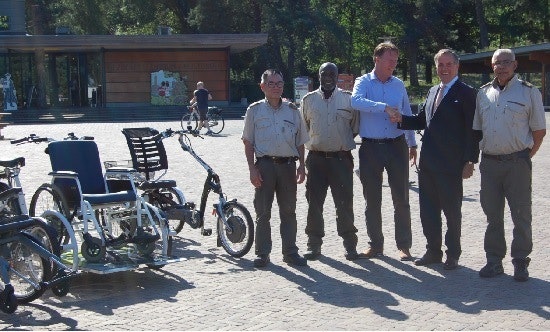 The National Park The Hoge Veluwe gives people with a restriction the opportunity to enjoy the beautiful park with a free to use Van Raam special needs bike.
The Hoge Veluwe
The National Park The Hoge Veluwe recently received multiple new special needs bikes of the company Van Raam. The park is one of the best-known National Parks in the Netherlands and has 1800 free to use White Bicycles available. People with a restriction have free access and can when they show there disabled card, or they have a clearly demonstrable restriction, reserve a free to use Van Raam special needs bike. The bikes which are available are: an Easy Rider tricycle with pedal support, a Viktor tricycle with two wheels in front, a Twinny tandem, an OPair wheelchair bike with pedal support or a VeloPlus wheelchair bike with Pedal Support of Van Raam.

Recently, the new OPair wheelchairbike, the VeloPlus wheelchairbike and the Easy Rider tricycle have been included in the assortment. All these bike are equipped with the strong Silent HT pedal support, with which you can cycle almost noiseless both forwards and backwards.

At the delivery of these bikes, by Marnix Kwant of van Raam to the park director Seger Emmanuel baron van Voorst tot Voorst , were also press people who made the following reports:
Report Van Ede Tv on the left and the report of RTV Apeldoorn on the right
Van Raam special needs bikes
With these new special needs bikes added to our assortment, we want to make the accessibility for people with a restriction even bigger. Even after they received the "Goed Voor Elkaar Prijs 2016" from the centre of knowledge Groen&Handicap, the Park keeps up their work for people with a physical restriction. At the end of 2016, the National Park the Hoge Veluwe received the Goed Voor Elkaar-Prijs from the National Park.
The Hoge Veluwe
The approximately 21 sq mi big National Park The Hoge Veluwe is one of the most well-known National Parks in the Netherlands. What makes the Park so unique is the combination between nature (with a high biodiversity), culture (three museums: Jachthuis Sint Hubertus, Museonder, Kröller-Müller Museum) and architecture (20 national monuments). Furthermore, is the Park famous for the free use of its 1800 White Bicycles and free access for all elementary schools in the Netherlands which promotes the nature education. Per year, approximately 600.000 people visit the National Park The Hoge Veluwe.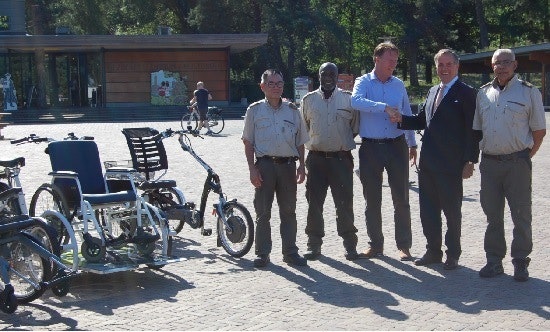 Do you have any questions?
We are happy to assist you! Please check our contact page or contact us directly using the options below.