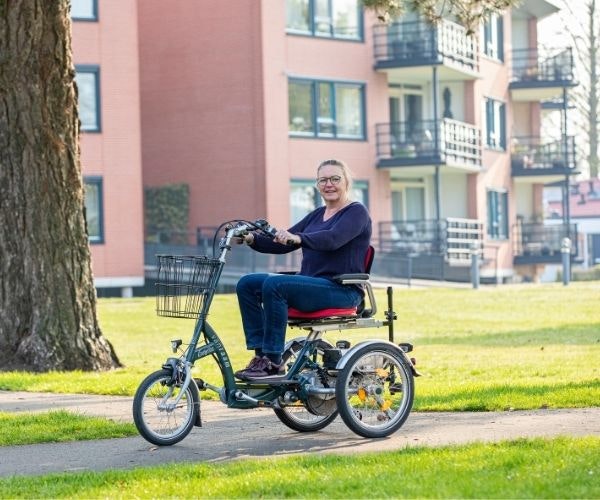 News
The Easy Go electric disability scooter from Van Raam
Bikes

\ Mobility scooter bike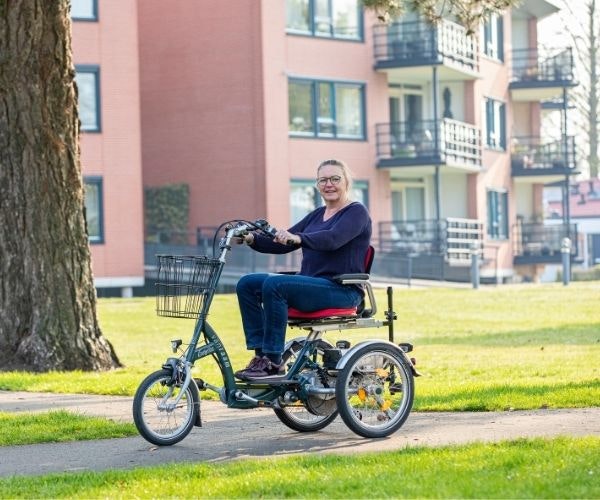 For people with reduced mobility, Van Raam offers several options to get mobile again, including the Easy Go electric disability scooter. Find out more about the Easy Go in this article and also read what other people have to say in their customer experiences.
The Easy Go electric disability scooter
The compact electric scooter for disabled adults and the elderly is specially designed for
people with an unsteady condition or changing energy. Therefore, the electric scooter tricycle offers you three ways to use it:
You drive entirely under your own power,

​you ride with electric pedal assistance and pedal yourself

or you ride with 100 % electric assistance.
This bicycle is very compact and manoeuvrable and is therefore also very suitable for doing your shopping. The adjustable double suspension gives you a stable and comfortable ride. You do not need a driving licence or any other licence to drive the Easy Go. However, insurance must be taken out for it.
Electric scooter for disabled adults with e-bike app
As the Easy Go is equipped with an electric motor as standard, you also have permanent access to our Van Raam e-bike app. This app is free of charge and can be used as a luxury bike computer for Van Raam pedal-assisted bicycles. In the app, you can view information such as speed, battery status, total distance cycled and also adjust bike settings.

In addition to the pedal assistance, the Easy Go electric scooter for disabled adults offers many advantages and unique riding characteristics.
Video: The Easy Go electric scooter for disabled person 3 in1 bike
Have a look at the 3 possible stands in the following video.
Advantages of an electric scooter for disabled adults
Read about the advantages of an electric scooter for disabled adults below:
Bicycle and electric scooter in one

Compact stable and manoeuvrable

More compact than an electric scooter
See more benefits, photos, videos, technical specifications and more on the Easy Go product page.
Video: How do I adjust the seat of the Easy Go electric tricycle?
Customer experiences electric disability scooter
Read here some customer experiences of people who use the Easy Go electric scooter.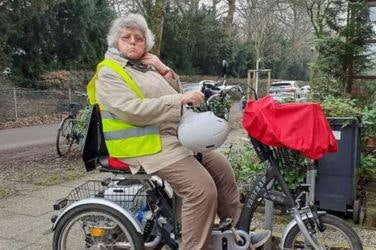 Customer experience Easy Go scooter bike – Margit Schneider
Read in this customer experience the story of Margit Schneider from Germany. Although she had to get used to a tricycle for a while, she is now very happy with her Easy Go scooter bike and couldn't live without it.
Read this customer experience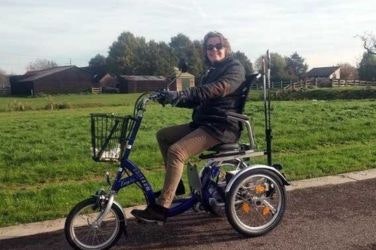 Customer experience scooter bike Easy Go - Astrid van der Plank
I am Astrid van der Plank (44) and I own the Easy Go scooter bike since July 2018. I use a scooter bike because I have Spinocerebellar Ataxia type 28 (SCA28). SCA28 is a rare chronic neurological disease that, among other things, causes balance and coordination problems. When I could no longer cycle on a bike with two wheels, because I fell continuously, I started looking at alternatives. I tried several Van Raam bikes, but nowadays I am happy to use my scooter bike Easy Go.
Read this customer experience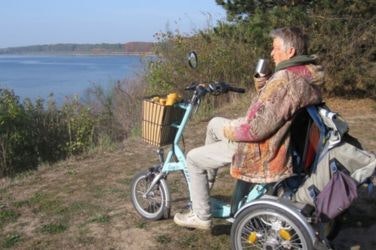 Customer experience scooter bike Easy Go - Ankie van den Bosch
When they discovered I have Multiple Sclerosis* in 2000, I already had an e-bike for several years. Because my strength and energy continued to decrease, cycling became unsafe and I became insecure. It became difficult to get out of the car, to get away at a traffic light or to brake. And all this began to demand a lot of effort in traffic. I got scared when the wind was very strong. I avoided bridges and dunes.
Read this customer experience
;
Try out the Easy Go electric disability scooter
A free test ride at Van Raam allows youto try out the Easy Go. In the Van Raam showroom in Varsseveld and South Germany, you will receive expert advice and have the opportunity to ask questions and try out the bike on the bike test track, for example. Would you like to buy the electric disability scooter? Then this can be done through one of our dealers. A test drive is also possible at some Van Raam dealers. Please contact your local dealer for this.
Do you have any questions?
We are happy to assist you! Please check our contact page or contact us directly using the options below.