Customer experiences
Customer experience Easy Go scooter bike – Margit Schneider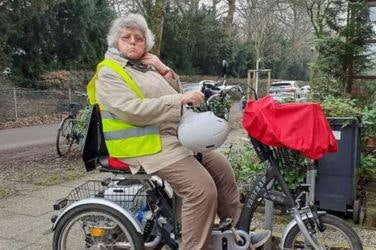 Read in this customer experience the story of Margit Schneider from Germany. Although she had to get used to a tricycle for a while, she is now very happy with her Easy Go scooter bike and couldn't live without it.
My story
My name is Margit. I'm 77 years old and I live in Bremen, Germany. I love reading and cycling, especially on my Easy Go scooter bike. I've owned the Easy Go since September 2020 and I'm very satisfied! I've been waiting for 7 weeks for the delivery of the bike and it was delivered properly at the time. After a period of getting used to it, I feel a lot safer on the scooter bike. I've deliverately chosen a tricycle, because I find that safer than a car. I use the Easy Go for all sorts of things.

As I said, I had to get used to a tricycle. Especially on paths and roads that slope round to one side, I sometimes have trouble estimating the speed. But now it's going a lot better. The trips are very different, but usually I cycle about 80 km in the weekend. With the scooter bike I get from A to B quickly. The Easy Go had to go back once for repair, then I miss the bike a lot. Especially when I can't use it for a few days.
My search and review
I ended up at Van Raam because I know the bikes from the disability sector andI always found them to be of very high quality. I looked at Van Raam's website to get an idea of what I was looking for and then looked at the price list. I didn't take a test ride, but I got advice from dealer e-motion Dreirad-Zentrum in Bremen. I'm very satisfied with the way Van Raam performed the entire service and the contact with the dealer is also very good. They are very friendly and helpful. On a scale of 1 to 10, I give the bike an 8! The scooter bike gives me security and I can do all kinds of rides with it. And what's also nice is that different people approach me. They want to know exactly how the bike works!

Margit Schneider – Bremen (Germany)
Bike: Easy Go scooter bike