Customer experiences
User experience three-wheel tandem Twinny Plus - Mirjam Droger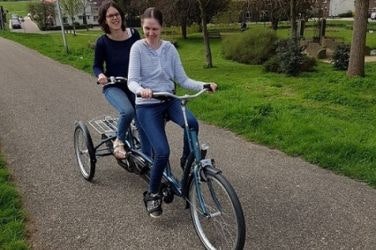 Cycling is a big hobby of my husband and of me and being able to cycle together with my sister with a mental disability has been a big wish of mine for years.
Two years ago my parents made that wish come true by giving us a van Raam bicycle as a gift. Since then we cycle with my sister whenever we can and our freedom of movement has increased a lot. We don't have to go by car anymore for small distances, but we just have to go by bike.

My sister loves to cycle and often asks us if we are going to cycle. It is also good for her condition. On the bike she waves cheerfully to the people we meet on the way. We get a lot of attention on the way and people tell me: 'we saw you cycling with your sister'. The bike is stable, offers many gears and is completely adapted to our situation. We can let my sister pedal with us, but when she gets very tired we switch to another position and she can keep her legs still for a while. We are very happy with the bike, and will be using it for many years to come!
Mirjam Droger - Zwijndrecht
Type: Twinny Plus