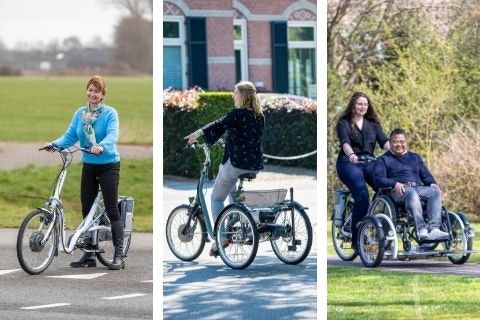 News
Do's and don'ts: how to cycle on a Van Raam e-bike?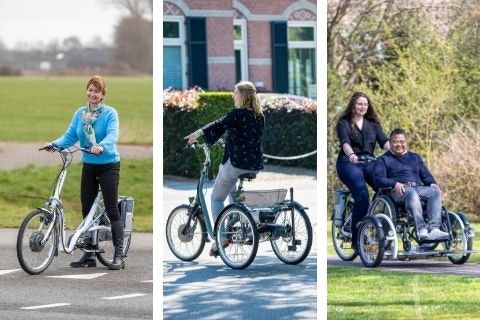 A few years ago there were few people with an electric bike, but now the e-bike has become a true phenomenon. But with an e-bike you also have to be aware of potential hazards. Read more about the do's and don'ts of cycling on a Van Raam electric bike here.
Video: Do's and don'ts: how to ride an e-bike?
Watch the explanation of the do's and don'ts for cycling on an electric bike below.
Tip: The spoken langauge is Dutch in this video, so feel free to turn on subtitles for accompanying text.
From exception to daily use
The electric bike is now an integral part of the street scene. Elderlypeople, adults, young people - it doesn't matter. At Van Raam, you also see that many customers choose a special needs bike with electric pedal assistance. For many people it is a godsend. You need to pedal less, you can cycle longer distances and you reach your destination faster. Ideal. But an e-bike is also very different from a normal, traditional bike. It is in some ways more risky, but that doesn't mean you shouldn't buy an electric bike.
Ejoying your electric Van Raam bike to the max
By reading this article, you have probably chosen a Van Raam bike with pedal assistance. Or maybe you are still thinking about buying one. To help you get started, we have listed a number of do's and don'ts for cycling on an electric Van Raam bike, so you can fully enjoy it. And so you can safely participate in traffic.
Do's: how to cycle on a Van Raam e-bike?
We start with the do's:
The right e-bike. Choose an e-bike that suits you. Get good advice and try out different e-bikes. At Van Raam we always offer customers the opportunity to try out different bikes during a test ride.

A properly adjusted electric bike. Make sure your e-bike is set correctly so you can cycle in a pleasant and safe manner. Your Van Raam dealer can help you with this.

Practice, practice, practice. Have you just got a new e-bike? Then start slowly and make sure you practice a lot beforehand in an environment you know well. Know your bike. Practice with different pedal assistance settings, turns, brakes. Give yourself a chance to get used to an electric bike.

Make sure you arevisible. You don't want people to overlook you. Make sure your lights are working properly, especially in the darker months of the year. This way you will be visible to those around you! For more tips, read the article '10 tips for cycling in the dark'.
Take your speed into account. With an e-bike you cycle a lot faster than with a traditional bike. Other road users cannot immediately see how fast you are going and therefore have difficulty estimating your speed.

Remember that you have an adapted bike. A Van Raam bike is often wider and cycles differently than a normal bicycle. Take this into account.

Indicate your direction. Other road users cannot tell from you whether you want to go left, right or straight. Give them a hand and let them know what you are planning to do.
Tip:
Choose extra safety and wear a bike helmet. A bike helmet won't prevent a fall, but it can help reduce your risk of head and brain injury in a fall.
Don'ts: how not to cycle on a Van Raam e-bike?
Now that we've listed the do's when cycling on an electric bike, we also want to draw your attention to the don'ts:
Trying to cycle as hard as possible. For some people, it is fun to cycle fast. But make sure, especially in built-up areas, that you slow down in time at side streets, traffic circles and intersections. Choose a speed that suits you and your environment.

Going too fast through the curve. You are extra vulnerable when taking corners. With an electric bike, it is important not to pedal or brake in the curve, but to keep your legs still and if necessary, to brake a little.

​Failure to consider your fellow passenger. As the main driver, you are responsible for the safety of your fellow passenger. Make sure you communicate well and that the fellow passenger feels safe.

Too much occupied with your smartphone. Just answering that app, putting on some music, taking a picture while cycling. Don't do this! It is important to pay attention while cycling. Do you need your cell phone while cycling? Use a mobile phone holder on the handlebar.
Did you know?
People who use their cell phones while cycling are often involved in traffic accidents? Prevent dangerous situations!
Pedal assistance especially for special needs bikes
Every electric Van Raam bikeuses Van Raam's own developed pedal assistance system. The motors, the batteries, the controller, the Smart display and the software are specially designed for special needs bikes and meet all safety requirements. Read more about Van Raam pedal assistance via the button below.
Electric Van Raam bike customer experiences
Many people are already cycling around with an electric, customized Van Raam bike. Are you curious about how they like it? Read the reviews here: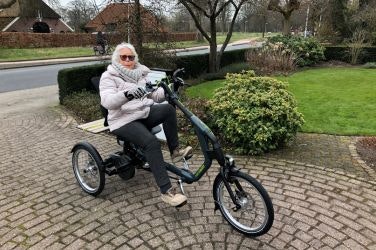 Customer experience Easy Rider electric tricycle – Albert Bloemendaal
Van Raam regularly receives nice mails and letters from customers with a Van Raam bicycle. From Albert Bloemendaal we received a nice letter by post. In this letter he says that he, his wife and daughter all cycle with an Easy Rider tricycle. Read the letter and more about their experience with the Easy Rider here.
Read this customer experience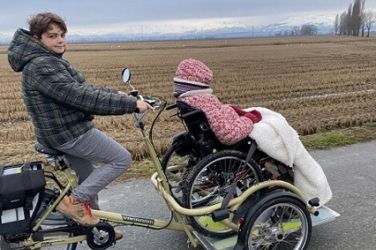 Customer experience VeloPlus electric wheelchair bike - Angelica Malinverni
My name is Angelica Malinverni (49), I come from Italy and I'm the mom of Caterina (24) who has a disability since she was born. We recently purchased the VeloPlus electric wheelchair bike and it has changed our lives! Read more about our experiences here and watch the video of Caterina and the VeloPlus.
Read this customer experience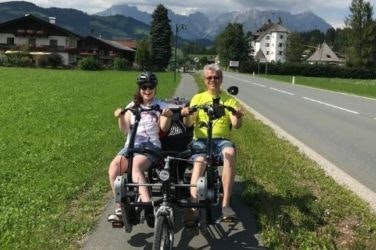 Customer experience Fun2Go duo bike - Andreas Puschmann
Andreas has had his Fun2Go duo bike for nine years. Read more about his experience in the following message he sent to Van Raam.
Read this customer experience
;
Do you have any questions?
We are happy to assist you! Please check our contact page or contact us directly using the options below.