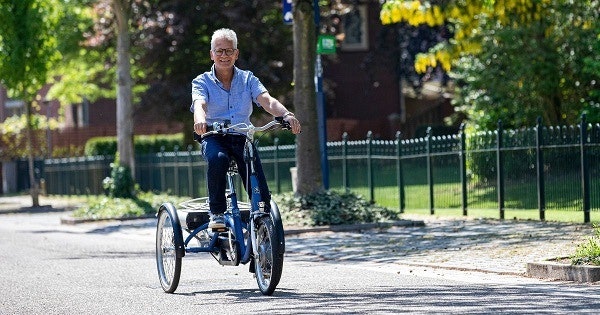 News
An orthopedic bike from Van Raam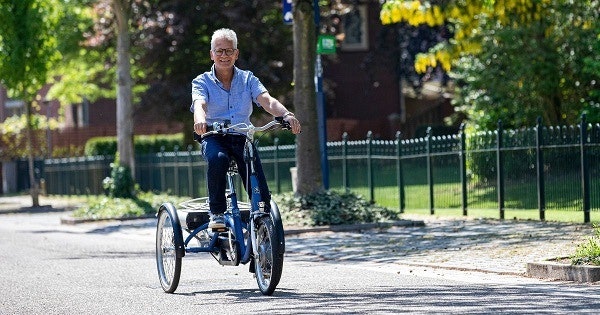 Van Raam has several orthopedic bikes in its assortment for people who can no longer cycle on a regular bicycle. See in this article which bicycles they are and which benefits they offer.
Cycling with orthopedic problems
When you have orthopedic problems, it is sometimes difficult to cycle on a regular bicycle. Van Raam has several bicycles in its assortment that offer a solution.

Orthopedic complaints include various musculoskeletal disorders. These can be disorders of the;
Think of arthritis, but also a hernia or shoulder problems. See below which single person bicycles Van Raam has in its assortment for people with orthopedic problems.
Cycling with an orthopedic bike with three wheels
Van Raam has several orthopedic bikes with three wheels in its assortment. Namely traditional tricycles, tricycles with a seat, tricycles with two wheels in the front and one in the back and a low step through tricycle. The main benefit of an orthopedic tricycle for adults is the increased stability and safety compared to a two-wheeler. Other benefits include:
Stopping without getting off

Parking brake allows you to get on and off safely

You do not have to maintain balance yourself
Traditional tricycles for orthopedic problems
Traditional tricycles have one wheel at the front and two wheels at the back with a seating position above the bottom bracket. This makes you pedal down and have a high seating position on the bike.
Tricycles with a seat
Our tricycles with a seat have a lower seating position with a forward pedaling motion. With this type of tricycle, the center of gravity is lower, which provides a more stable feeling.
Tricycles with two wheels at the front and one wheel at the back
Tricycles with two wheels at the front and one wheel at the back are popular with people who have difficulty estimatinghow wide the bike is. Because the widest part of the bike is in front, they can see more easily if the bike will fit between and past something.
Low step trough bike for orthopedic problems
If you have leg problems, a low step trough bike may be a good option. Van Raam has a low step trough bike with two or three wheels. You can easily get on these bikes without having to lift your leg high. The unique frame gives you a low seating position, allowing you to put both feet on the ground. This means you don't have to get off the saddle and you can still cycle with an optimally stretched leg. With both bikes you have a unique ergonomic seating position where wrists, shoulders and neck are relieved.
Looking for another orthopedic bike?
Besides tricycles, Van Raam also has other bicycles in its range that can help with orthopedic problems: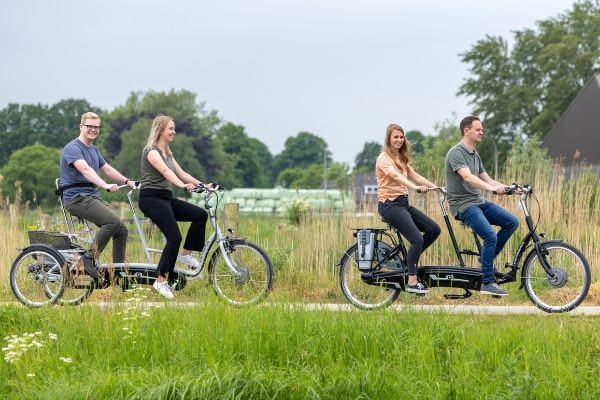 An orthopedic bike from Van Raam
Would you like to test ride an orthopedic bike? You can! You can easily make an appointment online at Van Raam. Our technical advisors will gladly give you more information about our bicycles. It is also possible to try out bicycles on our bicycle test track. It is also possible to make a test ride at one of our dealers. Find out which Van Raam dealer is closest to you and ask about the possibilities.
Read more?
Van Raam has written several articles regarding orthopedic conditions, also read the following articles:
Do you have any questions?
We are happy to assist you! Please check our contact page or contact us directly using the options below.