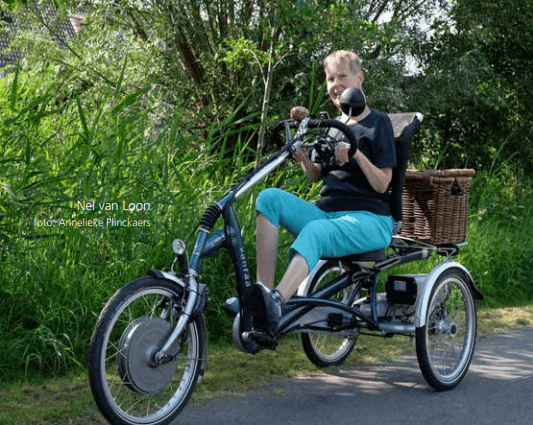 News
Cycling with rheumatism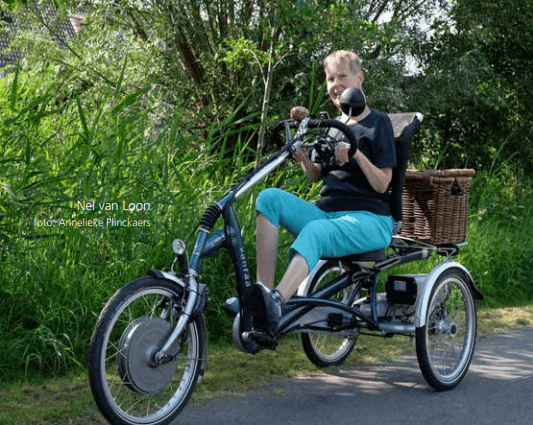 Regular exercise with a rheumatic disorder is very important. Besides being relaxing, it can be of great social and psychological significance and negative processes can be stopped. Cycling with rheumatism is a way of moving that can have a positive effect. Read more in this article about this condition and about the use of Van Raam bicycles with a rheumatic condition.
What is rheumatism?
Rheumatism is a collective term for more than 100 different disorders of your organ system that allow you to move around, such as joints, muscles, tendons and bones, that are not caused by an accident. Some rheumatic diseases may also involve the organs.

More than 2 million people in the Netherlands (and 1% of the worldwide population)live with various complaints every day, such as pain, stiffness and fatigue as a result of a rheumatic disorder. Most forms of rheumatism are easy to treat but cannot (yet) be cured.

Anyone can get rheumatism, at any age. There are also children with a form of rheumatism. 1 in 9 people in the Netherlands has a form of rheumatism and every day 700 people are added.
Types of rheumatism
The different types of rheumatism can be distinguished into:
Auto-immune diseases / inflammatory rheumatism: inflammations in your body because your immune system cannot distinguish healthy cells from bad cells and therefore attacks your own body.

Osteoarthritis: a disorder of cartilage and bone of your joints in which the cartilage becomes thin or sometimes even disappears completely. Osteoarthritis is the most common rheumatic disorder in the Netherlands.

Gout: with gout you have an excessively high uric acid level due to a poor metabolism. Uric acid crystals are formed and can reach the joints, leading to painful attacks.

Osteoporosis: with Osteoporosis, the bones in your body becomes smaller and therefore less strong.

Soft-tissue rheumatism: disorders of the muscles, tendons or bursas, the best known condition is Fibromyalgia.
(source: www.reumanederland.nl)
 
Exercise with a rheumatic disorder
With rheumatism, negative processes in your body can be counteracted by exercise. The way of exercising is different for each rheumatic condition and for each person, takes into account your condition and respects your own limits.It is wise to always consult with your specialist or doctor.

Consider the following points if you want to start moving or exercising with your rheumatic condition:
Adjust certain exercises or sports so that they meet your personal wishes.

Adjust your movement to your natural rhythm and look at your symptoms. For example, you may be stiffer in the morning and evening.

See if you can adjust your medication to your exercise activity.

Make sure that you slowly build up and reduce your movement with the help of a warm-up and a cooling-down.

Adjust the type of material you use to move, for example, instead of a regular (two-wheel) bike, choose a special needs bike, such as a tricycle.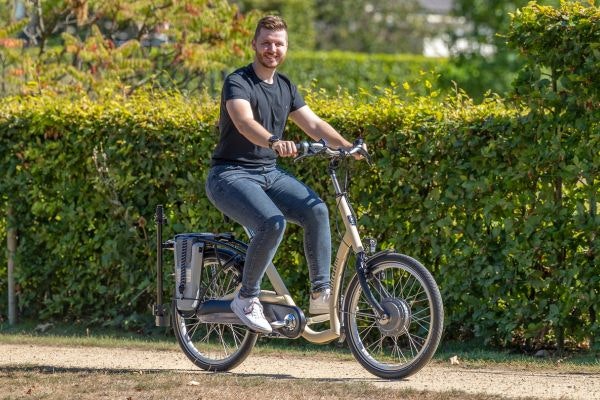 With rheumatism on a special needs bike
Cycling with rheumatism on a Van Raam tricycle
Nel van Loon is a user of a Van Raam Easy Rider tricycle. In the magazine Rheumatism in the Green Heart she tells more about continuing to move with a rheumatic disorder.

Nel van Loon has had rheumatoid arthritis, secondary arthrosis and gout since she was 21 years old. At the time she had to stop working in an old people's home and with her walking club. Because there were no good medicines, several rheumatologists advised her to rest. Nel was stubborn and kept moving, she found the strength to become and stay active. Walking goes with ups and downs and after a fall on a regular bicycle she found the solution in a special needs electric tricycle. Nel likes to cycle with her tricycle and she finds that very important.

Nel cycles to her parents in the city or from city to city with her husband to drink coffee. She also works out with the physiotherapist. Nel takes her bike with her on holiday: "We rent a trailer and we take the bike with us". 'Keep moving' is Nel's motto.

Curious about Nel's bike? Check it out on the product page of the Easy Rider.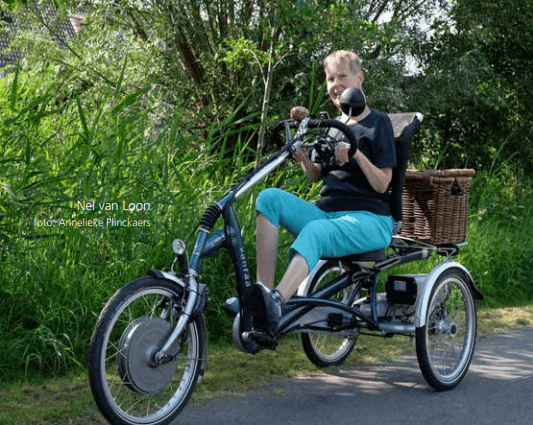 With cycling I can keep moving
Nel van Loon
Exercising with rheumatism on a tricycle
Below is an interview with Nel van Loon in the magazine Reuma in het Groene Hart. You can read the story of Nel in the paragraph above 'Cycling with rheumatism on a Van Raam tricycle'.
Cycling with osteoarthritis on a special needs bike
The progression of osteoarthritis can be reduced by regular exercise. Doctors and physiotherapists often advise people with osteoarthritis to cycle. This strengthens the muscles, tendons and ligaments and improves your condition. A special needs bike by Van Raam can help with this. Read more in the article: 'Cycling with osteoarthritis'.
Tricycle Easy Rider
Nel van Loon's tricycle is an Easy Rider tricycle with pedal support. See all information about the Easy Rider tricycle on the Easy Rider product page.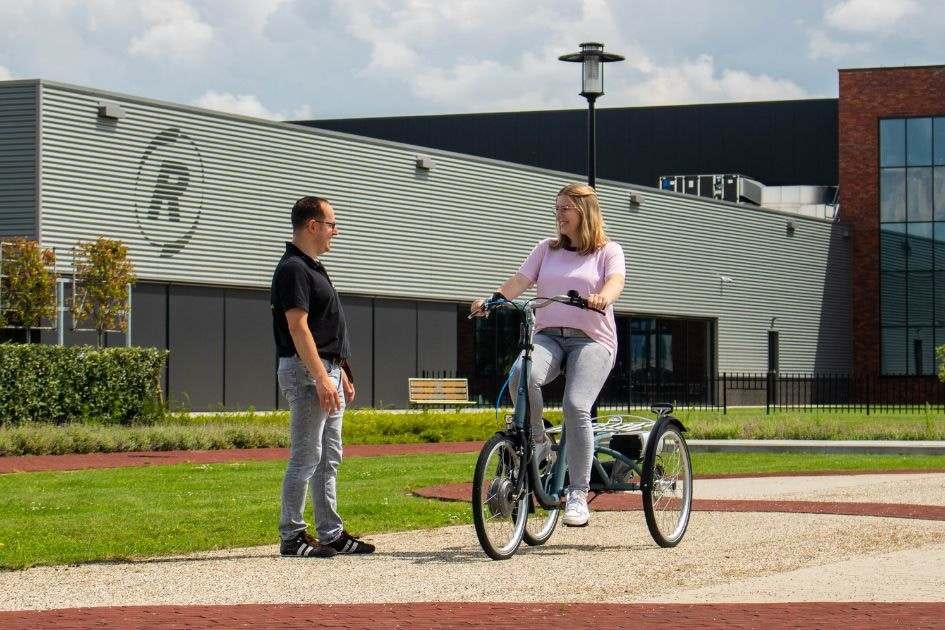 Try out a tricycle
Are you also looking for a tricycle and would you like to make a test ride on one or more models? Contact a dealer in your area and ask about the possibilities.
Do you have any questions?
We are happy to assist you! Please check our contact page or contact us directly using the options below.