Customer experiences
Customer experience VeloPlus wheelchair bike – Geertsma family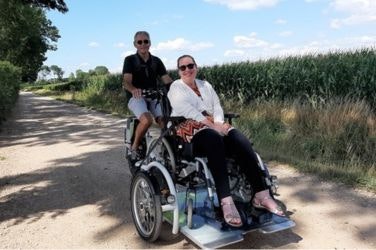 Babs has ALS and is wheelchair bound and completely dependent on others. In order to get out and about with her family, they hired the VeloPlus wheelchair transport bike from Van Raam. Curious about the experiences of the Geertsma family? Babs tells you more about it.
Let's introduce
"Hi, I am Babs (44 years old) and I live with my family on the border of the Netherlands-Germany. Since 2007 I have been diagnosed with ALS and in the meantime I am wheelchair bound and completely dependent on others. Luckily I still have a lot of energy and always full of ideas, so I am regularly on the road."
Renting a Van Raam bike
"We have hired Van Raam bikes before: once the VeloPlus and once the OPair, both for one day. We liked this so much that we wanted to rent the VeloPlus for a week this time. Through the internet we ended up at Van Raam, we contacted Van Raam and we were helped quickly and well."
The VeloPlus increases my freedom of movement.
Family Geertsma
Experiences with the VeloPlus
"De rental bike has electric support and is very fast. We cycle about 25 km at a time and have so much fun with the bike that we have extended the rental period by another week. We did have a flat tire once and a kinked handlebar, which brought us to a stop. Maybe the bike could be adjusted a bit better to prevent this, but because of this situation it turned out that the bike is very stable and the wheelchair is very well attached to the bike and is safe. What still would be usefull for the rental bike is a rearview mirror."

"We would definitely like to rent the bike again in the future. We have made beautiful trips and it is so nice for me to be able to go out again with my family.The freedom and the wind blowing through my hair..."

Geertsma family – Groesbeek (the Netherlands)
VeloPlus wheelchairbike
Would you like to rent a Van Raam bike?