Customer experiences
Customer experience Midi tricycle electric - Marja de Koning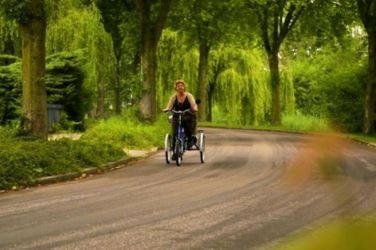 Marja used to have a serious car accident. Because of this her foot had to be reattached to her leg and she could no longer cycle. Recently she was interviewed by Welzorg, how is she doing now? Read and watch the interview (video) here.
Limited and more and more at home
"I used to have a serious car accident. My foot had to be reattached to my leg at the time and I couldn't and didn't dare to ride a bike anymore. Fortunately I could still drive, until my eyes deteriorated 2 years ago and driving a car was no longer safe either. From then on I did everything on foot and sometimes walked long distances in pain to go to the doctor.

I sat at home more and more and felt limited. At this point it occurred to me to consider a tricycle, an electric one. After all, I have limited strength in my legs. People around me have been saying for years that I should consider such a bike, I loved cycling. But I was too vain to try a tricycle, purely too vain."
My independence has returned and I now move around daily without pain.
Marja de Koning
Approved
"It was a bit of a search to find out how I could apply for a bicycle as an aid. Eventually the local bicycle shop referred me to Van Raam dealer Welzorg Netherlands. I called them and from that moment the process began. I even had cycling lessons from a physiotherapist. I thought this was so fantastic! This way I could really try out the tricycle. And then I was approved! Welzorg then approached me to go over the requirements and things went very quickly. After 2.5 weeks they delivered the Midi electric tricycle to me. I got explanations and guidance with cycling. It went fantastic."
Interview Welzorg
In an interview with Welzorg (in Dutch), Marja tells what the electric tricycle means to her and how she is doing now.
Tip: turn on the subtitels.
An electric tricycle
"By now I have been in possession of a Midi tricycle electric for some time. I had never cycled with pedal support before, but it is a huge advantage. Because of the pedal support, I don't have to exert so much force while cycling.I can hardly put into words how happy I am with my electric tricycle. My independence has returned and I now move around daily without pain. I find it a relief. I can go shopping, take the dog, visit a friend, or even get my nails done in a village nearby. And all this without asking for help."
Completely free
"I get nice reactions from bystanders: "Oh are you with the BMW?" "No, today with the Cabriolet." My husband and kids wonder why I haven't done this before. They think I'm beaming! Andit's true. I go for a bike ride for pleasure now; I couldn't have imagined that before. I feel completely free. And that vanity, it's completely overboard."

Marja de Koning, the Netherlands
Bike: Midi tricycle electric