Customer experiences
Customer experience Easy Rider tricycle – Sandra Zuiderwijk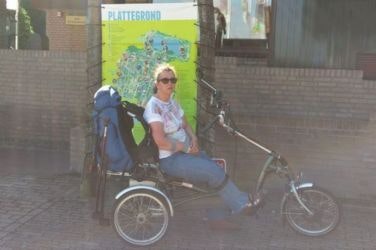 My name is Sandra Zuiderwijk, I live in Leidschendam and I have a Van Raam Easy Rider tricycle. I love cycling and walking, although sometimes that's difficult. I have had a cerebral infarction which has left me with a right-sided paralysis, fortunately I can manage myself reasonably well.
Specifications
Pedal assist, Foot fixation, Stick holder, Mirror, Direction indicator, Lower leg fixation
Configure your bike
Cycling again after a cerebral infarction
I wanted to move more and I wanted to get rid of my mobility scooter. I have cycled with the Easy Rider Small tricycle before. Through the WMO (social support act) I was able to get a new tricycle. The municipality did the orientation with Van Raam and a technical advisor visited my home with some Van Raam models. The bike was ordered at Medipoint. After about 2 months of waiting, I received my tricycle. The delivery went well. Except that they forgot to adjust the foot fixation.
Cycling with my Easy Rider tricycle
I like the Easy Rider very much, I haven't had any problems with it last year. Because I am paralysed on the right side, I have the following options on my tricycle: pedal support, foot fixation, stick holder, mirror, one brake (on the left side) for the front brake and rear brake and an direction indicator on the left side.
 
I use my tricycle mainly for recreation, but also for shopping and to go to appointments (physio, shoemaker or rehabilitation doctor). I usually cycle on paved roads (clinkers, tiles and asphalt), which is fine. I have not yet dared to go on other surfaces.
 
The distances I cycle with my Easy Rider are different. Unfortunately my right leg (which is paralyzed) hangs out a lot, causing pain after a while. Also because I can only steer and brake with one hand/arm, my left shoulder starts to hurt after a while. I really like the fact that I can cycle with my husband to the Blijdorp zoo from Leidschendam (about 20 kilometres) and we do this several times a year. My battery has to be recharged at the zoo otherwise we won't make it back. I would like to have a second battery (or a larger one) so we can continue cycling. Unfortunately I don't get these through the WMO.
 
I'm glad that because of the adjustments I'm now more independent and I'm not as cold in winter as on the mobility scooter.
I'm glad that because of the adjustments I'm now more independent and I'm not as cold in winter as on the mobility scooter.
Sandra Zuiderwijk
On a holiday with the tricycle
My best experience was in August 2020 (19 to 21 August). My husband and I went on holiday again for the first time in 22 years and we did it by bike. We went from Leidschendam to Alphen aan den Rijn, we were there for two nights in a hotel and then cycled back again.
See my summary of the cycling holiday below:
 
Wednesday 19 August 2020 was the big day. For the first time a cycling holiday with the Easy Rider. Because it was the first time, we didn't go that far yet.  We went in the direction of Alphen aan den Rijn.
 
Before we left we tied the backpack with a weight of 11.5 kilos on the back of the bike and put my walking stick in its holder on the bike (see pictures above). Then I installed myself by securing my right leg (which is unfortunately paralysed) in the special support on the pedal so that my leg turns with me when I cycle with my other leg.
 
At a quarter to ten in the morning our adventure started. My husband (of which his regular bike was also loaded with stuff needed for travelling and the holiday) and I started our cycling tour through beautiful places of Leidschendam (along the Vliet and through the Vlietlanden) in the direction of Leiden. From there a tourist route via Zoeterwoude Rijndijk to Alphen aan den Rijn. The end point was the hotel at bird park Avifauna.

On the way we stopped a few times to enjoy everything we saw around us. From spectacular helicopter maneuvers to control high voltage cables to enjoying a crossing frog.
 
After just over an hour and a half of cycling, using two-thirds of the battery, we arrived at the hotel. There was a facility for hotel guests to park your bicycle under a roof. Even nicer is that there are charging points for the battery in this shed. This is very handy because it allows us to charge the battery and cycle home (via a different route) two days later.
 
This holiday was very successful, partly because my bicycle with pedal support did its job very well.
 
Sandra Zuiderwijk - Leidschendam
Type: Easy Rider