Customer experiences
Customer experience tricycle Easy Rider - Margret Vermeulen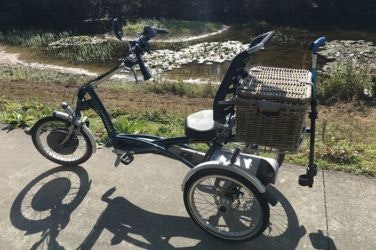 After not being a cyclist for three years, this situation has changed since 2018. Nowadays I cycle on an Easy Rider tricycle for adults from Van Raam and I've even been riding in the middle of sheep. The reason why I ride an adapted bike, is because I have the muscle disease Mitochondrial myopathy*. This disease causes my muscles to acidify quickly and I often have little energy.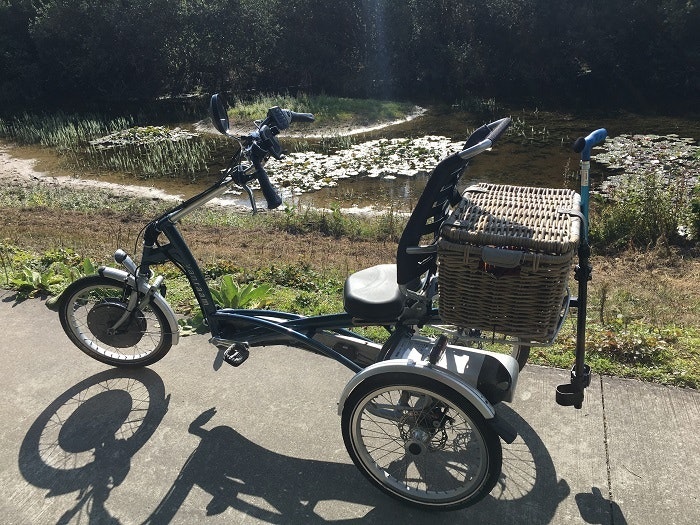 Purchase of an adapted bike
Because I wanted to keep moving, I contacted the municipality of Brielle and asked them about the possibilities for an adapted bicycle. I heard from the municipality that I could get a special needs bicycle via the WMO (Social Support Act).
Adapted bike via Medipoint
Then Medipoint (supplier of medical aids) came to my house and I was able to try out different bike models. Medipoint works together with the municipality of Brielle and meets the demand for aids from local residents. While trying it out, it soon became clear that Van Raam's Easy Rider tricycle is the most suitable for me. The back support and stability were the decisive factors. Because Van Raam does not deliver directly to end users, the order and delivery went via Medipoint.
Although my bike is a bit larger than a standard two-wheel bike, I can still ride together. That's what I like to do! A nice round along the lake of Brielle.
Margret Vermeulen
Waiting for an adapted bike
Once it was determined which bike it would be, the time of waiting began. After 4 weeks of waiting I got a call from Medipoint that there was a bike available. This was not an Easy Rider but a Maxi tricycle from Van Raam. The Maxi tricycle is a traditional tricycle model and has no backrest. I was somewhat surprised when it turned out to be about the Maxi, but I still tried to ride it. I even took the bike with me on the boat when I left with friends for a few days. Unfortunately, I soon found out that this bike is really not suitable for me. I reported this to Medipoint and she picked it up a few weeks later and then I had to wait for my Easy Rider

I got another phone call from Medipoint that it would take a while before I would get a new Easy Rider. They also said that they still had a secondhand model available (with a bigger motor (Silent electro HT) and extra heavy battery) and that I would be able to get it if I wanted to. Because I wanted to cycle, I chose the secondhand model. And I haven't regretted that for a moment yet!
Advantages of the Easy Rider tricycle for adults
My Easy Rider tricycle is great! I like the backrest very much and the suspension is good. It's also easy to put the bike in a different gear. If you are standing in front of a traffic light and want to 'pull up' quickly, the starting aid will help you with that. The starting aid is the button on the display of the pedal support. If you hold it down, the bike starts to move forward and you don't have to use as much force when you leave. In addition, the reverse function** is also very nice. My bike is standing in our garage and in order to park the Easy Rider properly, it is nice that you can ride backwards and do not have to lift the bike as a whole. On my Easy Rider tricycle I prefer to cycle in 6th gear and because of my energy level I often use pedal support in position 3. Because I have an extra battery and a larger motor on my bike, I can easily cycle 70 to 80 kilometers at a time.
Van Raam E-Bike App and other special options
When I'm cycling, I always use the Van Raam E-Bike app. You can see exactly how full your battery is and you know your average cycling speed. It's also fun to look back at your cycling routes on the computer. Although it would be nice to look back at these routes on your mobile phone, that is unfortunately not possible now. It would also be nice if you could use the app without it being connected to your bike. In addition, it would be nice if there are multiple cycling routes indicated through the app. If I use the app while cycling, I place my mobile phone in a holder on the bike. This is a regular holder that you can get at a bicycle shop. My bike also has a mirror, a stick holder and a wicker basket. I bought this basket at the bicycle shop in Heenvliet.
Adapted bicycle repairs viaMedipoint
Because I got my bike from Medipoint, I also contact Medipoint if there are any problems with my bike. A while ago I had problems with my 6th gear, for example, it skipped. I then contacted Medipoint and asked them to come and have a look at it. After my phone call it took some time before my bike was actually made, there were even several mechanics involved. For making and repairing adapted bicycles, I noticed, some knowledge and expertise is required. Luckily my tricycle is a good fit for the rest.
Cycling together
The only thing you notice when cycling together is that you do have a high/low difference, so you have to look up more while talking. But that's all there is to it. I also use the bike for shopping and to visit the physiotherapist. On average I cycle about 40 kilometres a week. While cycling you will encounter different surfaces, including gravel and asphalt. All these roads are easy to ride with my Easy Rider. 
With an adapted bike in traffic
When you ride a modified bike in traffic, everyone in front of you actually moves to the side. Even schoolchildren. Some people even stop to give me priority. That is of course very nice. Sometimes it also happens that people think that you have a mental problem, because you cycle on an adapted bicycle. Of course, this is not the case for everyone. Yet this sometimes results in hilarious situations and I try to see the best of it and that's that I can enjoy cycling again!

Margret Vermeulen - Vierpolders
Type: Easy Rider
Additional explanations and remarks
* :Mitochondrial myopathy is a collective term for various diseases. In all cases the muscles are affected. The symptoms that occur vary greatly, as does the severity of the symptoms. For example, patients suffer from muscular weakness and flaccidity in the skeletal muscles. Other muscle complaints include cramps, fatigue and rapid exhaustion. The heart muscle may also be weakened. The eye muscles are often paralysed which can lead to a hanging eyelid, blindness or cataract.
 
 ** :This function is only possible with a tricycle with pedal support from Van Raam. The reverse function is one of the unique features of Van Raam.​