Customer experiences
Customer experience Easy Rider low tricycle – Reintjes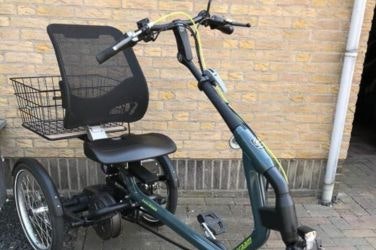 Since January 2022 I have a beautiful, sturdy and solid Easy Rider. A world has opened up for me! Read more about my Easy Rider low tricycle here.
A dangerous driver
"I could no longer ride a traditional bicycle, not even one with a low step through. I had problems getting on and off the bike and making short turns. I no longer felt safe and was a dangerous driver."
Easy Rider low tricycle
"Through my physio therapist I came in contact with Van Raam. I have been to Van Raam 2 times for a test ride. The first time on 2 high bicycle models, but that was not a success. But when I rode the Easy Rider low tricycle, I was sold! Because the Easy Rider is a low tricycle, it's less scary when you cycle through a pothole or bump. Although it also takes a little getting used to. But how nice is it that when you leave home, you no longer have to stop or get off at a traffic circle or traffic light? You only have to do that at your destination."
Options on my Easy Rider
"Besides pedal assistance, a mirror and a basket on the back, I also have platform pedals for extra support and grip. How wonderful it is to be able to cycle again. I only get positive reactions. If only I had had the Easy Rider low tricycle sooner!"

Jolanda Reintjes - Didam
Bike: Easy Rider low tricycle